Purple grapes, soft brie, thin prosciutto, crisp white wine, good friends, great music and warm sun … who doesn't love a picnic?! Fresh eats and robust conversation under a bright, blue sky is pretty much the definition of paradise. A picnic is such a universal feel-good experience that it's hard to get it wrong, but it's even better when you get it right. Here are some of our favorite chefs and cookbook authors on their essential picnic requirements.
Michael Chernow

Michael Chernow is the famed restaurateur of Seamore's, the seafood-centric hotspot in Nolita.
Picnic Must-Haves: Speakers and sriracha
"My picnic must-haves include the Marshall Kilburn portable bluetooth speaker, because a picnic isn't a picnic without some good background music, as well as a bottle of good sriracha to add extra flavor and heat to picnic sandwiches and other dishes."
Marshall Kilburn portable bluetooth speaker
Suzanna Beall

Suzanna Beall, owner of Blake Lane restaurant on the Upper East Side of Manhattan. Blake Lane, the new California-style eatery from Beall and Chef Diego Moya, highlights locally sourced ingredients and showcases health-conscious, market-driven dishes.
Picnic Must-Have: Deviled eggs
"Our Beet-Pickled Deviled Eggs. They are the perfect snack to bring on a picnic, along with our Charred Little Gem with avocado dipping sauce. Both are delicious finger foods, so no flatware is needed, and they're simple enough to make in advance at home and they travel well for a picnic!"
Chef Jacques Pépin

Chef Jacques Pépin, chef, author, all-around legend.
When Hormel Foods mentioned the word "picnic," the one-and-only world famous Chef Jacques Pépin couldn't help but pull a recipe from his latest book, "Poulets & Legumes." To further jazz up the picnic basket, he's all about his line of SurlaTable.com linen napkins.
Picnic Must-Have: Asparagus in mustard sauce
"Asparagus in mustard sauce is wonderful for spring. Fresh asparagus is easy to find in this season, and the simple sauce is easy to assemble then pack up for a picnic with some lovely linen napkins like the ones I designed for Sur La Table, with my signature chicken drawings.
This is the classic asparagus and mustard vinaigrette of French bistros and family restaurants. As a child, I would place a spoon or fork under my plate when eating it so the pungent vinaigrette collected at the lower edge of the plate. That way, I could dip the tips of the spears and my bread into the sauce before eating them. Not an elegant table maneuver, but effective. I peel the asparagus stalks for this recipe and boil them in just enough water so that most of it evaporates by the time the asparagus is cooked. Serve at room temperature."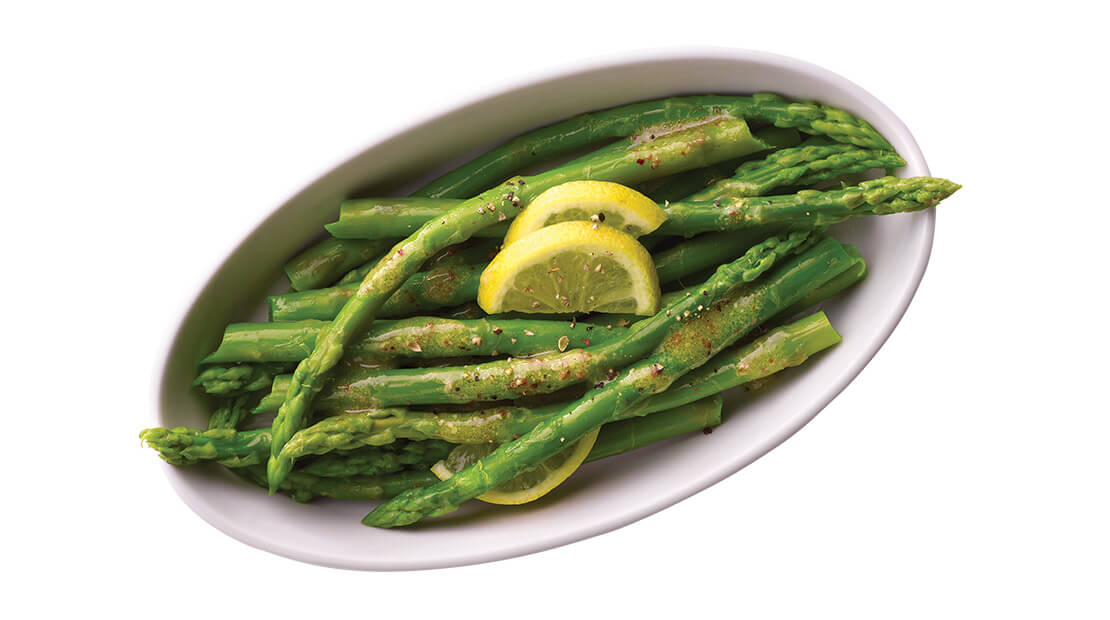 Asparagus in Mustard Sauce
Total Time

15 minutes

Serves

4
1 1⁄4

pounds large asparagus spears (16-20), trimmed and peeled

2

tablespoons Dijon mustard

2

tablespoons canola oil

2

tablespoons walnut oil

2

teaspoons white vinegar

1⁄2

teaspoon salt

1/2

teaspoon freshly ground black pepper
Instructions
Put the asparagus in a large stainless steel saucepan in one or two layers and add 3⁄4 cup boiling water. Cover, bring to a boil, and boil for 3 minutes, or until the asparagus is just tender but still firm and most of the liquid has evaporated. Drain off any remaining water and put the asparagus on a platter. Let cool.
Combine all the ingredients in a small bowl and mix well; do not worry if the mixture is not totally emulsified.
Serve with mustard sauce.
Tip for trimming asparagus: For the whole spear to be tender, peel the lower half of the stalk using a vegetable peeler: Holding the asparagus by the bottom end, peel it from the base of the tip down to your fingers, rotating the stem as you peel. Cut or break off the unpeeled bottom part of the stalk.
Chef Michael Armstrong

Chef Michael Armstrong, Executive Chef, Bodega Negra, New York City
Picnic Must-Haves: Chilled white wine in cans, sliced meats and cheese, and a fresh baguette
"I like to have a simple, yet more upscale picnic, something more exciting than just a deli sandwich. I prefer a nice sopressata and prosciutto and a spreadable cheese like a triple cream or brie, and an herb boursin cheese spread."
Chilled White Wine in Cans

Sliced Meats and Cheese, and a Fresh Baguette
Between the Di Lusso® deli brand, Hormel® Natural Choice® meats and Applegate® natural and organic deli meats, Hormel Foods has a deli meat for everyone's picnic!
Charcuterie 101
Katie Quinn

Katie Quinn, Author of "Avocados"
Picnic Must-Have: A corkscrew
"One of my favorite summer-evening activities is a picnic with a band playing in the background. A little wine to pair with the food and music is especially nice … the only buzzkill is when someone forgets the corkscrew! We've tried all the other tricks, to varying degrees of success: the shoe-banging method, the key-twist method (my fiancé broke a key that way), etc.!"
Matt Moore

Matt Moore, Author of "The South's Best Butts: Pitmaster Secrets for Southern Barbecue Perfection"
Moore has six must-haves, all of equal importance.
Picnic Must-Have #1: A waiter's corkscrew
"Trust me, I've cut my hands many of times trying to pry open a beer cap or worse yet, uncork a bottle of wine in less than conventional ways!"
Picnic Must-Have #2: A battery-powered fan
"Because, duh, it's hot in Tennessee."
Picnic Must-Have #3: Dixie antipasta
"The perfect pairing of fatty cheeses and smoked meats to go with crisp wines and cold beers."
Picnic Must-Have #4: Cold fried chicken
"No explanation necessary, now you know."
Picnic Must-Have #5: A musical instrument
"Soak up the outdoors with some of your favorite sounds. If you or your friends are not musically inclined, leverage technology. Just put your phones aside and enjoy the experience."
Picnic Must-Have #6: Frozen cocktails
"Not only are they refreshing, they serve double duty by keeping your items cold until you are ready to enjoy."
Apparently, the right knife can make all the difference! These three chefs thought so, at least!
Chef Ralph Scamardella

Chef Ralph Scamardella, TAO Group Partner and Avra Madison Executive Chef
Picnic Must-Haves: OFF! bug spray and a Swiss Army Knife
"I don't just have just one must-have, I have two! I can't go anywhere outdoors in the summer without OFF! Bug Spray and my Swiss army knife because it does it all; opens wine, beer, slices sausages, cuts pickles and even trims fish fins."
Tim Love

Tim Love, Chef and Owner of Lonesome Dove Western Bistro (Fort Worth and Austin, Texas; Knoxville, Tenn.)
Picnic Must-Haves: Proper cutlery and proper sandwiches
"When prepping for a picnic, you want to be sure to have the right knives in tow, especially when packing the perennial picnic favorite—sandwiches. These just taste better when made on-site, and you can use the knife to slice good cheeses too. Hammer Stahl would have to be my favorite; I always have my line of knives with them on hand because they're all-purpose. Assembling a picnic with a fork and spoon just won't cut it—literally!"
Daniel Holzman

Daniel Holzman, The Meatball Shop, NYC
Daniel Holzman, chef/owner of The Meatball Shop, the fan-favorite meatball destination with six locations (soon to be seven) throughout New York City, says picnics make him a little knife-happy.
Picnic Must-Have: The right knife
"No picnic basket is complete without the ubiquitous Opinel No8 Folding Knife. It's a perfectly designed pocket knife, and is affordable enough that you won't care if you need to dig a post hole, pry a bottle open or whatever your picnic might bring you. It's a must-have."