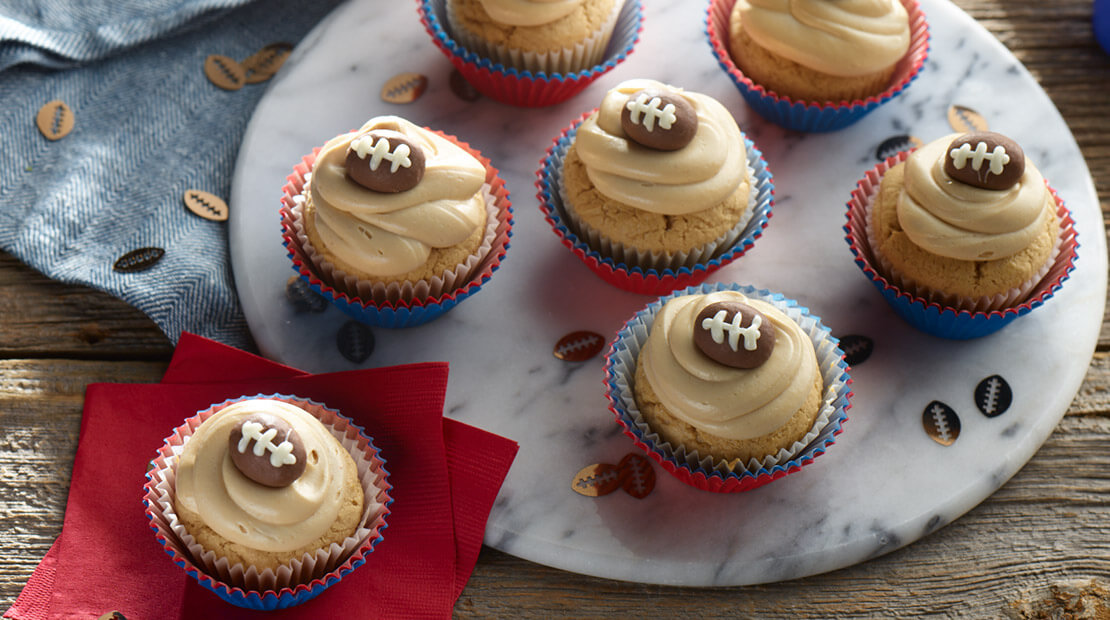 Fluffernutter Cupcakes
Total Time

35 minutes

Serves

12
¼

cup butter, softened

¾

cup SKIPPY® creamy peanut butter

½

cup granulated sugar

1

large egg

2

teaspoons vanilla extract

1¼

cup all-purpose flour

½

teaspoon kosher salt

1

teaspoon baking powder

⅔

cup whole milk

12

unwrapped bite-sized milk chocolate covered, peanut-caramel-nougat candies
Instructions
Heat oven to 350°F.
In large mixing bowl, beat together butter and peanut butter until smooth. Gradually add sugar and beat 1 minute. Add egg and vanilla extract and beat until incorporated.
In small bowl, combine flour, salt and baking powder. Add flour mixture alternately with milk, starting and ending with flour mixture, until incorporated.
Spoon batter into 12 lined muffin-tin cups. Press 1 candy piece on top of each batter filled cup.
Bake 25 minutes. Cool completely on wire rack.
Frosting
¼

cup butter, softened

¼

cup SKIPPY® creamy peanut butter

2

cups powdered sugar

1

teaspoon vanilla extract

1 1/3

cup marshmallow cream

1 1/2

tablespoons milk
Instructions
In large bowl, beat together butter and peanut butter until smooth.
Gradually add powdered sugar and vanilla extract, beating until blended.
Add marshmallow cream and milk until smooth.
Place mixture in plastic zip-top bag. Cut one corner of bag and squeeze frosting onto cupcakes.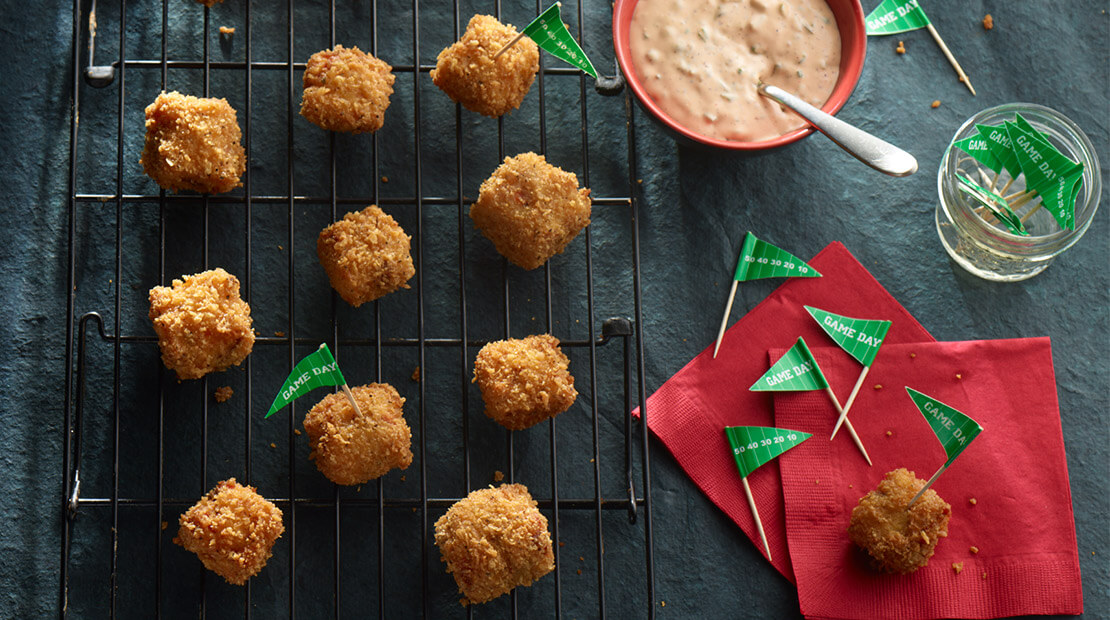 Shrimp and Pimiento Cheese Grits Bites
Total Time

24 hours

Serves

32 pieces
1

cup corn grits

2

ounces cheddar cheese, shredded

½

teaspoon kosher salt

¾

teaspoon Cajun seasoning

¾

pound cooked medium shrimp, chopped

1

(4-ounce) jar diced pimientos, drained

1

tablespoon hot sauce

½

cup Hormel® bacon pieces

½

cup chopped green onions

3

large eggs, divided

¼

cup water

2

cups dried breadcrumbs

for frying

canola oil
Instructions
Cook grits in 3 1/2 cups water according to package directions.
Stir in next 8 ingredients and 1 lightly beaten egg.
Spread mixture evenly in lightly greased baking pan.
Refrigerate 4 hours or up to 24 or until completely set. Run a rubber spatula around edges and flip onto cutting board. Cut into 1 1/2-inch squares.
Heat oil to 325°F in Dutch oven.
In medium bowl whisk together remaining 2 eggs and water.
Place breadcrumbs in shallow dish. Dip squares in egg mixture and roll in breadcrumbs, shaking off excess. Carefully drop in hot oil, in batches and fry 2 to 3 minutes or until golden. Serve with Remoulade Sauce.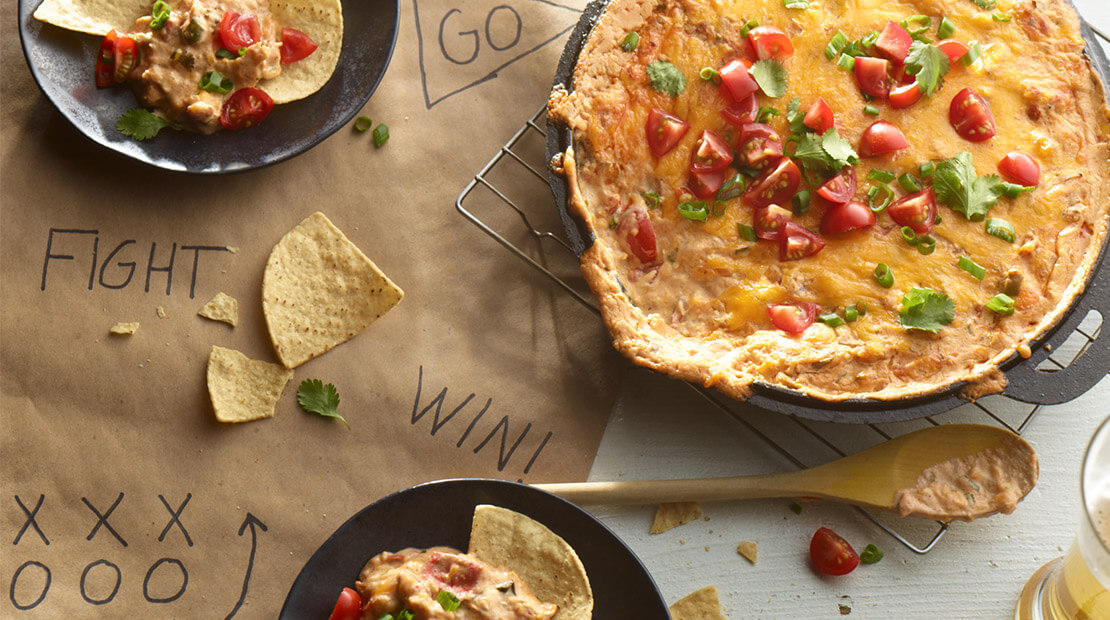 King Ranch Chicken Dip
Total Time

30 minutes

Serves

8
2

(10-ounce) cans Hormel® premium chicken breast, drained

2 1/2

cups cheddar cheese, shredded and divided

1

(8-ounce) package cream cheese, softened

1

(10-ounce) can fire-roasted diced tomatoes and green chilies, drained

1

(10-ounce) can La Victoria® enchilada sauce

1/3

cup chopped fresh cilantro leaves

1

jalapeño seeded and diced

to garnish

chopped green onions, chopped tomatoes, fresh cilantro leaves
Instructions
Heat oven to 425°F.
In large bowl, combine chicken, 2 cups cheddar cheese and next 5 ingredients until blended.
Transfer mixture to 10-inch cast-iron skillet or lightly greased 1-quart baking dish.
Top with remaining ½ cup cheddar cheese. Bake 15 to 18 minutes or until hot and bubbly.
Garnish if desired. Serve with tortilla chips.