Chef, Cook Book Author & Chopped Champion Kenneth Temple held a Cocktail, Burger and Dessert popup during the Essence Festival in New Orleans, featuring BLACK LABEL® bacon, WHOLLY GUACAMOLE® dips and the JENNIE-O® brand. The menu included:
JENNIE-O® Ground Turkey cheeseburger with crawfish alfredo sauce
HORMEL® BLACK LABEL® Premium Jalapeño Bacon and ground beef burger with American cheese
Gulf redfish over with red cabbage and hot sauce mayo
Buttermilk fried chicken with Chef's signature chocolate waffles
Sliders trio: Guacamole turkey burger featuring JENNIE-O® Ground Turkey with WHOLLY GUACAMOLE® dip, 50/50 cheeseburger, Blackened fish sandwich
Praline bacon skewers
We're excited to bring you this recipe for Praline bacon skewers straight from Chef Kenneth's kitchen.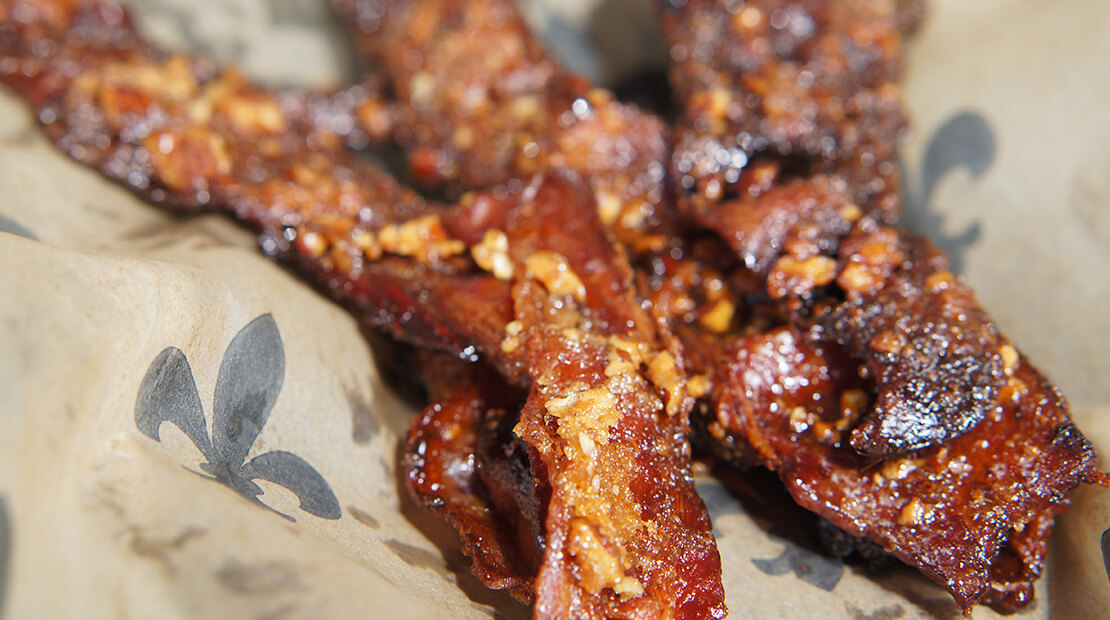 Praline Bacon
Hands-On Time

15 minutes

Total Time

45 minutes

Serves

24 pieces
2

(12-ounce) packages HORMEL® NATURAL CHOICE® Original Uncured Bacon

1 1/2

cups firmly packed brown sugar

1 1/2

cups chopped pecans
Instructions
Heat oven to 325°F. Grease wire baking racks; place on baking sheets. Arrange bacon strips in single layer on wire racks. In bowl, combine brown sugar and pecans. Sprinkle brown sugar mixture over bacon strips. Bake 35 to 40 minutes or until browned and candied. Makes about 24.
Note: try using Hormel® Black Label® Premium Jalapeño bacon for a spicy, salty, sweet treat.