From the African roots of Southern soul food to the eating habits of trendsetting millennials, Hormel Foods is covering the dishes and stories behind food heritage through a new, online video series called Cooking & Culture.
Chef Sandy Pollock of the Casserole Queens and Stephanie Postma, national category sales manager at Hormel Foods, joined us to talk about making quick meals for busy families in the second chapter of Cooking & Culture in honor of Women's History Month.
Recipes

From Chef Sandy's Kitchen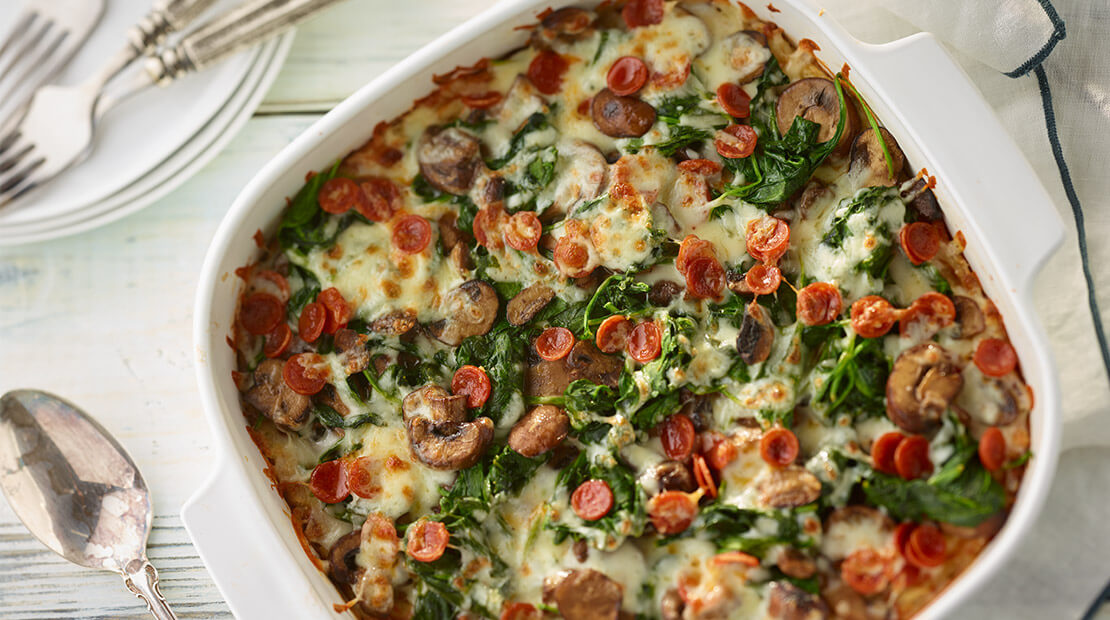 Pepperoni-Spinach Mashed Potato Crust Pizza
1

(24-ounce) container Hormel® Homestyle mashed potatoes (about 2 ½ cups)

1½

cups all-purpose flour

3

cups shredded Italian cheese blend

3

tablespoons olive oil

2

cups sliced baby Portobello mushrooms

3

tablespoons olive oil

2

teaspoons salt

2

teaspoons fresh ground black pepper

4

springs rosemary

1

(6-ounce) bag baby spinach

4

cloves of garlic, minced

½

cup Hormel® mini pepperoni slices
Instructions
Heat oven to 350˚F
In medium bowl, combine mashed potatoes, flour, and 1 cup of cheese.
Lightly grease 13- × 9-inch baking dish with ½ tablespoon of olive oil and press mashed potato mixture into bottom of dish. Brush potatoes with ½ tablespoon olive oil. Bake 45 minutes, or until lightly browned. Remove from oven.
In large bowl, toss together mushrooms,1 tablespoon olive oil, salt, and pepper until coated. Place on baking sheet. Top with rosemary sprigs and bake 30 minutes.
In large skillet, over medium heat, add remaining 1 tablespoon olive oil. Add garlic and cook 1 minute. Add spinach, tossing to coat. Cook 1 to 2 minutes, or until wilted.
Cover potato crust evenly with 1 cup of cheese followed by mushrooms, spinach, pepperoni, and remaining cheese. Bake 15 to 20 more minutes, or until cheese has melted.
Remove from oven and let stand 10 minutes.
Food transports you through time and space emotionally. There is so much tied into food that there's no way to separate from it.

Chef Sandy Pollock
Broccoli and Bacon Salad
Total Time

10 minutes

Serves

8
6

cups fresh broccoli florets, chopped

10

slices Hormel® Black Label® bacon, cooked and crumbled

3

green onions, green parts only, chopped

½

cup dried cranberries or raisins

½

cup chopped pecans

1

cup mayonnaise

½

cup sugar

2

tablespoons cider vinegar
Instructions
In large bowl, combine broccoli and next 4 ingredients.
In small bowl, whisk together mayonnaise and remaining ingredients. Pour dressing over broccoli mixture and tossing to coat.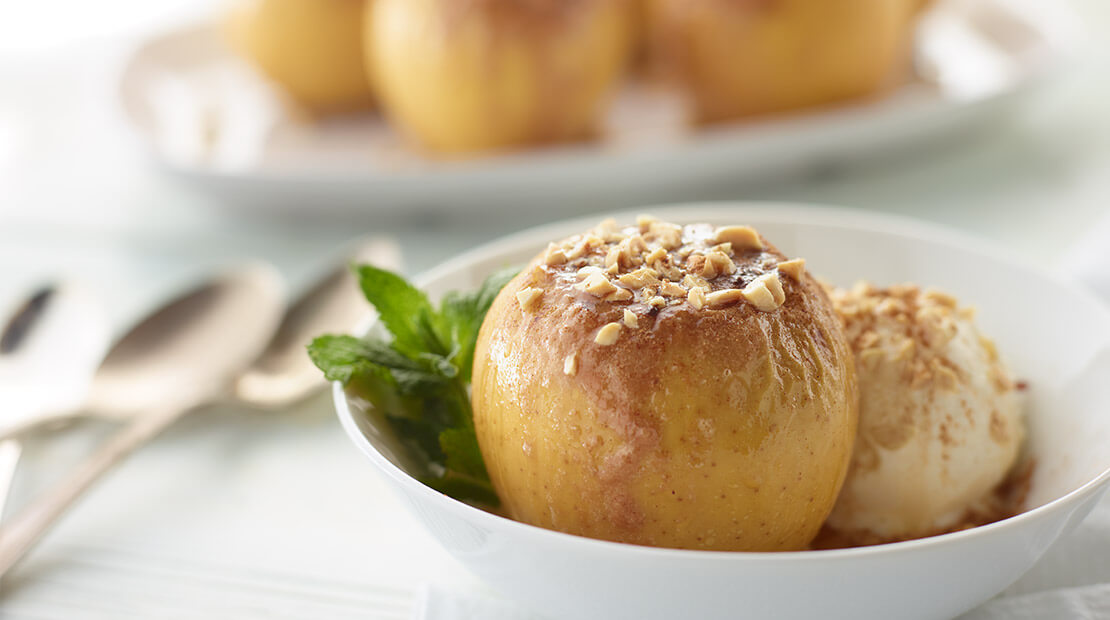 Peanut Butter Baked Apples
Total Time

1 hour, 20 minutes

Serves

6
½

cup granulated sugar

1

cup water

6

golden delicious apples

⅓

cup firmly packed light brown sugar

5

tablespoons SKIPPY® natural super chunky peanut butter

4

tablespoons butter, softened

1

teaspoon ground cinnamon

as desired

vanilla ice cream

to garnish

chopped roasted peanuts, fresh mint sprigs
Instructions
Heat oven to 375°F.
In small saucepan, over medium heat, combine granulated sugar with 1 cup of water. Cook 4 minutes or until sugar dissolves. Pour syrup into bottom of 9- × 9-inch baking dish.
Core apples, but don't go all the way through to the bottom. (This will help keep the filling in the apple.) In medium bowl, combine brown sugar, peanut butter, butter, and cinnamon. Divide mixture evenly among 6 apples. Place apples in baking dish over syrup.
Bake 1 hour, or until a knife can be easily inserted into apples. Let stand 5 minutes. Serve with vanilla ice cream. Garnish, if desired with chopped peanuts, and fresh mint sprigs.