From the African roots of Southern soul food to the eating habits of trendsetting millennials, Hormel Foods is covering the dishes and stories behind food heritage through an online video series called Cooking and Culture.
Chef Stephanie Goldfarb, winner of Food Network's America's Best Cook, and Steve Blevins, category development analyst at Hormel Foods, joined us for this chapter of Cooking & Culture.
Recipes

From Chef Stephanie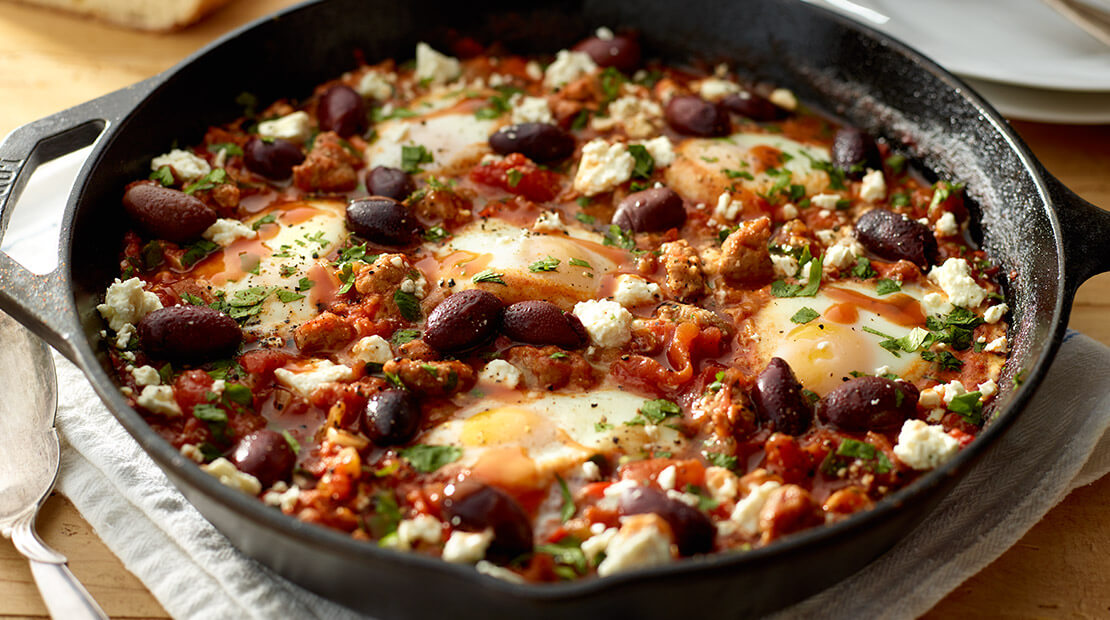 Fiery Turkey Sausage Shakshukah
Total Time

40 minutes

Serves

6
3

Tablespoons Oil

2

Links (From 19.5-Ounce Package) Jennie-O® Hot Italian Turkey Sausage, Casings Removed

1

Large Onion, Chopped

1

Large Red Bell Pepper, Seeded And Thinly Sliced

1/4

Cup CHI-CHI'S® Diced Green Chilies

5

Garlic Cloves, Thinly Sliced

1

Teaspoon Ground Cumin

1

Teaspoon Paprika

1

Teaspoon Sugar

1/4

Teaspoon Cayenne, or To Taste

1

Tablespoon Lemon Juice

1

(28-Ounce) Can Whole Plum Tomatoes With Juices, Coarsely Chopped*

3/4

Teaspoon Salt, More As Needed

1/4

Teaspoon Black Pepper, More As Needed

6

Eggs

5

Ounces Feta Cheese, Crumbled (About 1- 1/4 Cups)

1/4

Cup Di Lusso® Pitted Kalamata Olives

For serving

Chopped Cilantro

As desired

Hot Sauce

As desired

Crusty Bread
Instructions
Heat oven to 375°F.
In large skillet over medium-high heat, heat oil Crumble turkey sausage into skillet; discard casings. Cook over medium-high heat 5 to 7 minutes, breaking sausage into chunks and stirring frequently. Always cook turkey to well-done, 165°F as measured by a meat thermometer. Add onion, bell pepper and chilies. Reduce heat to medium-low and cook 10 minutes or until very soft. Add garlic and cook 1 to 2 minutes or until tender. Add cumin, paprika, sugar and cayenne and cook 1 minute. Pour in tomatoes and lemon juice. Season with salt and pepper. Simmer 10 minutes or until tomatoes have thickened. Stir in crumbled feta cheese.
Use the back of a large spoon to make a well in the sauce for each egg. Gently crack egg into each well. Season with salt and pepper. Transfer skillet to oven and bake 7 to 10 minutes or until eggs are just set. Sprinkle with feta, olives and cilantro. Serve with hot sauce and crusty bread.
*1 (28-ounce) can diced tomatoes may be used.
Food is the great connector, because it literally brings people around the table.

Chef Stephanie Goldfarb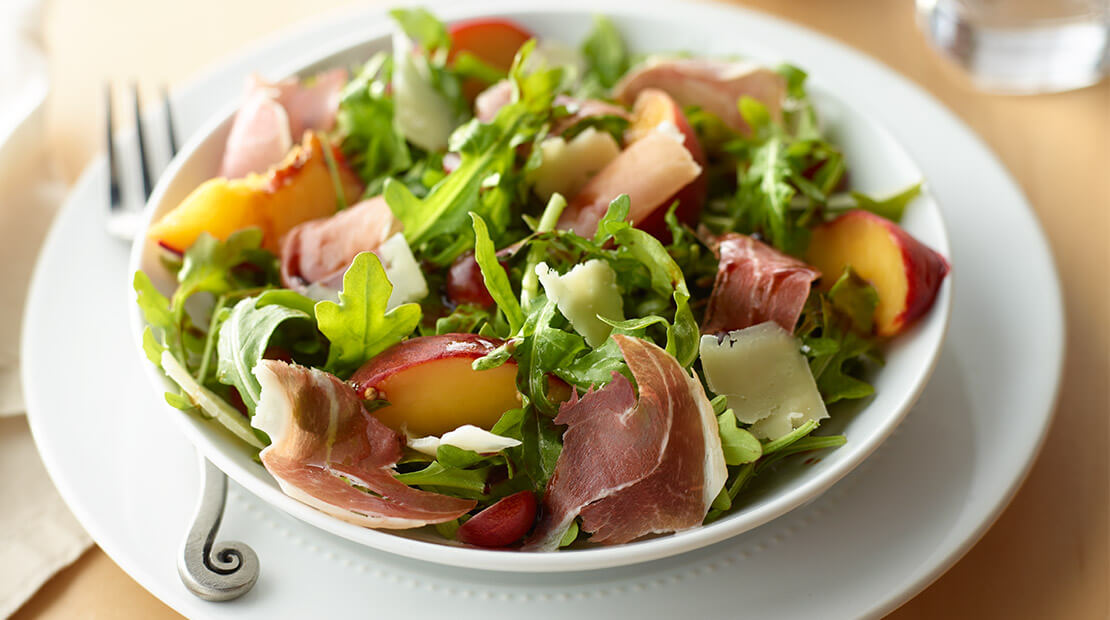 Prosciutto, Arugula and Pickled Stone Fruit Salad
Total Time

24 hours

Serves

6-8
2

Cups Cider Vinegar

1/4

Cup Sugar

1

Teaspoon Coriander Seeds

1

Teaspoon Mustard Seeds

1

Teaspoon Whole Black Peppercorns

2

Cloves Garlic, Crushed

2

Sprigs Thyme

1

Sprig Dill

1

Cup Water

2

Peaches, Pitted And Cut Into ¾-Inch Wedges

2

Plums, Pitted And Cut Into ¾-Inch Wedges

5

Ounces Arugula

1

Pound Hormel® Prosciutto

1/4

Cup Extra Virgin Olive Oil

1/4

Cup Balsamic Vinegar

As desired

Parmesan Cheese Wedge
Instructions
In 4-quart saucepan, bring cider vinegar, sugar, spices, garlic, thyme, dill and water to a boil. Remove from heat and add fruit; cool completely; strain, discarding liquid. Cover and refrigerate at least 24 hours.
In large serving bowl or tray, place arugula. Arrange fruit among arugula leaves. Tear prosciutto and sprinkle over fruit. Sprinkle with olive oil and balsamic vinegar. Using a vegetable peeler, top salad with peels of Parmesan cheese.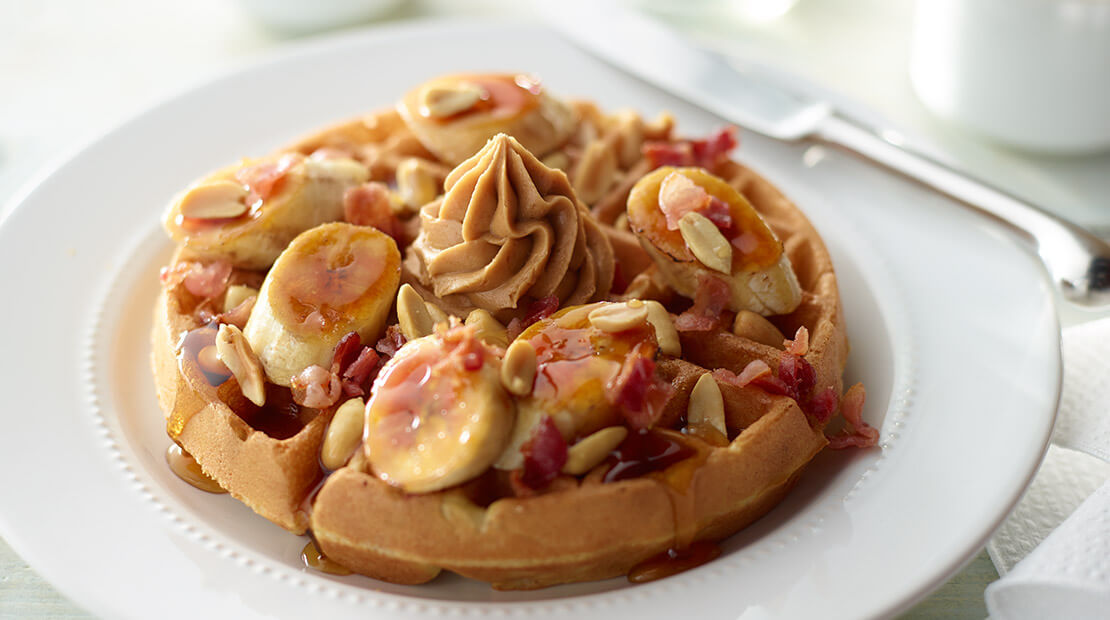 Fat Elvis Waffles with Bruleed Bananas and Peanut Cream
Total Time

1 hour

Serves

6-8
3 1/2

Cups Cake Flour, Sifted

1

Tablespoon Baking Powder

1

Teaspoon Kosher Salt

10

Tablespoons Unsalted Butter, Room Temperature

1 1/4

Cups Sugar, Divided

2

Medium Very Ripe Bananas, Mashed

2

Eggs, Separated

1 1/2

Cups Buttermilk

1

(12-Ounce) Package Hormel® Black Label® Bacon, Cooked, Cooled And Finely Chopped, Divided

1

Pinch Kosher Salt

2

Cups SKIPPY® Creamy Peanut Butter

1

Cup Mascarpone Cheese, Room Temperature

2

Tablespoons Maple Syrup

1

Pinch Kosher Salt

2

Medium Bananas

4

Tablespoons Sugar

1

Cup Salted Peanuts

As desired

Maple Syrup
Instructions
Waffles:
Heat oven to 200°F. Heat waffle iron according to manufacturer's directions.
In large bowl, stir together cake flour, baking powder and 1 teaspoon salt; set aside.
In bowl of stand mixer, add butter and ¼ cup sugar. Beat on high 4 minutes or until fluffy. Scrape down sides of bowl and add mashed banana and egg yolks. Beat on high 1 minute. Scrape sides of bowl. Add flour mixture and stir on low, gradually adding buttermilk. Continue to stir 30 to 45 seconds or until just combined, scraping sides and bottom of bowl as needed. Fold in all but ¼ cup chopped bacon.
In medium mixing bowl, beat egg whites with a pinch of salt until stiff peaks form. Carefully fold into banana mixture until fully incorporated and no streaks remain. Scoop batter evenly on waffle iron and cook until golden and crisp. Transfer to oven rack to keep warm. Repeat with remaining batter.
Peanut Cream:
In medium bowl with hand mixer, beat together peanut butter and mascarpone cheese. Add 2 tablespoons maple syrup and a pinch of salt.
Bruleed Bananas:
Slice two bananas on a diagonal about ½-inch thick. Place on heat resistant surface, cut sides facing up. Sprinkle with 4 tablespoons sugar. Use a blow torch to caramelize sugar.
Assembly:
Top each waffle with a scoop of peanut cream, a few bruleed bananas, a sprinkle of salted peanuts and a drizzle of maple syrup.