From the African roots of Southern soul food to the eating habits of trendsetting millennials, Hormel Foods is exploring the dishes and stories behind food heritage in Cooking and Culture.
Certified Master Chef Ron DeSantis and Angelita Zynda joined us for this episode of Cooking & Culture.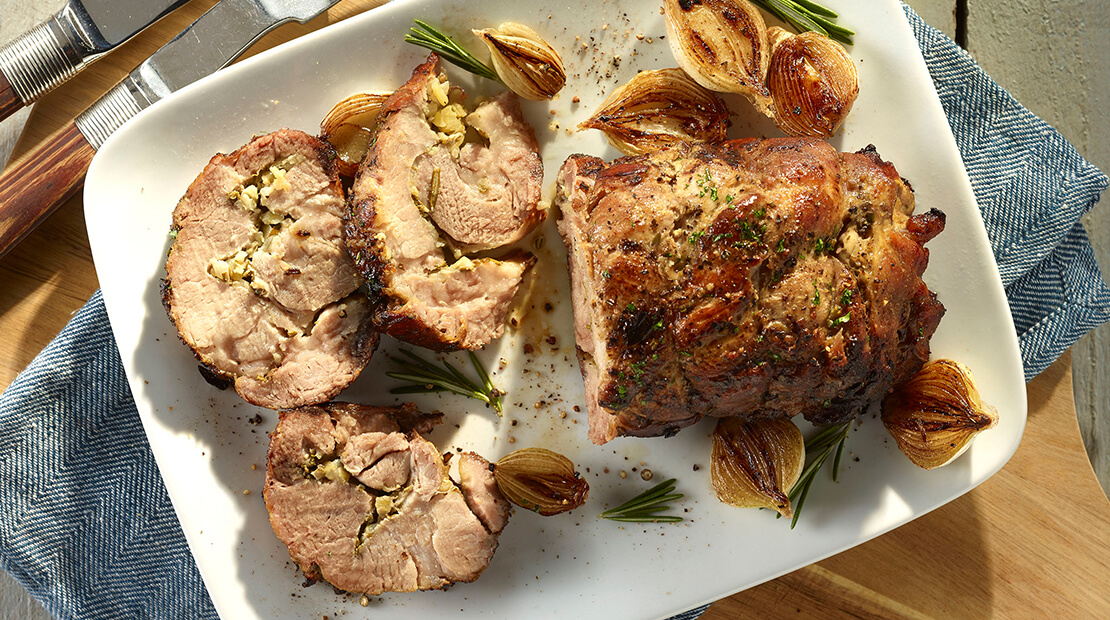 Porchetta
Hands-On Time

1 hour

Total Time

4 hours

Serves

8-10
1

(3 1/4-pound) HORMEL® Always Tender® boneless pork shoulder roast

1

tablespoon kosher salt

2

teaspoons freshly ground pepper

1

medium fennel bulb, finely chopped

2

tablespoons fresh chopped rosemary leaves

6

garlic cloves, finely chopped

2

tablespoons olive oil
Instructions
Heat oven to 375°F
Make a cut in side of pork lengthwise, laying knife flat. Continue to cut and turn knife outward, continuing to cut until pork is butterflied open and flat. Sprinkle both sides generously with salt and pepper.
In small bowl, combine fennel, rosemary and garlic. Spread mixture across center of pork. Firmly roll pork and tie with kitchen twine. Refrigerate at least 2 hours or up to overnight.
Let pork stand at room temperature 30 minutes. In large oven-safe skillet, heat oil over medium-high heat. Brown pork about 5 to 7 minutes on each side.
Transfer skillet to oven and bake 1 hour 45 minutes or until internal temperature reaches 160°F. Let stand 20 minutes. Remove kitchen twine and slice.
Emotion is very powerful in cooking.

Master Chef Ron DeSantis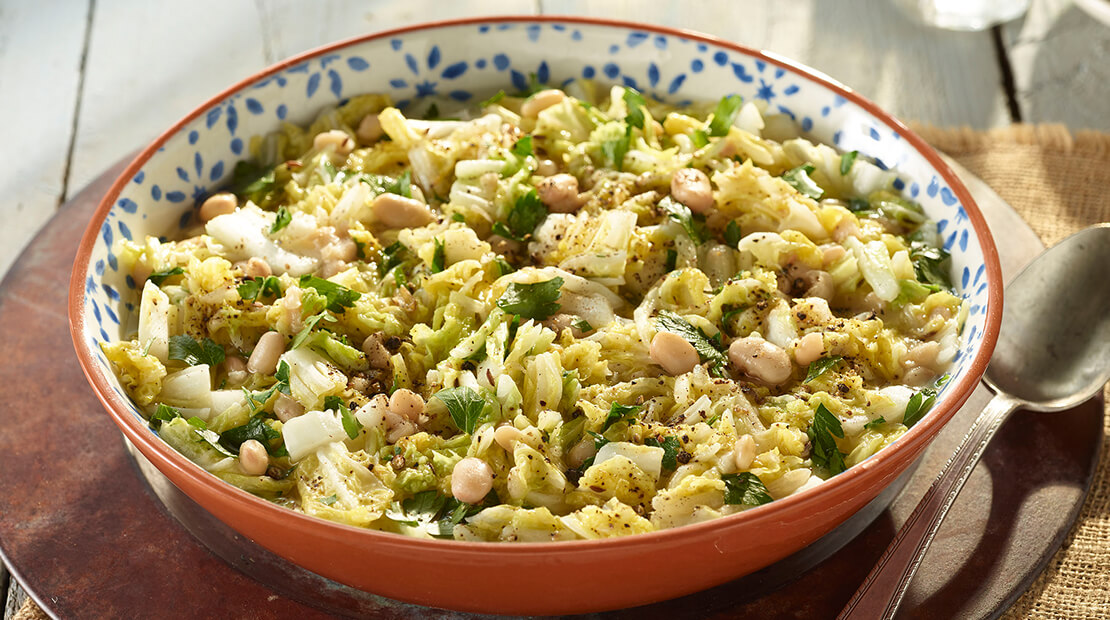 Cabbage and Beans
Hands-On Time

20 minutes

Total Time

20 minutes

Serves

6
1

tablespoon olive oil

2 1/2

pounds Savoy cabbage, coarsely chopped

1/2

teaspoon caraway seeds

1

(15-ounce) can Great Northern beans, undrained

2

tablespoons apple cider vinegar

1/4

teaspoon kosher salt

1/4

teaspoon freshly ground pepper

2

tablespoons chopped fresh parsley leaves
Instructions
In large saucepan, heat oil over medium heat. Stir in cabbage and cook 5 minutes or until wilted. Add beans along with liquid and next 3 ingredients. Reduce heat to medium-low and simmer 10 minutes, adding ¼ cup of water if necessary. Adjust seasoning to taste and sprinkle with chopped parsley just before serving.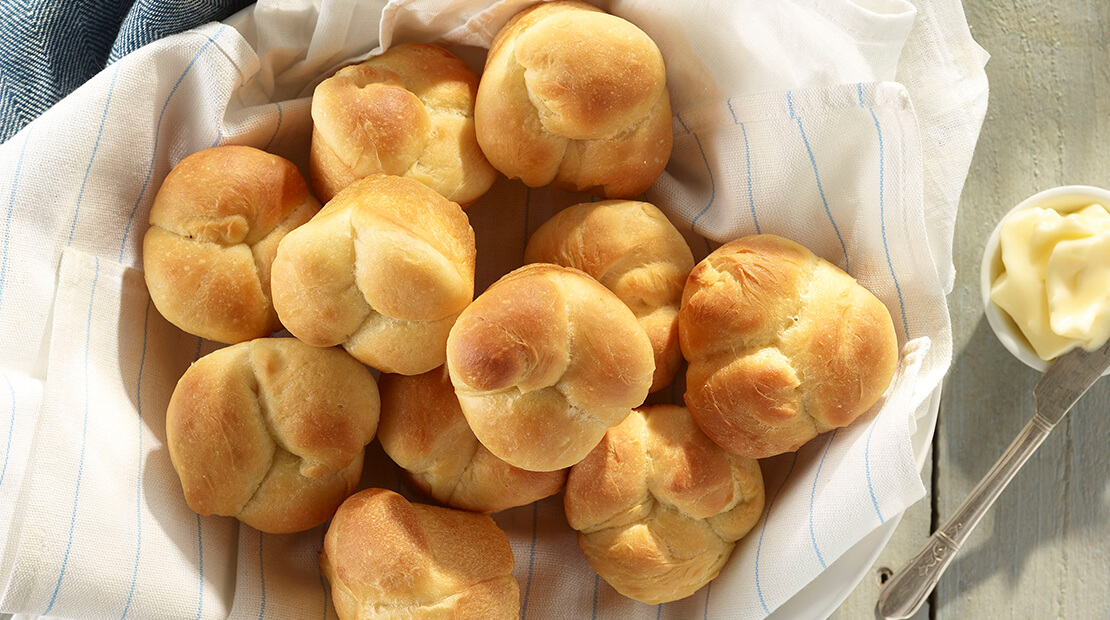 Cloverleaf Rolls
Hands-On Time

30 minutes

Total Time

1 hour

Serves

24
1

(¼-ounce) package active dry yeast

1/3

cup warm water

4 3/4

cups bread flour

1/3

cup dry milk powder

1/3

cup sugar

1

tablespoon kosher salt

1 1/3

cup water

1/2

cup vegetable shortening

1/4

cup melted butter
Instructions
Sprinkle yeast over 1/3 cup warm water, stir until blended and let stand 5 minutes.
In large bowl, combine flour and milk powder.
In medium bowl, stir sugar and salt into 1 1/3 cup water. Add yeast mixture.
In the bowl of an electric stand mixer, using a dough hook, combine flour mixture and water mixture at low speed, for 1 minute or until blended. Add shortening and mix at medium-low speed 10 minutes.
Shape dough into a ball, place in a lightly greased glass bowl and loosely cover with plastic. Place in a warm area and let dough stand 1 ½ hours or until doubled in size. Punch down and divide into thirds. Shape each 3rd into small 1 ½-inch balls and place 3 balls into lightly greased muffin tins. Brush with melted butter.
Let stand in warm place 1 hour or until doubled in size. Bake 15 to 20 minutes or until golden. Brush with remaining melted butter. Serve warm.