From the African roots of Southern soul food to the eating habits of trendsetting millennials, Hormel Foods is exploring the dishes and stories behind food heritage through an online video series called Cooking and Culture.
Chef Brian Strom and Karol Pelletier, Cultural Beliefs manager at Hormel Foods, joined us for this episode of Cooking & Culture.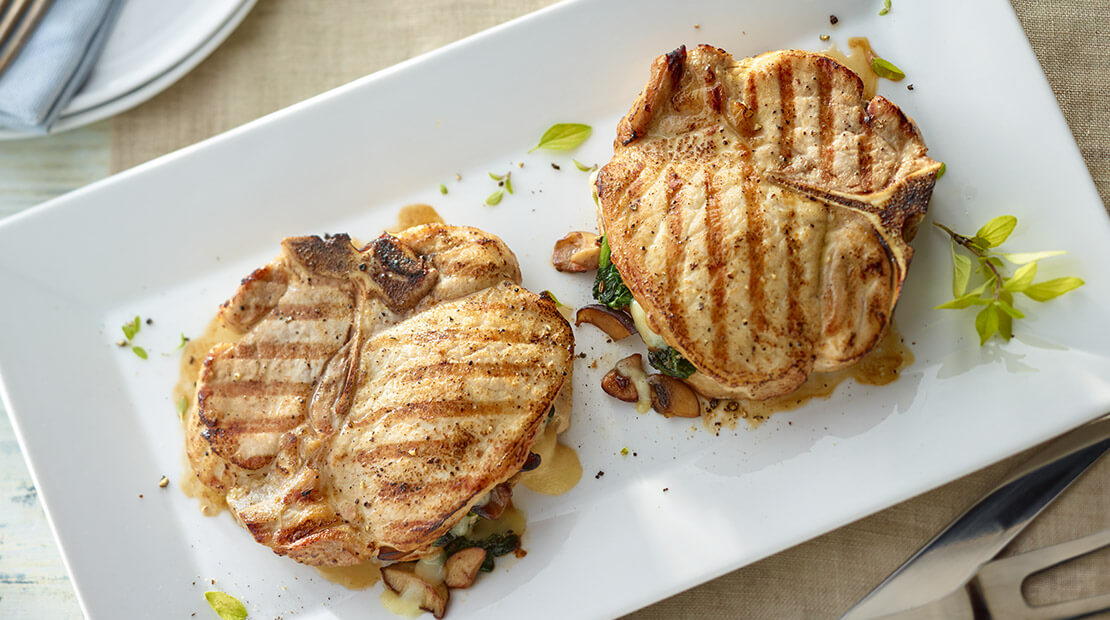 Roasted Mushroom and Fontina Stuffed Loin Chops
Hands-On Time

1 hour

Total Time

3 hours

Serves

4
4

(1-inch thick) HORMEL® center cut pork loin chops

1/2

cup kosher or sea salt

3

tablespoons butter

1

shallot, chopped

2

cloves garlic, chopped

2

cups assorted oyster and cremini mushrooms, roughly chopped

1

cup packed fresh baby spinach

1/4

cup sherry or port wine

1

teaspoon crushed fennel seed, toasted

to taste

salt and pepper

1

cup shredded fontina cheese

as needed

wooden picks
Instructions
In medium size bowl, place pork chops. Cover with water. Add salt. Refrigerate 1 to 2 hours.
In medium skillet over medium-high heat, melt butter. Add shallot and garlic and cook 2 minutes or until translucent. Add chopped mushrooms. Cook 8 minutes or until most of the moisture has evaporated. Add spinach. Cook 1 minute or until wilted. Add wine and cook 2 minutes or until thick. Add fennel seed and salt and pepper to taste. Cool to room temperature.
Prepare grill for medium to medium-high heat. Remove pork chops from water solution and pat dry. Use a boning knife to make a pocket in the side of each pork chop. Fill pocket with a small amount of cheese and mushroom mixture. Close the pocket with wooden picks.
Grill pork chops 4 to 6 minutes on each side or until meat thermometer inserted into center reads 145°F.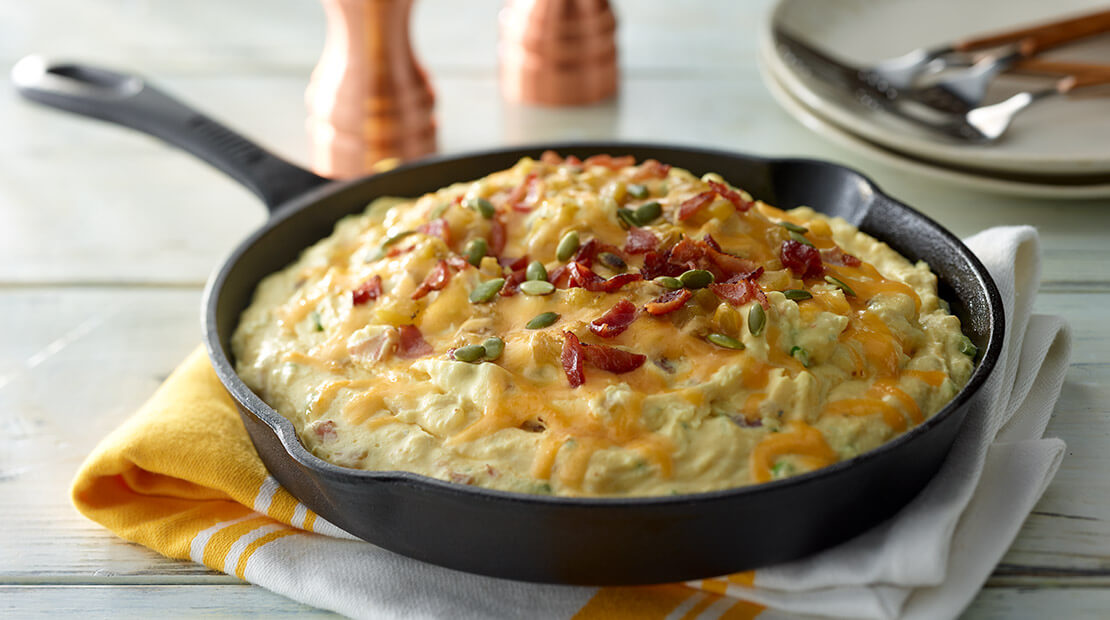 Loaded Green Chile Whipped Potatoes
Hands-On Time

30 minutes

Total Time

1 hour

Serves

8
2

cups shredded cheddar cheese

6

strips HORMEL® BLACK LABEL® jalapeno bacon, cooked and chopped

1/2

cup chopped green onion

3

pounds russet potatoes, peeled and diced

1

tablespoon HERB-OX® chicken flavored bouillon granules

1

cup sour cream

1/4

cup butter, cubed

1

(4-ounce) can LA VICTORIA® diced green chilies, drained
Instructions
Heat oven to 350°F. In bowl, combine cheese, chopped bacon and green onion. Reserve ¾ cup.
In large stock pot, place potatoes. Add enough cold water to cover. Add bouillon. Bring to a boil and cook 20 minutes or until tender. Drain.
In saucepot, combine sour cream, butter and green chilies. Bring to a simmer. Add potatoes. With electric hand mixer on low speed, beat potatoes. Add cheese mixture. Beat until smooth. Place in 12-inch cast iron skillet. Top with reserved 3/4 cup cheese mixture. Bake 8 to 10 minutes or until cheese is golden brown. Serves 8.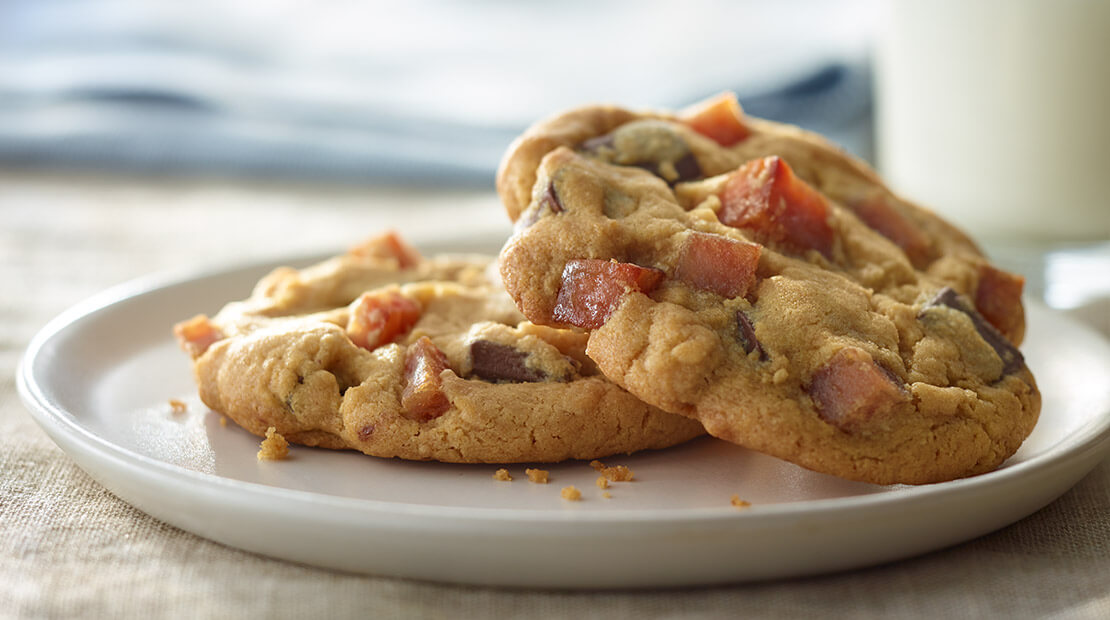 SPAM® Peanut Butter and Chocolate Chip Cookies
Hands-On Time

20 minutes

Total Time

1 hour

Serves

36
1

(12-ounce) can SPAM® Classic, cut into ½-inch cubes

4

tablespoons brown sugar

2 1/2

cups flour

1

teaspoon baking powder

1

teaspoon baking soda

1/4

teaspoon salt

12

tablespoons butter, softened

1

cup SKIPPY® creamy peanut butter

3/4

cup sugar

3/4

cup firmly packed brown sugar

2

eggs

1

teaspoon vanilla

2

cups semisweet chocolate chunks
Instructions
Heat oven to 425°F. Place baking rack on baking sheet. Toss SPAM® classic with 4 tablespoons brown sugar until coated; spread in single layer on baking rack. Bake 10 to 15 minutes or until crispy and golden.
Reduce heat to 350°F. In small bowl, combine flour, baking soda, baking powder and salt. In large bowl, combine butter and peanut butter. Beat with electric mixer until creamy. Beat in ¾ cup sugar, 3/4 cup brown sugar, eggs and vanilla until smooth. On low speed, mix in flour mixture just until combined. Fold in chocolate chunks and SPAM® Classic. Form 2 tablespoons dough into balls. Place on lined baking sheet. Gently flatten each dough ball with bottom of glass. Bake 16 minutes or until golden brown. Makes about 2½ dozen cookies.