Chef Barry Greenberg is an award-winning culinarian and is the Culinary Team Lead at Hormel Foods. But more to the point, he's a lover of all things autumn. We asked Chef Barry to weigh in on this year's fall food trends. Read what he had to say about this season's trending flavors.
"Since I began cooking, I have always felt that fall is the best time to be in the kitchen. Things start to settle down into a rhythm, whether kids are back in school or off to college. Everyone has their own pace," said Greenberg. "Luckily, we're again in a position to allow friends and family to easily gather to share food and good times together."
Greenberg continues, "If you're into cooking fall vegetables, your time has come. Stews, soups and warm broths are making their way back into your repertoire. Apples, pears, pumpkins and all the squash take a lead role in my baking during fall. Maybe you're learning some new bread-baking techniques like sourdough, pretzel dough or croissants. Long, slow braises with aromatics, legumes and meat kick off a cooler-weather cooking season at my house."
"Here are some of the trends and flavors I'm looking forward to this fall."
Pumpkin Spice
"Of course, it wouldn't be fall without pumpkin spice everything. It's everywhere, and I don't think it's going anywhere anytime soon, either."
Portable protein balls with Skippy® peanut butter are easy to customize and great to bring along with you for a full day of fun fall activities.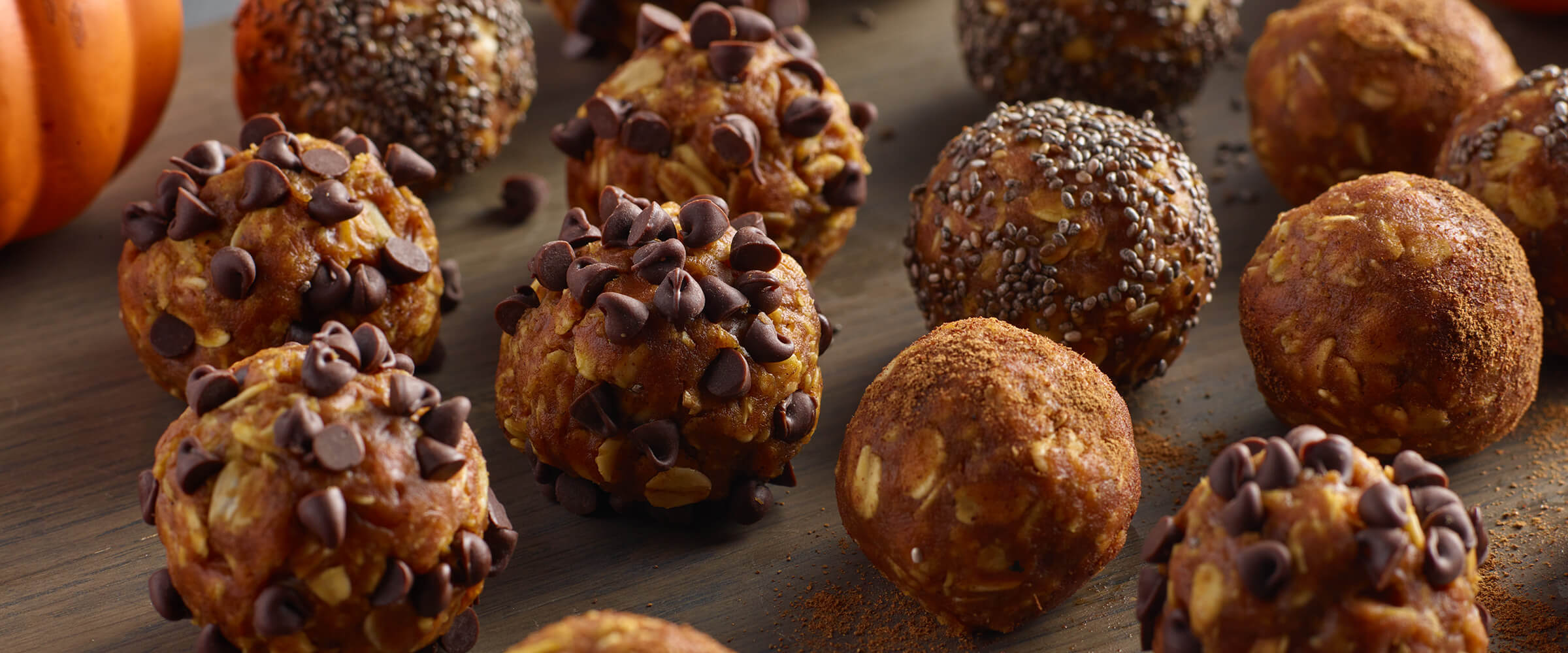 Peanut Butter and Pumpkin Protein Balls
On the Go
Ingredients
| | |
| --- | --- |
| 1 | cup Skippy® creamy peanut butter |
| 2 | cups rolled oats |
| ½ | cup canned pumpkin |
| ¼ | cup maple syrup |
| 1 | tablespoon ground cinnamon |
| 1 | teaspoon pumpkin pie spice |
| | |
| --- | --- |
| ½ | cup chia seeds |
| ½ | cup mini chocolate chips |
| 2 | tablespoons ground cinnamon |
Directions
In large bowl, combine peanut butter, rolled oats, pumpkin, maple syrup, 1 tablespoon cinnamon and vanilla.

Shape into 24 balls.

Store in refrigerator.
For the Garnish
Roll balls in desired garnish.
Apple Cider
"Another fan favorite this time of year is apple cider. I really love a cider that is apple specific instead of a generic 'everything in the masher' type of cider. When you can find a specific flavor profile, the apple flavor really comes through and the appropriate sugar content for the apple is present. Whether it's hot or cold, fall is cider season."
This apple cider snack mix is like having autumn in the palm of your hand. Great for entertaining or snacking on the go, this mix is easy and bursts with the taste of fall.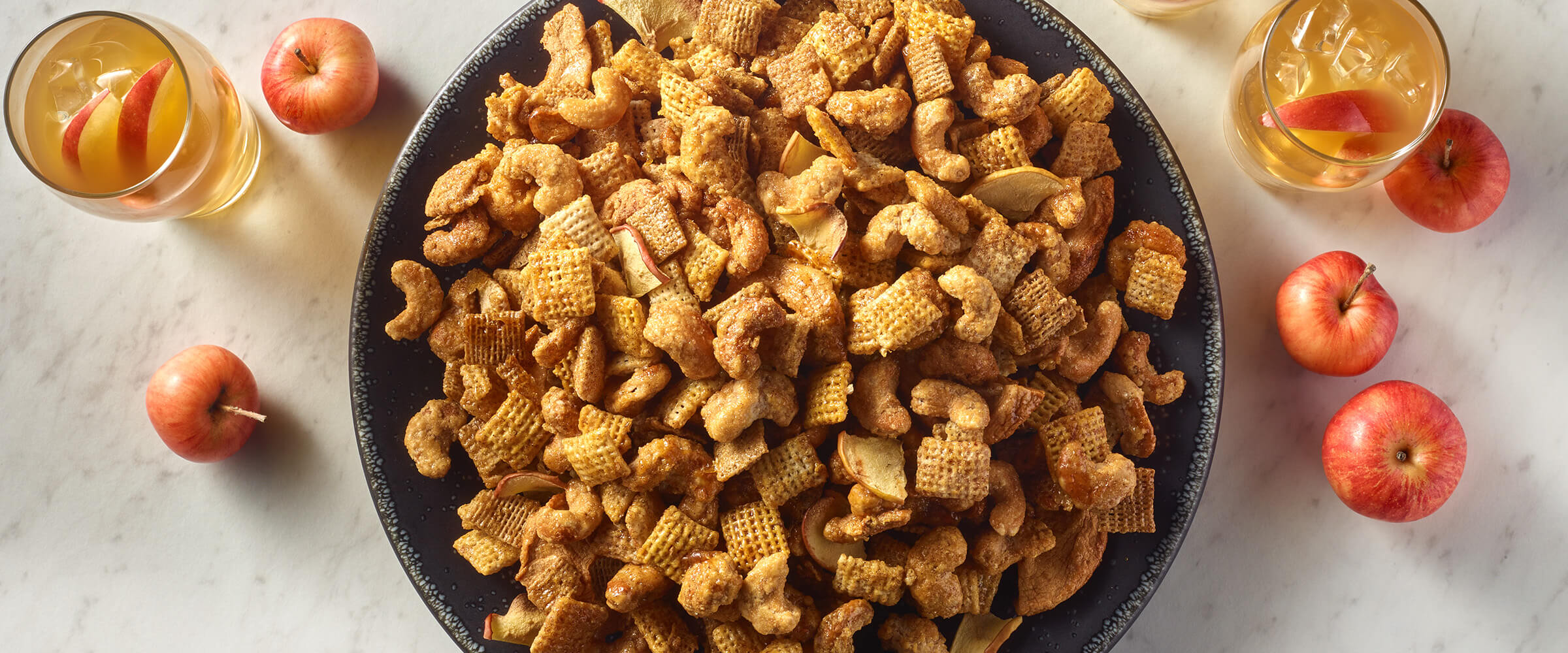 Ingredients
3

cups toasted corn cereal squares

3

cups toasted rice cereal squares

3

cups toasted wheat cereal squares
1

½

cup Planters® Apple Cider Donut Flavored Cashews

½

cup brown sugar

⅓

cup corn syrup

¼

cup butter

1

teaspoon cinnamon

¼

teaspoon ginger

½

teaspoon baking soda

½

teaspoon salt
1

½

cup dried apple chips
Directions
Heat oven to 250°F. Line a large rimmed baking sheet with foil.

In large bowl, combine cereal and cashews.

In medium saucepan over medium heat, combine brown sugar, corn syrup and butter. Cook 2 to 3 minutes, stirring until butter is melted and sugar is dissolved. Remove from heat. Stir in cinnamon, ginger, baking soda, and salt.

Pour mixture over cereal and cashews. Toss to combine. Transfer mixture to prepared baking sheet.

Bake 45 to 50 minutes, stirring occasionally. Let cool. Stir in dried apple chips.
Spicy Maple Syrup
"Hot or spicy maple syrup is something that I hope to see more of in restaurants. I spent a lot of time in Vermont and love a very dark, robust syrup. Spicy maple is usually seasoned with some type of chili pod. Maple syrup is really a spring harvest item, but I always think of it as part of a fall breakfast. It goes great with bacon, sausage and obviously pancakes."
This SPAM® waffle musubi is a clever way to spice up your breakfast with a fiery blend of savory and sweet.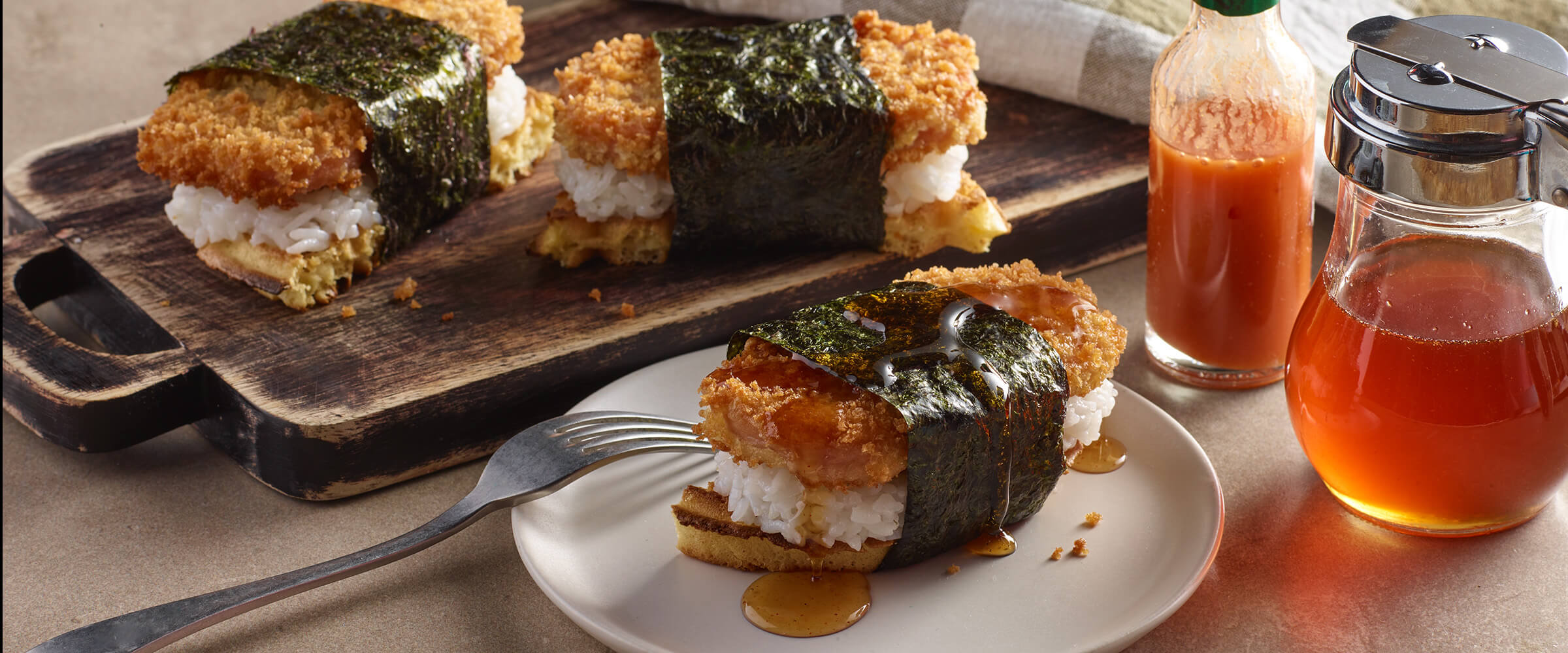 SPAM® Classic and Waffle Musubi with Spicy Maple Syrup
Easy Meals
Prep Time
Cook Time
Cook Method
Ingredients
| | |
| --- | --- |
| ¼ | cup flour |
| 2 | eggs, beaten |
| 1 | cup panko breadcrumbs |
| 1 | (12-ounce) can SPAM® Classic, cut into 8 slices |
| | Vegetable oil |
| 3 | cups cooked white sushi rice |
| 4 | frozen waffles, toasted and cut in half |
| 2 | sheets nori, cut lengthwise in quarters |
| 1 | cup pure maple syrup |
| 2 | tablespoons cayenne pepper hot sauce |
Directions
Place flour, eggs and breadcrumbs in separate shallow dishes. Dredge SPAM® Classic slices in flour, dip in eggs and roll in breadcrumbs.

In large skillet, pour enough vegetable oil to cover bottom by 1-inch. Heat oil over medium-high heat. Add breaded SPAM® Classic slices to skillet and fry 3 to 5 minutes, turning once, until golden brown. Remove from skillet.

With moist hands, mold rice into eight blocks with same dimensions as SPAM® slices. Place rice blocks on halved waffles. Top with breaded SPAM® Classic slice. Wrap individual nori strips around each middle, moistening edge of nori to fasten it.

In small bowl, combine maple syrup and hot sauce. Serve on side or drizzle on.
Ube
"I have been thinking a lot about ube lately. It's is a beautiful deep purple yam that has some nutty-flavor undertones and can be used for baking, as a mashed side dish and even in ice cream. Yes, ice cream (when used in its powdered form). It's a beautiful color and a somewhat familiar flavor that is going to keep gaining popularity."
This skillet roll brings the subtle sweetness of ube to the familiar flavor of a cinnamon roll put together with slices of savory Hormel® Black Label® bacon and baked in a skillet.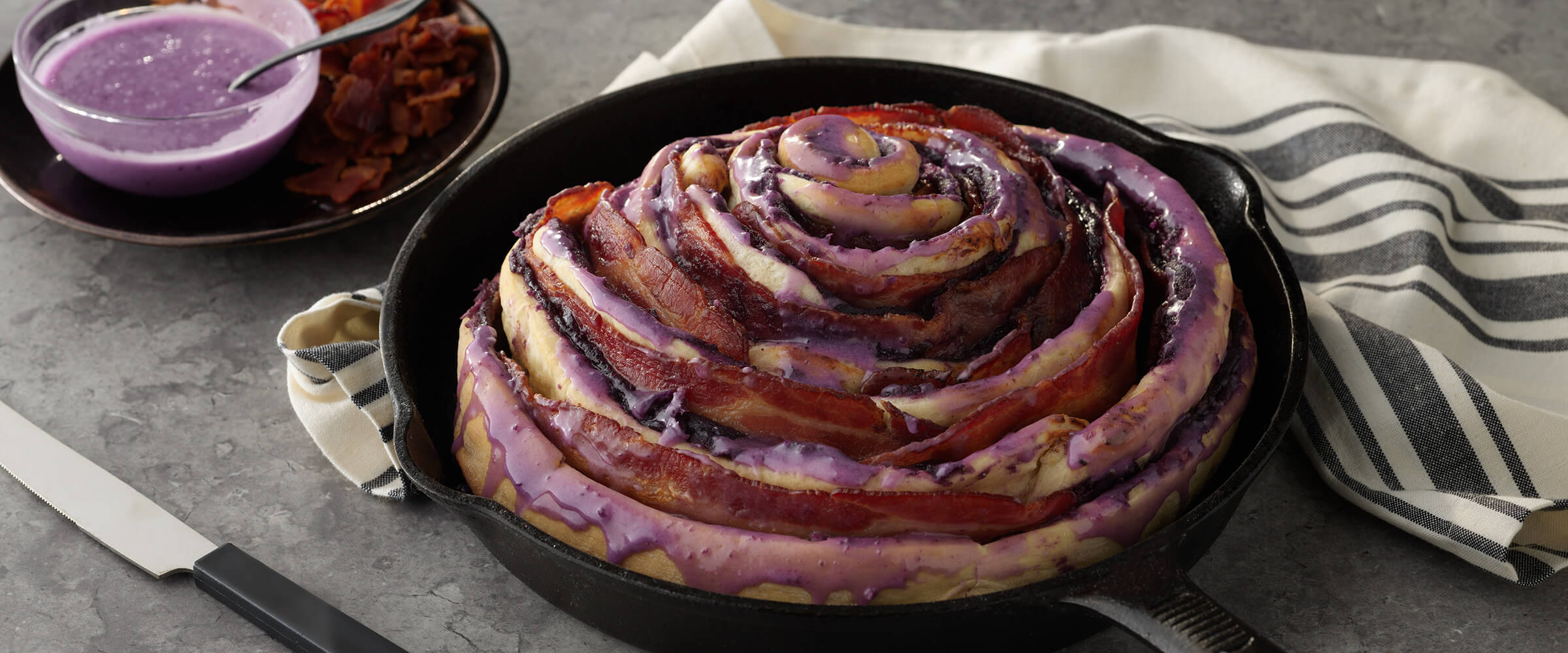 Prep Time
Cook Time
Cook Method
Ingredients
| | |
| --- | --- |
| 1 | loaf frozen bread dough, thawed |
| 10 | slices Hormel® Black Label® bacon, plus more for garnish if desired |
| 1 | (10-ounce) jar ube paste or jam |
| | |
| --- | --- |
| 1 | cup powdered sugar |
| 2 | tablespoons tablespoons ube paste or jam |
| 2 | tablespoons milk, or more to thin |
Directions
Heat oven to 350°F. Grease a 10-inch cast iron skillet or glass pie plate.

Prepare bacon by placing slices on paper-towel-lined microwaveable plate. Cover with paper towel. Microwave for 3 to 4 minutes or until cooked, but pliable.

Roll dough out into a large, symmetrical rectangle, approximately 18-inch by 8-inch. Spread ube paste evenly over dough. Using a pizza cutter, make four horizontal strips, 2-inches wide. Place bacon end to end on strips and start tightly rolling dough and bacon strips into one large roll.

Place in center of prepared pan. Bake 30 to 40 minutes, or until it's deep golden brown and springs back to touch. Cover with foil if browning too quickly. Let cool 10 minutes before icing.
For the Icing
Whisk together icing ingredients and drizzle over the roll. Sprinkle with additional bacon bits if desired.
Savory Granola
"Savory granola is another ingredient I've been watching. Think of the granola that you put on your fruit and yogurt, but it's not sweet. Savory granola can be used as a complement to a sweet dish, or as a crunchy element to a side dish, pilaf or entrée. I'm envisioning a dish of roasted kabocha squash with coconut curry granola, or a sweet potato soup with a sesame-quinoa granola."
Savory granola gives this kabocha squash dish a hearty crunch, with this particular mix featuring the savory goodness of Planters® rosemary and sea salt cashews.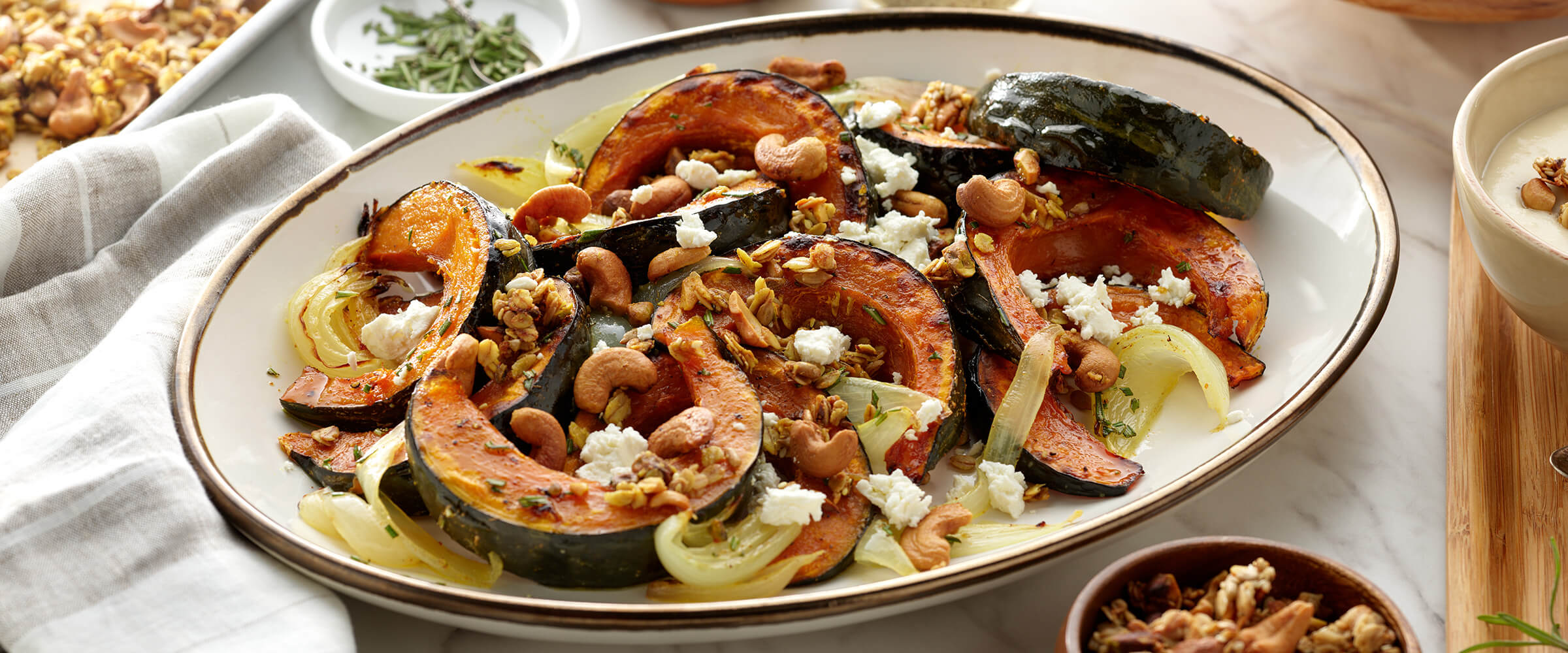 Roasted Kabocha Squash with Savory Granola
Easy Meals
Prep Time
Cook Time
Cook Method
Dish Type
Ingredients
Roasted Kabocha Squash

1

kabocha squash, seeded, cut into thin wedges

1

large onion, cut in wedges

2

tablespoons olive oil

1

teaspoon curry powder

1

teaspoon garlic powder

2

teaspoons chopped fresh rosemary
Salt and pepper, to taste
1

½

cup Savory Rosemary Sea Salt Cashew Granola with a Curry Twist; recipe follows

4

ounces goat cheese, crumbled
Additional olive oil, if desired
Savory Rosemary Sea Salt Granola with a Curry Twist

¼

cup canola oil

1

tablespoon maple syrup

1

egg white, beaten
1

½

cup old fashioned rolled oats

1

( 5-ounce) package Planters® rosemary & sea salt cashews, rough chopped

½

cup shelled Planters® pistachios, rough chopped

½

cup Planters® dry roasted sunflower kernels

2

tablespoons sesame seeds

1

teaspoon curry powder
pinch red pepper flakes
Directions
For the Roasted Kabocha Squash
Heat oven to 400°F. Place squash and onions on large rimmed baking sheet. Drizzle with oil. Sprinkle with seasonings. Toss together. Roast 30 to 40 minutes, flipping halfway through. Test for doneness with a fork.

Arrange squash on serving platter. Top with savory granola and goat cheese. Drizzle with additional olive oil , if desired.
For the Savory Rosemary Sea Salt Granola with a Curry Twist
Heat oven to 350°F. Line baking sheet with parchment paper.

In small bowl, whisk oil, maple syrup, and egg white.

In separate bowl, combine oats, nuts, and seasonings.

Poor oil mixture over oats and nut mixture. Stir to coat well. Spread onto baking sheet.

Bake 25 to 30 minutes, stirring halfway, until fragrant and golden in color. Cool on pan, then break up and store in an airtight container.
Another way to enjoy savory grains is with a hearty oatmeal. Incorporating bacon, eggs and your favorite toppings brings an extra warmth to your bowl.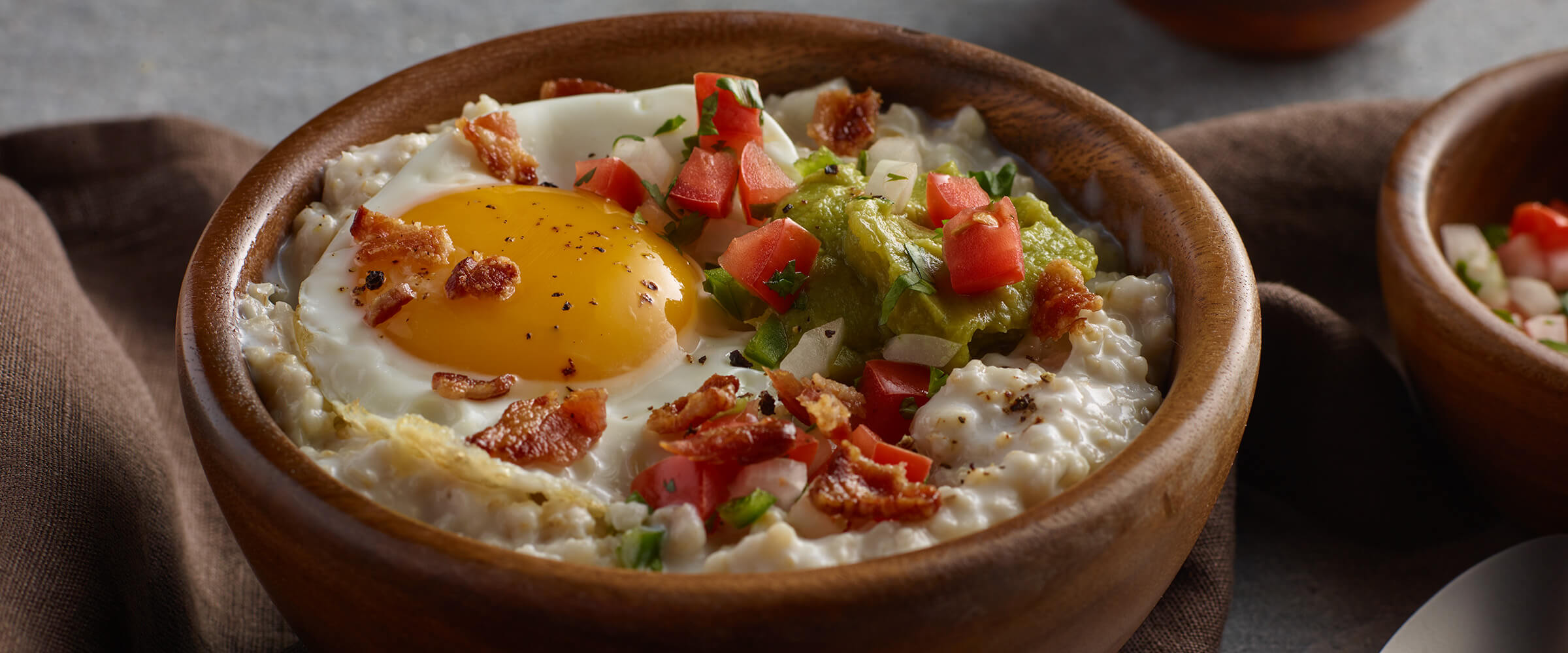 Prep Time
Cook Time
Cook Method
Dish Type
Ingredients
| | |
| --- | --- |
| 2 | cups water |
| 2 | cups milk |
| 1 | cup steel cut oats |
| 1 | teaspoon salt |
| 2 | tablespoons butter |
| ¼ | cup grated Parmesan cheese |
| | Black pepper, to taste |
| | Suggested Toppings: fried eggs, crumbled Hormel® Black Label® Bacon, Wholly® Guacamole, chopped green onions and pico de gallo |
Directions
Combine oats, water, milk and salt in a heavy, medium sized saucepan. Bring to boil.

Reduce heat to a slow simmer. Continue to cook 25 to 30 minutes, stirring occasionally, until most of the liquid is absorbed. Remove from heat. Stir in butter and Parmesan cheese. Add black pepper if desired.

Serve with suggested toppings.
From the familiar comfort of pumpkin spice to the innovative fusion of unexpected ingredients like ube, this season's flavor trends offer something for everyone. As we bid farewell to the scorching days of summer, we welcome the arrival of autumn with open arms and eager palates. So, whether you're sipping on a spiced latte, savoring a hearty bowl of oatmeal or indulging in a warm and cozy treat, this year's fall-flavor trends remind us that there's always something new and exciting to explore in the world of food.