If you're still, you know, getting back in the socializing swing of things, Friendsgrazing may be a trend arriving right on time for you. It's a fresh, simple way to gather a handful of friends for fun, fantastic seasonal parties at your place.
Imagine:

Focus on Friends & Fun
No big, heavy dishes. And no big, heavy commitments. Just you, a few close friends or friends-to-be, and a scrumptious "tasting menu" of your own devising. Best part: every guest brings a dish, something simple and sensational you know will complement every other dish.
Friendsgrazing is a great "concept" whether you're hosting next month's book-club, or planning on something lower-key, with neighbors, work-mates or friends.
KISSS: Keep it

Sweet, Savory & Simple
Keep It Sweet, Savory and Simple: these are the watchwords for your own Friendsgrazing get-together. The advice from our culinary wizards:
Think in creative contrasts: Sweet with savory. Soft with crunchy. Like, for example, our bacon-wrapped, honeyed green beans (photo, above). It's a burst of textures and flavors, yet so simple to prepare.
Or, think about fresh new pairings of flavor and texture. Think of how hearty nuts like walnuts and pecans might blend and contrast with the salty umami of cured meats, pepperoni or bacon.
Friendsgrazing. Slightly simpler. Slightly tastier. It's all about making parties fun for everyone: even the hosts!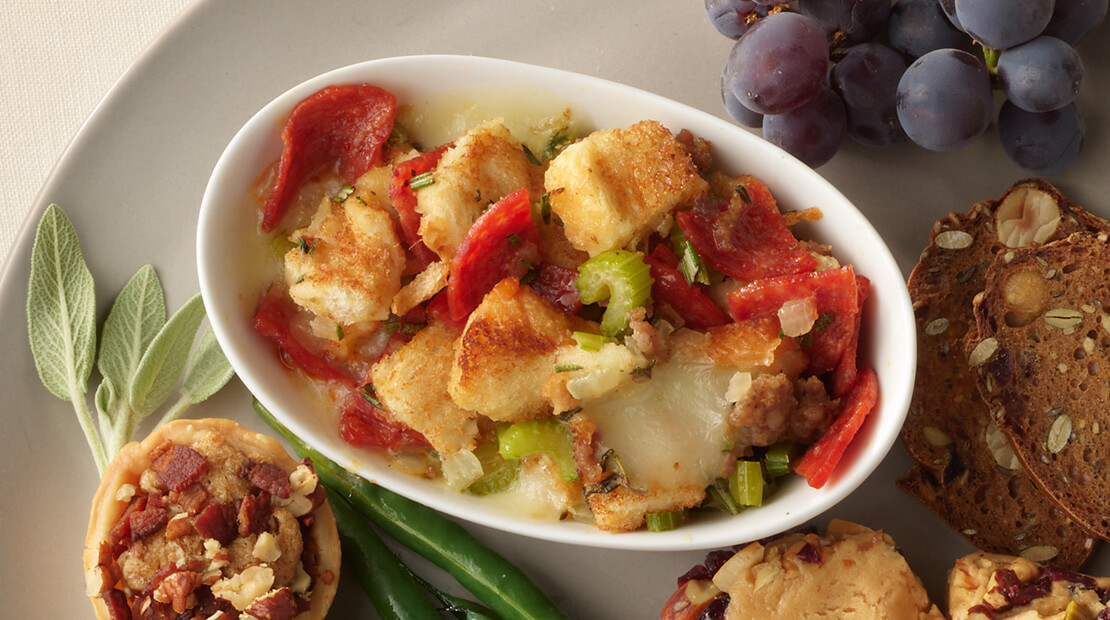 Pepperoni Herbed Stuffing
Hands-On Time

20 minutes

Total Time

1 hour 20 minutes

Serves

8
3

tablespoons butter, divided

2

onions, thinly sliced

2

cups celery slices

10

slices bread, toasted

Kosher salt and freshly ground pepper

2

tablespoons fresh thyme leaves

10

fresh sage leaves, cut into thin strips

1

teaspoon dried rosemary

1

(6-ounce) package HORMEL® Pepperoni, chopped

1

pound bulk pork breakfast sausage, cooked and drained

1

pound mozzarella cheese, cut into 3/4-inch cubes

1

cup chicken broth, heated
Instructions
Heat oven to 375°F. In a large skillet over medium heat, melt 2 tablespoons butter. Add onions and celery. Cook 5 minutes, or until translucent. Remove from pan.
Cut toast into 1-inch squares. Place in large bowl. Add salt and pepper to taste, thyme, sage and rosemary.
Stir in celery and onion mixture, pepperoni, sausage and mozzarella. Mix to combine. Add chicken broth to moisten ingredients; toss.
Pour mixture into a 3-quart baking dish. Cover with foil. Bake 30 minutes. Remove foil and continue baking 20 minutes, or until golden brown.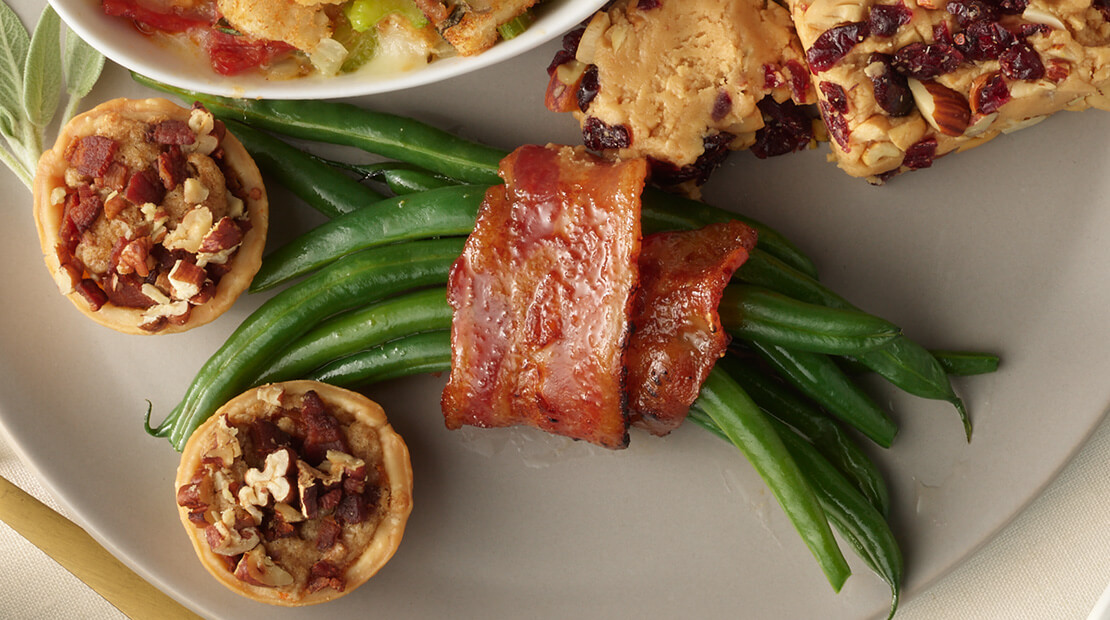 Green Bean Bacon Bundles
Hands-On Time

15 minutes

Total Time

40 minutes

Serves

6
12

slices HORMEL® BLACK LABEL® Bacon Original

4

tablespoons butter, melted

1

teaspoon salt

1/2

teaspoon garlic powder

1 1/2

pounds green beans, trimmed and blanched

1/4

cup packed light brown sugar
Instructions
Heat oven to 375°F. Line large, rimmed baking sheet with parchment paper.
In large skillet over medium heat, cook bacon 6 to 8 minutes or until the slices are just beginning to brown along the edges but are still pliable. Transfer to paper towel-lined plate.
In small bowl, whisk together butter, salt and garlic powder.
Divide green beans into 12 equal portions. Gather each portion into a bunch and wrap slice of bacon around the center to hold the beans together. Place the bundles on the prepared baking sheet with the loose ends of the bacon underneath. Sprinkle brown sugar evenly over the bundles and drizzle with the butter mixture.
Bake 20 to 25 minutes or until the bacon is cooked through and browned. Let stand 3 to 5 minutes. Transfer the green bean bundles to a warmed platter and serve immediately.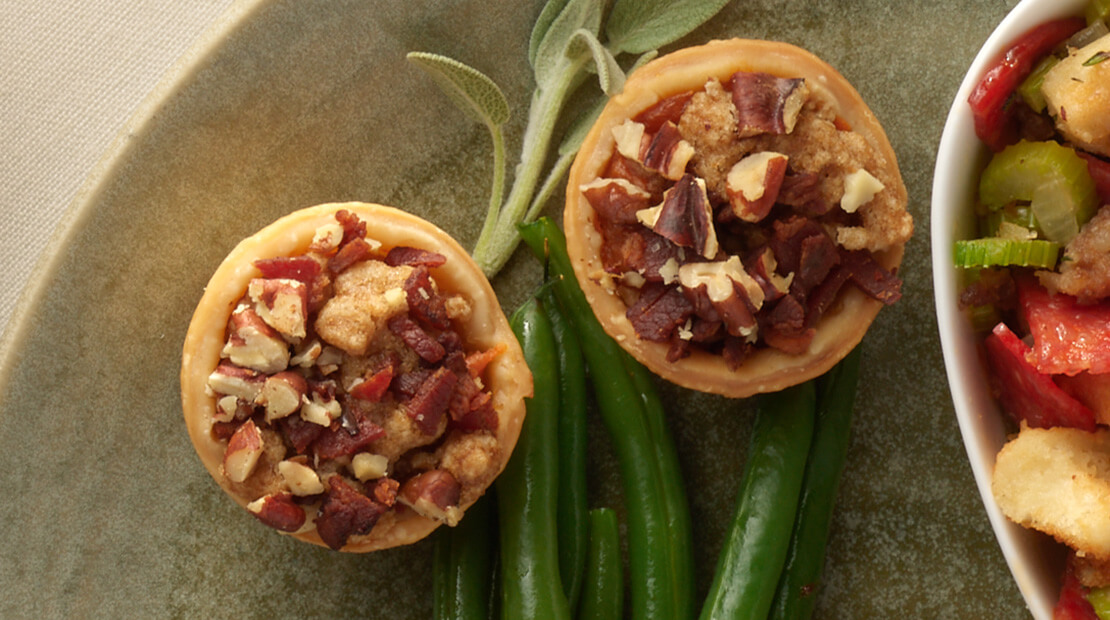 Mini Bacon and Pecan Streusel Topped Sweet Potato Pies
Hands-On Time

20 minutes

Total Time

1 hour

Serves

12
2

large sweet potatoes, peeled and cubed

2

refrigerated pie crusts

1/4

cup flour

3

tablespoons butter, cubed

1

cup packed brown sugar, divided

12

slices HORMEL® BLACK LABEL® Bacon, cooked and crumbled

1

cup chopped pecans
Instructions
Heat oven to 350°F. Place sweet potatoes in a medium saucepan. Add water to cover. Bring to boil over medium-high heat. Reduce to simmer. Cook 10 to 12 minutes, or until tender. Drain.
On work surface, unroll 1 pie crust. Using a 2½ -inch round cutter, cut out 12 circles. Press circles onto bottoms and up sides of 12 nonstick mini muffin cups. Repeat with second crust.
In bowl of food processor, pulse flour, butter and ¼ cup brown sugar until crumbly. Remove to medium bowl. Stir in bacon and pecans.
Add sweet potatoes and remaining ¾ cup brown sugar to food processor; pulse until smooth. Fill crust-lined cups three-fourths full. Sprinkle with topping.
Bake 20-24 minutes, or until crusts are golden brown. Cool 5 to 10 minutes before removing from pan to a wire rack.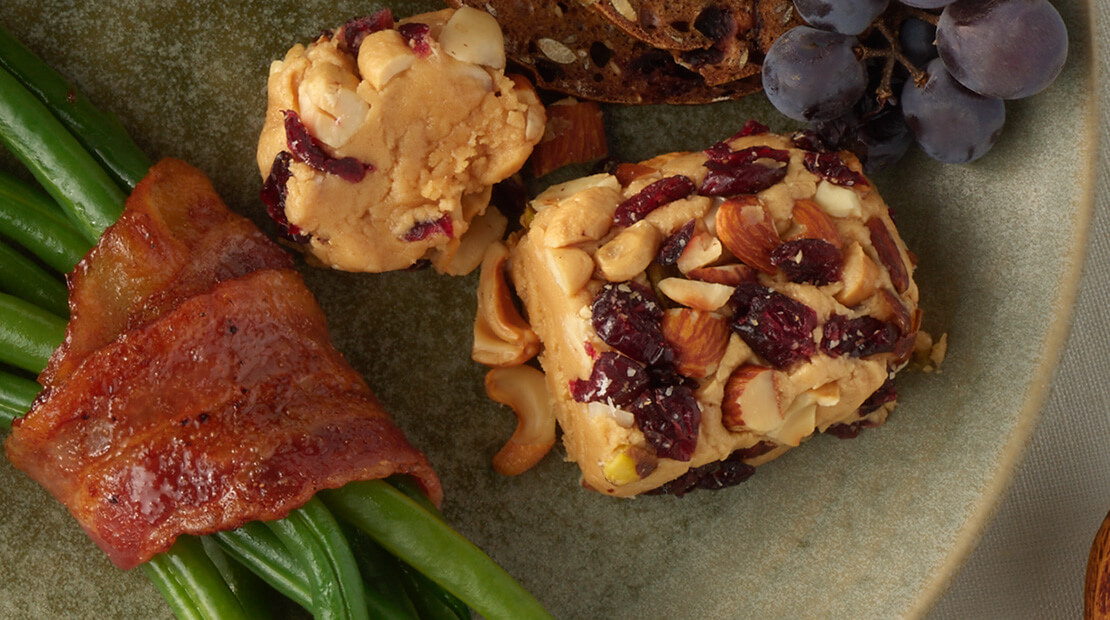 Cranberry Nut Peanut Butter Cheese Log
Hands-On Time

15 minutes

Total Time

45 minutes

Serves

8
1

cup SKIPPY® Creamy Peanut Butter

1/2

(8-ounce) package cream cheese, softened

1/4

cup butter, softened

1

teaspoon vanilla extract

1/4

teaspoon kosher salt

1 1/2

cups powdered sugar

1

cup chopped PLANTERS® Deluxe Mixed Nuts

1/2

cup chopped dried cranberries

Crackers, for serving
Instructions
In large bowl, using a hand mixer combine peanut butter, cream cheese and butter.
Add vanilla extract and salt. Gradually add powdered sugar.
Shape mixture into 2 (8-inch) logs. On work surface, place chopped nuts and cranberries. Roll and press logs into nut and cranberries until coated. Refrigerate until ready to serve.
Serve with crackers.