Spring has sprung, and summer isn't far behind. In my house, summer means one thing: BBQ season! Now is the perfect time to plant the ultimate grilling garden. Here's everything you need to create a garden filled with everything grill ready – from mains to sides and toppings.
corn, eggplant and onions

Getting Down and Dirty
First on the grilling list is always corn – it truly defines summer. Corn is a warm-season annual, which means spring is the perfect time to plant it, because you need the soil temperature to reach at least 60 F. It can take two-three months to reach harvest, so make sure to put it at the top of your planting list. Plant your seeds in full sun. The hotter your weather, the faster corn will grow. It's ready for harvest when the ears turn dark green and the silks turn brown. After picking, give them a swim in very cold water to preserve their sweetness. Then throw those babies on the grill, husk and all! Cook over medium heat for about 25-30 minutes, turning the ears every five minutes.
Corn
Plant your seeds in full sun. The hotter your weather, the faster corn will grow.
A close second is eggplant. The grill loves it, and if you're a vegetarian, think of eggplant as your burger. Eggplant can be one of the first spring plantings, as it only needs the soil to be higher than 50 F. It loves constant sun and well-drained soil, so plant accordingly. Eggplant grows pretty tall, so make sure to give it enough space. You can even plant it in containers, because it loves being warm and cozy. When the skin gets shiny, it's time to harvest. And time to grill! This is when things get dicey (get it?). You have to be careful how you grill it, because eggplant's flesh is like a sponge, and too much oil will turn it into a greasy blob. The key is to use a basting brush instead of pouring oil onto your slices. Some other tricks include salting it to absorb water or presoaking it in milk. Then any oil you brush on goes only on the surface, allowing it to grill up nicely without getting soggy.
Onions
Want the big mac daddy onion? Leave that guy in the ground for a while.
Onions are next. Anyone – and I mean anyone – can grow onions. In fact, you can stick an old onion in the ground and grow a new onion – it's that easy. And it's the grower's choice when you decide to harvest that onion. Want scallions? Pick early. Want the big mac daddy onion? Leave that guy in the ground for a while. Aside from tasting amazing, onions do something else on the grill – they clean it! Use half of one to scrape on the hot grates; the oils from the onion clean it and add a nice protective coating to the grill. For grilling and eating, cut your onion in thick, horizontal slices and put those right on the grate. Drizzle a little balsamic vinegar and … YUM.
Squash, peppers & tomato

Digging It
Now that things are warming up, it's time for summer squash. Squash needs rich soil and warm temperatures, so bring on the heat! Crookneck, straightneck, scallop and zucchini, there's no end to the types of squash you can plant and grill. Squash likes full sun, and you'll want to give those plants lots to drink as the weather warms up. Here's the key to getting perfect squash: When they begin to form, set the fruit on a wooden plank or brick. They'll form better out of the dirt and away from insects. Pick them before they get too big. They'll have better flavor if they don't get overgrown. Also, they'll keep better if you don't wash them until you're ready to grill them. When it comes time to grill, slice one up and add salt to work off some of the water, and then dry your squash or zucchini with a paper towel before you put it on the flame. That way, it won't grill up mushy. And here's another key: Don't toss it in oil and seasoning until after you grill it. And remember, zucchini and squash flowers are edible – dip those babies in batter and fry them!
Peppers
When picking your peppers, use pruning shears or a sharp knife. Don't break them off the branch, because a clean cut will help them to reproduce.
Is there such thing as summer grilling without peppers? Was there ever a smarter fruit? A standard bell pepper is four peppers in one! As it changes from green to yellow, then orange to red, it changes flavor too! That's brilliant multitasking, if you ask me. I'm not a fan of cooked green peppers, so I like to leave them on the plant as long as possible. Peppers are resilient and really can grow well no matter where you plant them; raised beds, containers and straight in the ground. When picking your peppers, use pruning shears or a sharp knife. Don't break them off the branch, because a clean cut will help them to reproduce. And if hot peppers like jalapeno, habanero and serrano are your jam, remember to wear gloves. Take it from me – you don't want to touch your face or eyes after handling peppers that pack some heat. Grilling peppers is a cinch. Just brush each side with olive oil and grill them skin side down. You can thank me later.
Peppers may speak summer, but that's just because we haven't gotten to tomatoes yet! There is nothing, and I mean NOTHING like a tomato from the garden. Store-bought just doesn't compare. In my garden, the big key to successfully growing tomatoes is thinning the herd. It's sad and unfair, but those weak little guys at the bottom of your plant aren't going to help your tomatoes get big and strong. And these beauties LOVE the heat.
tomatoes
Plant them in your sunniest spot, and make sure they're getting a good breeze. They love to sway in the wind.
The hotter the better, in fact. Plant them in your sunniest spot, and make sure they're getting a good breeze. They love to sway in the wind. Seriously, if there's no moving air, put a fan on them or ruffle their leaves for a few minutes a day. They need movement to grow. It sounds weird, but plants like to dance and even dance in the rain. Keep those tomatoes watered regularly until they start to ripen. Once that happens, they ripen quickly, so make sure you're checking them every few days. Easiest way to get them off the vine? Twist and pull. (Kind of like bend and snap, only with tomatoes instead of Reese Witherspoon.) If they're ripe, they'll come easily off the vine. If you notice them cracking at the stem, you might need to pick them a little early and let them ripen indoors. Now on to the good part – grilling! It's easy peasy. Just season with salt and pepper, drizzle with olive oil and always grill them cut side down.
Wait, There's More!
Which brings us to lettuce. Yep, you heard me. You can (and should) grill your lettuce. I promise you won't be sorry. First of all, lettuce is super easy to grow. You really can't screw up lettuce. You can even grow lettuce from other lettuce (that still blows my mind). Lettuce is also a quicker payoff than most vegetables. That is, it starts paying you back less than a month after you plant it. What else does that? Unlike tomatoes, lettuce can hang in cooler weather, so this guy is okay with the partial-shade section of your garden. Lettuce doesn't need deep roots either, so consistent, light watering is key. And it's a snap to harvest. Want a few leaves? Take a few leaves. Want the whole head? Take the whole head. Grilling lettuce? Really, you say? You betcha! Lettuce caramelizes on the grill, and it actually brings out flavor you didn't even know existed! Think about sprinkling it with olive oil, lemon juice, Parmesan cheese. Then put it cut side down and cook until it's slightly charred. Trust me!
Cucumbers
Cucumbers like to stay small because then they'll multiply. So, pick often, and cut the stem right above the fruit, don't pull!
Now that you're the expert at planting and grilling lettuce, why not try some cucumbers? Cukes are your easy breezy hang-in-the-70s guys. They like to be warm and don't need much care. They'll just grow and grow. You may not think of grilling them, but hey, there's a reason why pickles go on burgers – they just taste good. Cucumbers like to stay small because then they'll multiply. So, pick often, and cut the stem right above the fruit, don't pull! Now for grilling – cut them lengthwise into spears like pickles, and then just grill them on each side for two to three minutes. Seriously, that's it. Sprinkle with salt and pepper, and send me a thank you note.
Don't forget dessert! Grow those melons, and then grill them too! Remember when planting melons, they like their space. Don't crowd them with your other fruits and veggies. Give them ample room to stretch their vines and a good soaker system to keep them consistently hydrated. When you can easily detach them from their vines, they're ripe. Now, slice them up and put them on the grill. Season them with everything from mint to honey, lime to red pepper. Grilled melon will be your new go-to summer dessert.
Finally, grab some pots and planters and create the perfect little herb garden. Rosemary, thyme, sage, basil, oregano, dill, cilantro and mint are the perfect companions to anything you throw on the grill.
And just like that, you've created the ultimate grilling garden. Summer, here we come!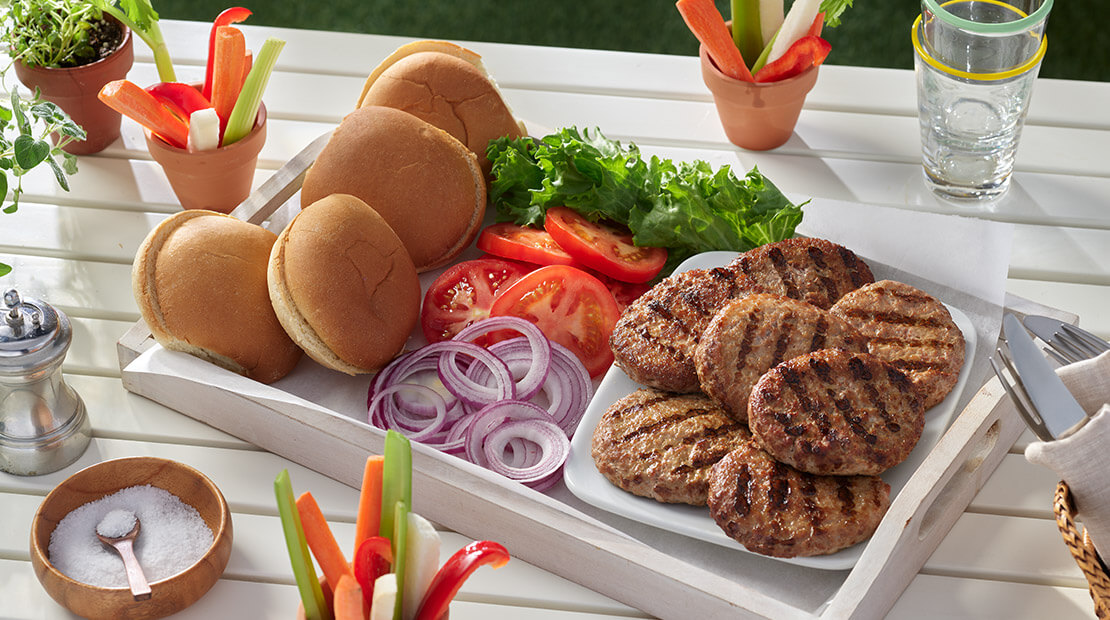 Grilled Turkey Burgers
Hands-On Time

30 minutes

Total Time

30 minutes

Serves

4
1

(16-ounce) package JENNIE-O® Lean Seasoned Turkey Burger Patties

4

slices Provolone cheese

4

onion or bakery style hamburger buns, split and toasted or grilled, if desired

4

romaine lettuce leaves

4

slices tomato

4

slices red onion
Instructions
Place frozen burgers 4 inches from heat source for 9-10 minutes per side (turning twice) and until fully cooked to 165°F. Place cheese over patties during last minute of cooking.
On bun bottoms, layer lettuce leaves, grilled patties, tomato and onion; add bun top. Serve with condiments, if desired.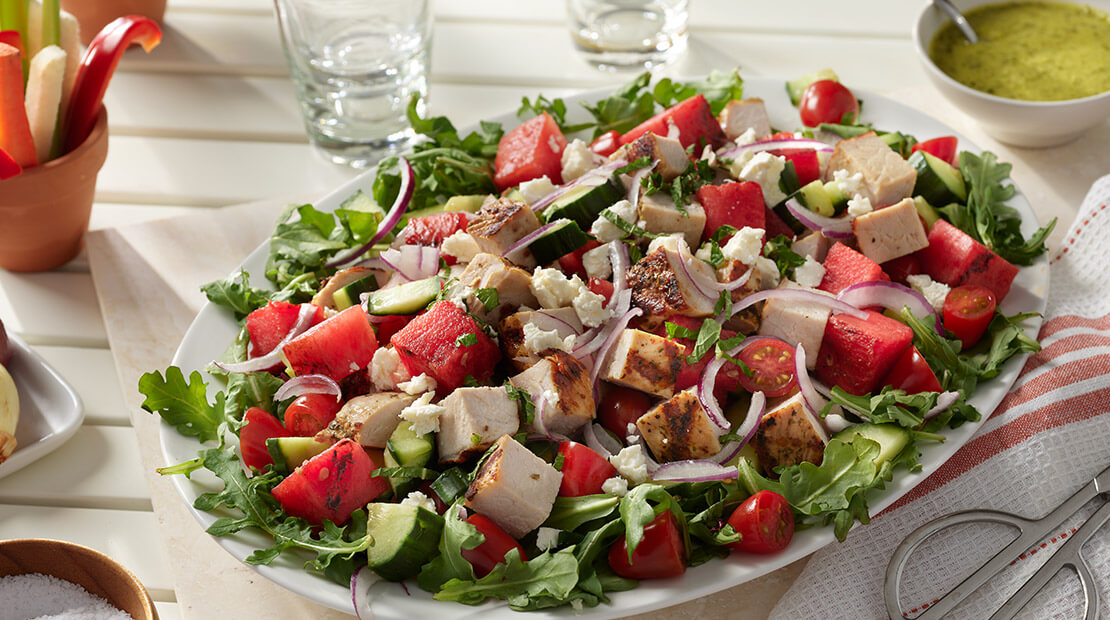 HORMEL® ALWAYS TENDER® Pork Loin, Watermelon and Arugula Salad
Hands-On Time

20 minutes

Total Time

40 minutes

Serves

6
1

(1.5-pound) HORMEL® ALWAYS TENDER® Herb Dry Seasoned Loin Filet

3

cups baby arugula

1/4

cup shaved red onions, halved

1/4

cup thinly sliced fresh mint

4

cups cubed seedless watermelon

1

English cucumber, chopped

1

cup grape tomatoes, halved

1/2

cup feta cheese, crumbled (optional)

Vinaigrette Ingredients:

1/3

cup olive oil

1

cup loosely packed basil leaves

1

small shallot coarsely chopped

1

small serrano chile, seeded, deveined, coarsely chopped

1/4

cup fresh lime juice (about 2 limes)

1/2

teaspoon salt
Instructions
Grill pork according to package directions. Let stand 10 minutes and cube.
On large serving platter, compose salad ingredients.
In blender container place vinaigrette ingredients. Blend until smooth. Drizzle over salad.
Grilled Vegetables
Hands-On Time

under 30 minutes

Total Time

30 minutes

Serves

8
1

cup CHI-CHI'S® Thick & Chunky Salsa

2

cloves garlic, crushed

2

tablespoons olive oil

1

tablespoon lime juice

1/2

teaspoon dried rosemary leaves

Bell peppers, green onions, corn, eggplant, red or yellow onions, jicama, squash, tomatoes and/or potatoes
Instructions
To make sauce, in blender container, combine salsa, garlic, oil, lime juice and rosemary; puree until smooth.
Prepare grill for medium-hot coals.
Prepare vegetables by cutting into chunks for skewers or into 1/2-inch slices to lay on grill grate or in grill basket. Vegetables such as corn-on-the-cob, cherry tomatoes, pattypan squash and baby vegetables grill well whole.
Grill vegetables, turning and basting with sauce frequently, until tender and browned. Time varies depending on vegetable: whole or halved bell peppers (10 minutes); whole green onions (10 to 12 minutes); whole, shucked ears corn-on-the-cob (15 to 20 minutes); 1/2-inch slices eggplant (10 to 15 minutes on each side); wedges or 1/2-inch slices red or yellow onions (12 to 18 minutes); chunks or 1/2-inch slices jicama (20 minutes); zucchini, pattypan, chayote or yellow crookneck squash (8 to 12 minutes); halved large or whole cherry tomatoes (8 to 10 minutes); 1/2-inch slices baking or sweet potatoes (14 to 16 minutes).