There's a reason the humble potato has attracted food world acclaim as an on-trend food-of-the-moment. The potato is versatile, a reliable rustic complement that never disappoints.
Not everyone can be a truffle. Most of us are potatoes. And a potato is a very good thing to be.

Massimo Bottura, Michelin-starred Chef
Still, potatoes and pizza? They just don't seem to go together. Yet, you won't find the inspiration for The Royale to be in some trendy midtown bistro. Think, instead, of classic, authentic pizza con patate. An authentic Italian pairing of pizza and potato with roots that reach across time and an ocean, all the way to Rome.
Now, think of rich, creamy, artisanal flavors; of razor-thin slices of purple potato flecked and glistening with fresh herbs and the savory tang of finely diced bacon. That's The Royale, a mouthwatering combination and our update to the pizza con patate that people have been enjoying for centuries.
Along with purple potatoes, The Royale puts a spotlight on a delicious compote made with Hormel® Black Label® bacon, sugared vinegar, tarragon and caramelized onion. The flavor profile is rich and creamy, a perfectly seasoned goodness your guests will love.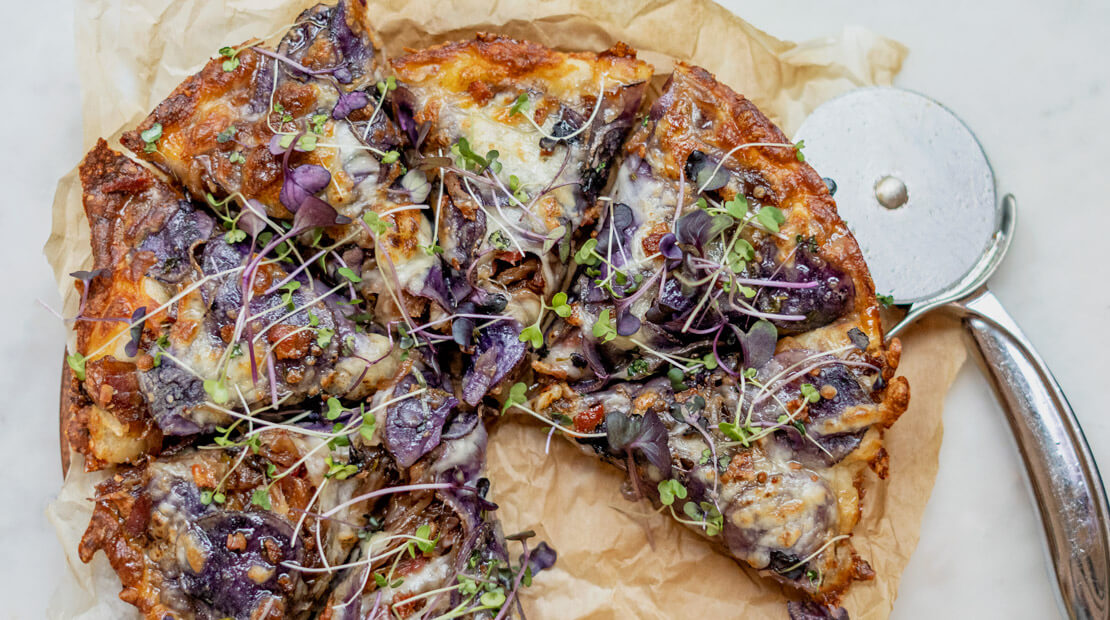 The Royale: Caramelized Onion, Bacon, and Purple Potato Pizza
Hands-On Time

40 minutes

Total Time

1 hour

Serves

4
1

medium purple potato, thinly sliced

2

teaspoons olive oil, divided

1

teaspoon roughly chopped fresh tarragon

1/2

teaspoon garlic powder

14

ounces pizza dough

1 1/2

cups shredded mozzarella cheese, divided

1/2

cup Caramelized Onion and Bacon Compote; recipe follows

2

tablespoons reserved bacon crumbles, from Caramelized Onion and Bacon Compote

2

teaspoon honey

Microgreens, if desired
Instructions
Directions:
Heat oven to 500°F. In medium bowl, place potato slices. Add 1 teaspoon olive oil, tarragon, and garlic powder. Stir to coat.
Stretch pizza dough. Press into 12-inch cast iron pan. Brush with remaining 1 teaspoon olive oil.
Sprinkle ½ cup cheese on top of dough. Spread Caramelized Onion and Bacon Compote evenly over cheese. Layer another ½ cup cheese and potato slices. Top with remaining cheese and reserved bacon crumbles.
Bake 18 to 22 minutes, or until crust is golden brown and cheese is melted.
Drizzle pizza with honey. Garnish with microgreens, if desired.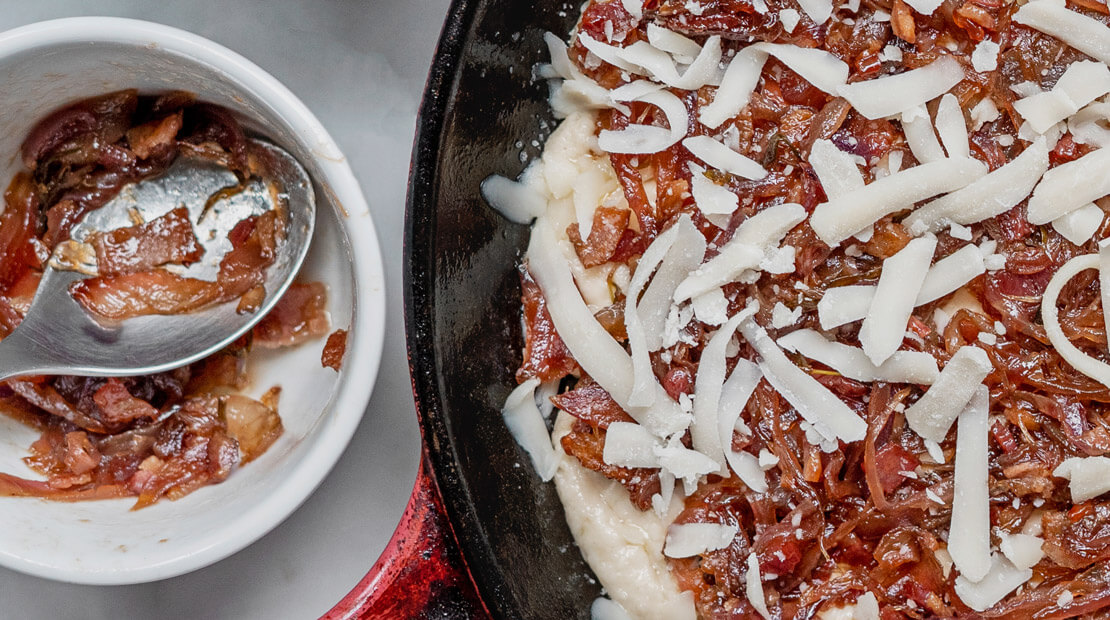 Caramelized Onion and Bacon Compote
1/2

tablespoon olive oil

2

large onions, thinly sliced

1/2

tablespoon roughly chopped fresh tarragon

1

teaspoon kosher salt

1

teaspoon sugar

1/2

tablespoon balsamic vinegar

6

slices HORMEL® BLACK LABEL® Bacon – Original, crisply cooked and crumbled, 2 tablespoons reserved

1

tablespoon honey
Instructions
In large skillet, over medium heat, heat olive oil. Add onions and tarragon. Stir to coat onions in oil, spreading onions out in pan. Cook 10 minutes, stirring occasionally. Add salt and sugar. Add 1 to 2 teaspoons water if mixture seems dry. Cook 30 minutes, stirring occasionally, or until onions are golden brown.
Add vinegar to onion mixture. Scrape bottom of the pan to release any browned bits. Cook 1 minute. Stir in crumbled bacon and honey.