You will never think about fruitcakes the same after this, you'll always have a birthday treat to please crowds of all ages and you'll have a date night cake that will make you look like a baking pro.
But don't think that unique equals difficult, sometimes the easiest way is the best way and each of these fits that. Two of the recipes use box cake mixes, giving us more time to spend with the ones we love.
Strawberry Piglet Cupcakes
There is so much pressure to have perfect birthday cakes for your little ones, but worry no more, we've solved the problem. Strawberry piglet cupcakes are sure to win over any crowd and make you look like you spent way more time on them than you actually did. Jumbo and mini marshmallows give the little pig faces lots of character, and this recipe is super easy and something fun to do with the kids — maybe they can make their own birthday treat this year!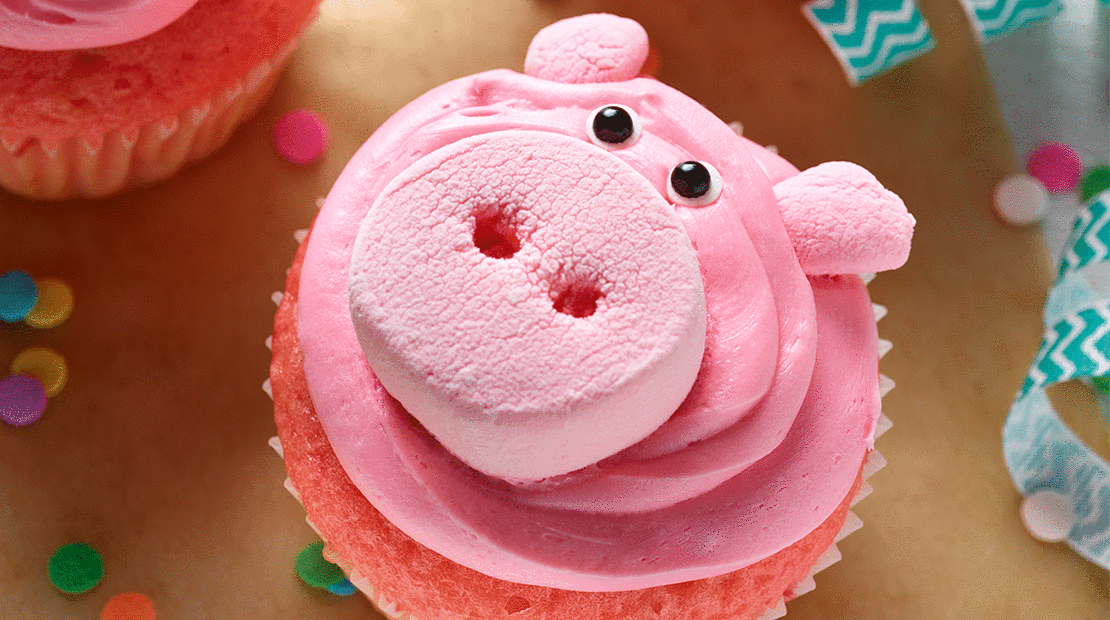 Strawberry Piglet Cupcakes
Hands-On Time

45 minutes

Total Time

1 hour 5 minutes

Serves

18
1

(15.25-ounce) package premium strawberry cake mix

1

(16-ounce) container strawberry frosting

9

jumbo strawberry marshmallows, cut in half crosswise

18

mini strawberry marshmallows

36

white round sprinkles

as needed

black piping
Instructions
Mix cake batter according to package directions. Fill 18 standard muffin tins evenly with batter and bake until cake tester inserted in center comes out clean, about 23 to 28 minutes. Cool completely. Spread with frosting. Pipe black dots on white sprinkles to make eyes, let stand 20 minutes to dry. Using skewer, make 2 indentations in marshmallow halves to make nostrils. Top each cupcake with marshmallow half for the nose. Add eyes. Cut mini marshmallows in half using kitchen shears to make ears, and secure in frosting.
Nutrition Info
Calories: 213, Protein: 1 g, Fat 5 g, Carbohydrates: 40 g, Cholesterol: 0 mg, Sodium: 259 mg
The Hormel Foods Fruitcake
A fruitcake? Really? Yes. We took the old, dense, easy-to-make-fun-of bread filled with gummy fruit and we reinvented it. This is fruitcake like you've never met before. We probably shouldn't even call it fruitcake, we should call it cinnamon-bacon-chocolate-deliciousness cake. This is definitely one that you can't knock until you try it, and once you try it you'll be making it for every winter gathering here on out.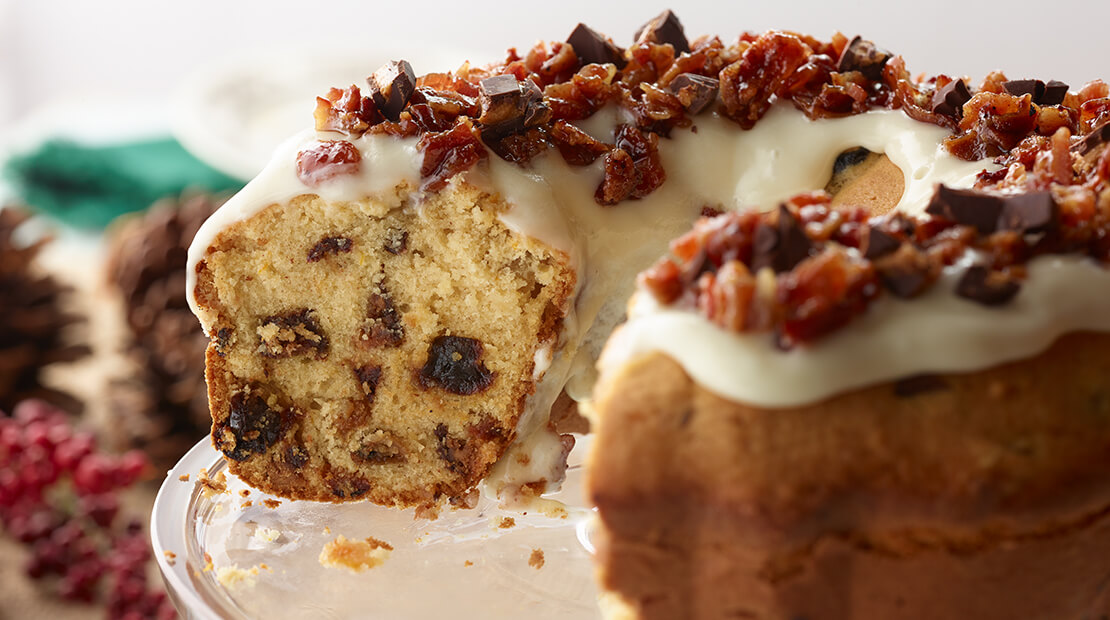 Fruitcake Reinvented
Hands-On Time

25 minutes

Total Time

1 hour 30 minutes

Serves

12
1/2

cup golden raisins

1/2

cup dried cherries

1/2

cup dried apricots, chopped

1/3

cup orange juice

1

cup applesauce

2

teaspoons grated orange rind

2

teaspoons pure vanilla extract

1 1/2

cups granulated sugar

3/4

cup butter, softened

3

large eggs, lightly beaten

3

cups all-purpose flour

1

teaspoon baking powder

1

teaspoon kosher salt

1/2

teaspoon ground ginger

1/2

teaspoon ground cinnamon

1/8

teaspoon ground nutmeg

4

Justin's® dark chocolate covered peanut butter cups, chopped

4

ounces cream cheese, cubed and softened

2

cups sifted powdered sugar

1

teaspoon vanilla extract

2

tablespoons milk

1/2

cup firmly packed light brown sugar

1/2

teaspoon cinnamon

1

(12-ounce) package Hormel® Black Label® thick-cut bacon
Instructions
Heat oven to 350°F. In medium bowl, combine raisins and next 6 ingredients; cover and let stand 30 minutes. In mixing bowl of stand mixer, using paddle attachment, add butter and beat at medium speed for 1 minute. Gradually add sugar and beat until light and fluffy. Add eggs, one at a time, beating after each addition. In medium bowl, combine flour and next 5 ingredients.
Add flour mixture to butter mixture alternatively with raisin mixture, starting and ending with flour mixture, just until blended. Stir in chopped peanut butter cups. Bake 1 hour and 5 minutes or until cake tester comes out clean when inserted into center of cake. Let stand 10 minutes. Turn cake out onto cake plate and let cool completely. Spoon cream cheese glaze over cake and top with candied bacon and peanut butter cups.
Cream Cheese Glaze
In large bowl, using an electric mixer, combine cream cheese, powdered sugar, vanilla extract and milk until smooth.
Candied Bacon
Heat oven to 350° F. In shallow plate, stir together brown sugar and cinnamon. Dredge bacon slices in sugar mixture, pressing to adhere. Place slices on lightly greased wire rack, side by side, over a jellyroll pan. Bake 45 to 50 minutes or until crisp. Let cool completely and finely chop.
Nutrition Info
Calories: 630, Protein: 10 g, Fat 22 g, Carbohydrates: 101 g, Cholesterol: 98 mg, Sodium: 545 mg