Hi. I'm MacKenzie, and I'm an emotional eater.
But before any judgment is passed, I want to take a minute to re-evaluate what emotional eating means. As a female chef with a master's degree in psychology, I often find myself deep-diving into the world of emotional eating. And for good reason.
Growing up, the term was always displayed with such a negative connotation – like it was something that should be looked down upon. In my mind, it was someone standing in front of the fridge, mindlessly chowing down on cheese curds and entire bags of salt-and-vinegar potato chips. Or it was someone lying in front of a TV all night, digging giant spoonfuls of chocolate ice cream right out of the container.
Never in my mind did I think that emotional eating could be something else. Something not so evil or shameful.
As I've grown up and started to deconstruct the term, along with my own biases on eating and body image, it's become something completely different. To me, the act of emotional eating should be something that we reframe in a new light.
Emotional eating doesn't have to be bad. It can be good. It can be empowering.

Chef MacKenzie Smith
Emotional eating doesn't have to be bad. It can be good. It can be empowering. And it can be therapeutic – especially with everything that's going on in our world these days.
Let's rewind to last March.
When the pandemic started, I was six months pregnant with my first child, who is now a bright, cheery and healthy 8-month-old baby girl name Poppy. To say that this was an easy time in my life would be a lie. With the typical anxieties that come along with being a new parent, having a global pandemic on my hands definitely had a profound effect on me.
The thought of being in quarantine, away from friends and family, while I was entering this new phase of my life felt like someone was holding my head under water.
Every day I'd find myself obsessing over whether my shortness of breath, congestion, inability to focus and sleepless nights were in fact pregnancy side effects or a fatal strand of the coronavirus that would wreak havoc on my body and unborn baby.
After allowing myself to sit with these feelings (and by sit, I mean paralyzed with anxiety) for a few weeks, I finally felt like I had the strength to do something about it.
Surely I wasn't the only one feeling so unsure, so scared and so alone in a time that was supposed to be full of happiness and excitement.
That's when I started to turn to my Instagram community in a way that I had never done before.
I made a point to teach my followers how to make something that was not only tasty, but easy, affordable and modifiable. Because, let's be real – one extra trip to the grocery store was not then, nor is it now, an easy feat.
At first, I would do these sessions one night a week, but it soon turned into a daily cooking class. I was getting so many encouraging messages, not only from other pregnant women, but from others who were feeling the same way.
And that's when it hit me.
I started to rewire my brain about emotional eating. Something in me said, "Hey, girl, I see you're using food to comfort yourself, and I wanted to let you know that it's OK. You don't have to feel guilty about this. It is helping you and empowering so many other people, too."
Think about it. When friends, family, social events and other supports systems weren't physically there to comfort, food and the act of creating something delicious still were.
And in a way, these nightly cooking classes started to become my therapy and a healing place for other people who were going through this rough time alone.
With this came the realization that emotional eating is healing.
The relationship with my following started to change, and the relationship with my brain and eating started to change too. And for that, I will be eternally grateful.
I started making dishes that meant something special to me. Everything from my Meme's biscuits and gravy to my Uncle's mac and cheese to my Grandpa's baked beans. I even started to re-create childhood classics like the bourbon chicken from the mall food court and hibachi chicken with yum-yum sauce from birthday parties past.
With this came the realization that emotional eating is healing.
When you're feeling the weight of the world on your shoulders, take a break and make a recipe that reminds you of a person or place or even a certain time, one that has the ability to let you relive those joyful experiences that might not ever happen again. In its essence, it's therapeutic in nature.
So, with all that being said, emotional eating doesn't have to mean binging on a whole bag of chips or cookies. It can mean something more mindful. Something special, meaningful and cathartic.
And with that, I leave you with this special podcast that I'm extremely proud of sharing. Guided by an amazing host, Laurie March and I take a deep dive into the world of emotional eating, intuitive eating and more. I hope you enjoy it and find comfort in rethinking this once taboo part of human nature.
Stories
Meet The Chef
What happens when a famous food blogger and an HGTV fan favorite come together? Pure lifestyle magic
Meet Chef MacKenzie
From the kitchen of

Chef MacKenzie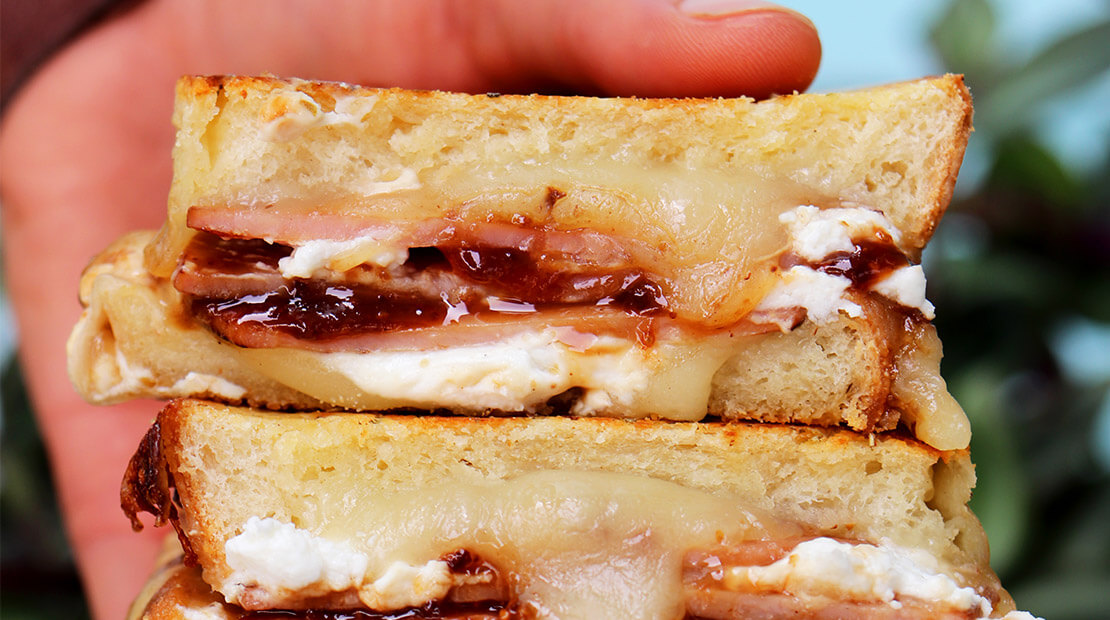 Grilled Cheese With Muenster, Goat Cheese, Fig Jam Glazed Canadian Bacon, Parmesan-Herb Crust
Total Time

20 minutes

Serves

1
4

slices HORMEL® BLACK LABEL® Canadian bacon

1

tablespoon fig jam

1

tablespoon salted butter

1

tablespoon Parmesan cheese

1

teaspoon herbs de Provence

2

slices thick cut bread

3

slices muenster cheese

2

tablespoons goat cheese
Instructions
In large skillet over medium-high heat, cook Canadian bacon slices 2 to 3 minutes per side or until bacon begins to brown. Add jam and stir to coat. Cook 1 minute or until Canadian bacon is glazed. Set aside.
In small bowl, combine butter, Parmesan cheese and herbs de Provence. Set aside.
On one bread slice, layer half the muenster cheese, goat cheese, glazed Canadian bacon and remaining muenster cheese. Cover with remaining bread slice. Spread butter mixture evenly over outside bread slices.
Add sandwich to skillet or panini press. Cook over medium heat 3 to 4 minutes on each side or until golden brown and cheese is melted. Let stand 1 minute before serving. Makes 1 sandwich.