Winters can be brutal in the state of New York. Snowfall hits triple digits annually, while temperatures regularly plunge far below zero. When the most severe storms ravage the region, life grinds to a halt as roads get plowed and people dig themselves out.
Growing up in the tiny town of Greene, just north of the Pennsylvania border, I loved the mornings when I woke up to find the world completely blanked out. As I ate breakfast, I listened to the radio as the announcer read off the school closures, praying to the snow gods mine would be named. Those unexpected holidays were always a gift. Suddenly, my younger sister and I would have a whole day to play. No schedule, no boundaries.
We would sled down the hill across the road, doing our best to steer ourselves, but often ended up barreling into a snowbank. We would lie on our backs staring up at the sky, flapping our arms and legs to create angels in the snow. We tried our best to pack the white powder into bricks so we could build an igloo, but we always ran out of energy or enthusiasm before it got anywhere close to being built.
No matter what we did, we eventually found our tummies grumbling and the cold too much to bear. So, we would head inside, where my mother would always have a pot of soup on the simmer. I would sit down to a big steaming bowl redolent with seasonings galore. After letting it cool for a moment, so I didn't scorch my tongue, I dug in. The first spoonful was always the best, because I could feel the soup's heat spread through my body, coursing into even the chilliest corners. By the time I finished, I was warmed up and ready to head back outside to make the most of my school-free day.
Soups are not only good for warming your body, they tend to warm your soul and make you feel cozy and content. Here are a few soups from our kitchen that we hope will do that and more. Take one to a family gathering, throw one in the freezer for later or gather around the table to enjoy one tonight.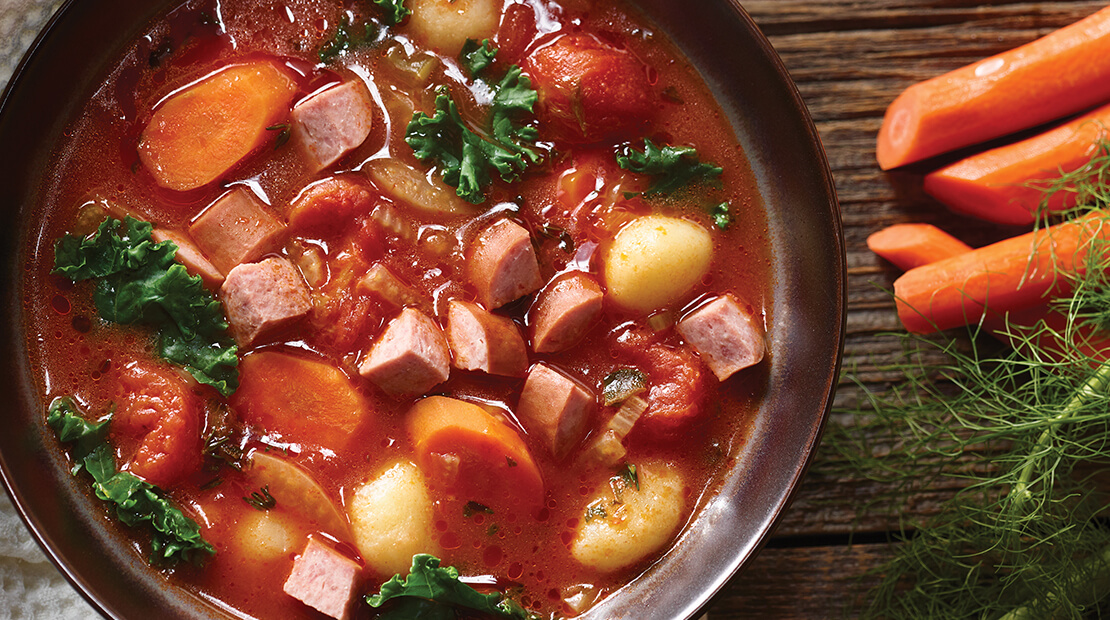 Slow Cooker Italian Kielbasa-Gnocchi Soup
Hands-On Time

20 minutes

Total Time

4 hours 50 minutes

Serves

8
1/2

large yellow onion

3

celery stalks, chopped

2

carrots, peeled and chopped

1

medium fennel bulb, stalks removed and chopped

3

garlic cloves, thinly sliced

2

tablespoons tomato paste

1

(28-ounce) can whole peeled tomatoes

1

(15-ounce) can garbanzo beans, rinsed and drained

1

(32-ounce) box vegetable broth

3

cups kale leaves, chopped

2

teaspoons chopped fresh oregano leaves

2

teaspoons chopped fresh thyme leaves

1/2

(16-ounce) package gnocchi

1

cup chopped fresh basil leaves

1/2

(14-ounce) package Jennie-O® Turkey Kielbasa, sliced
Instructions
Place onion and next 10 ingredients in slow cooker. Cook on high for 4 hours. Add Kielbasa, gnocchi and basil and cook 30 minutes or until gnocchi is tender and turkey is heated through. Season with salt to taste.
Nutrition Info
Per serving: Calories: 210, Protein: 11g, Carbohydrates: 27g, Fat: 7g, Cholesterol: 35mg, Sodium: 970mg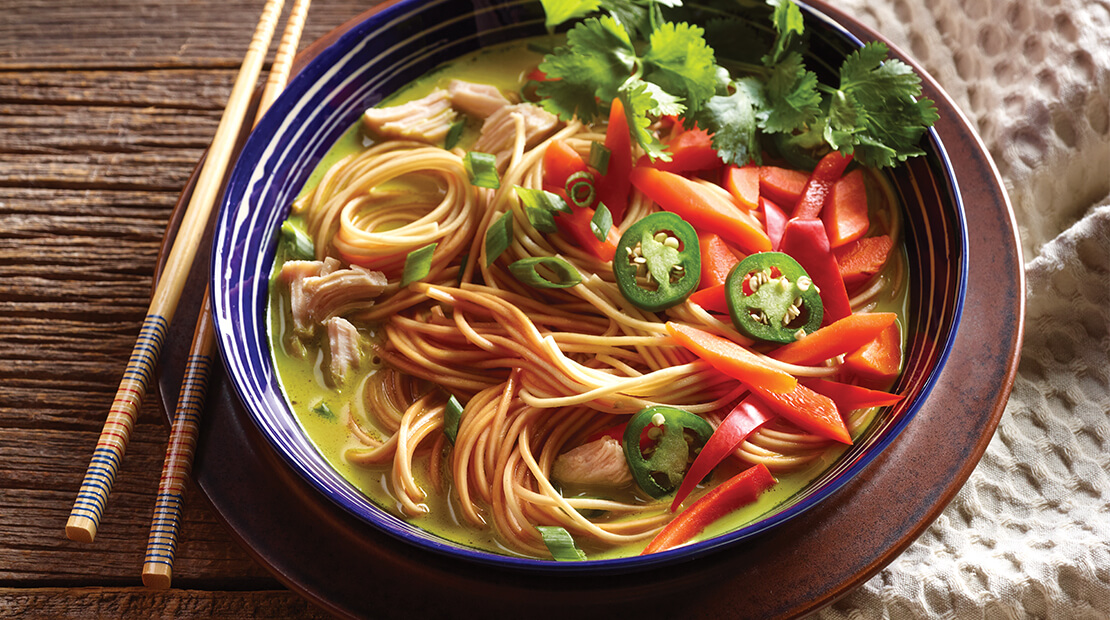 Asian Chicken Noodle Soup
Hands-On Time

20 minutes

Total Time

50 minutes

Serves

6
2

tablespoons House of Tsang® wok oil

2

cloves garlic, minced

4

green onions, chopped

2

tablespoons finely grated ginger root

1

large carrot, sliced

1

tablespoon curry powder

1

(15-ounce) can coconut milk

3

tablespoons House of Tsang® Ginger-Flavored Soy Sauce

1

(32-ounce) box low-sodium chicken broth

1

red bell pepper, chopped

1

jalapeño, sliced

2

(10-ounce) cans Valley Fresh® chicken breast, drained

1/3

cup chopped fresh cilantro, plus more for garnish

1

(2-ounce) package ramen noodles, seasoning packet discarded

for serving

lime wedges
Instructions
In large Dutch oven, heat oil over medium heat. Add garlic, green onions and ginger and cook 2 minutes or until fragrant. Add carrot and cook 2 minutes. Stir in curry powder and cook 1 minute. Add coconut milk and broth and bring mixture to a boil. Reduce heat to medium-low and simmer 15 minutes. Add bell pepper and remaining ingredients and cook until noodles are tender.
Nutrition Info
Per serving: Calories: 292, Protein: 18g, Carbohydrates: 16g, Fat: 17g, Cholesterol: 67mg, Sodium: 1,204mg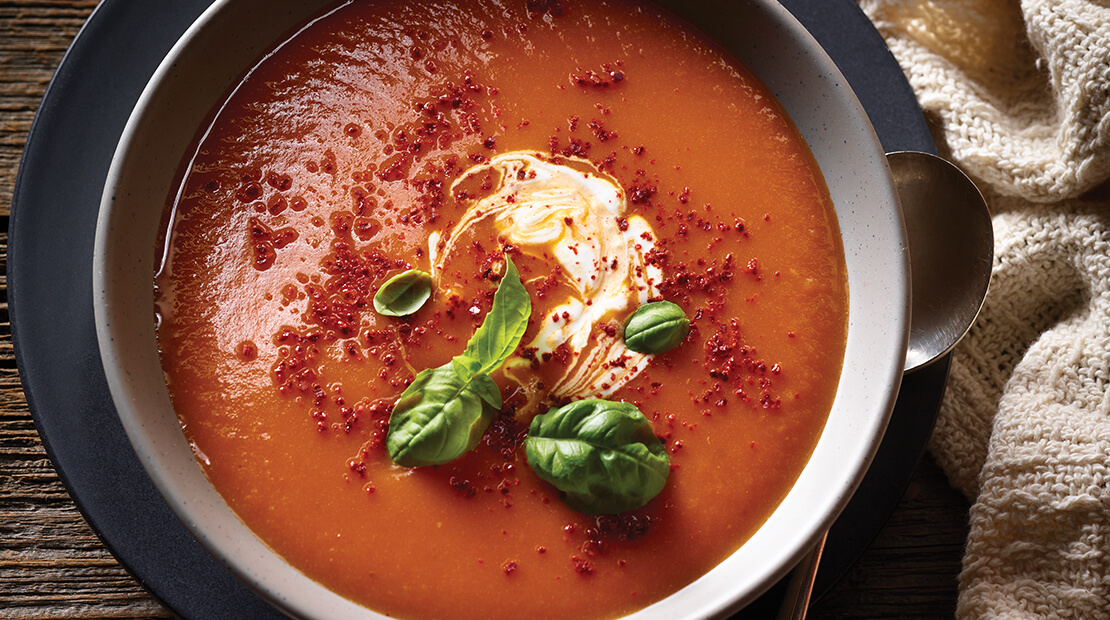 Harvest Butternut Squash Bisque
Hands-On Time

25 minutes

Total Time

1 hour 5 minutes

Serves

6
2

tablespoons olive oil

1

onion, diced

1 1/2

pounds butternut squash, peeled and cut into 1-inch cubes (about 4 cups)

2

cups water

1

cup CHI-CHI'S® thick and chunky salsa

2

teaspoons Herb-Ox® chicken granulated bouillon

1/4

cup half-and-half

1/2

teaspoon kosher salt

1/2

teaspoon dried basil leaves

1/4

teaspoon freshly ground pepper

as desired

sour cream
Instructions
In large saucepan, heat oil over medium-high heat. Add onion; cook, stirring frequently, 2 to 3 minutes or until onion is softened. Add squash, water, salsa and bouillon to saucepan; cover. Bring to a boil. Reduce heat to medium-low. Cook, stirring occasionally, 20 to 25 minutes or until squash is tender. Let stand 15 minutes. Using immersion blender, purée squash mixture until smooth. Stir half-and-half, salt, pepper and basil into saucepan. Cook, stirring constantly, 4 to 6 minutes or until heated through and fragrant. Ladle soup into warm bowls to serve. Place small dollops of sour cream in circular fashion on top of soup, if desired. Gently run wooden pick through sour cream to create swirled effect.
Nutrition Info
Per serving: Calories: 212, Protein: 3g, Carbohydrates: 23g, Fat: 17g, Cholesterol: 24mg, Sodium: 809mg