Nothing says warm and cozy like a bowl of hot soup – especially on a lazy Sunday.
It's officially fall. The season of soup has arrived! And what better day of the week to embrace the warm coziness of this ultimate comfort food than Sunday?
For many, Sunday is a day of relaxation and reset, a day to prepare for the week ahead, or unwind from the chaos of the week behind. A day to take in sports from the sofa, maybe enjoy a nap, finish up some household chores, and spend time with family. For some, Sunday is the ideal time to spend a little extra time in the kitchen preparing a meal. For others, it may be the perfect day of the week to toss ingredients in a slow cooker and let it work its magic without any fuss.
Relaxation: Sundays are often associated with relaxation and taking it easy. Enjoying a warm bowl of soup can be a comforting and soothing way to unwind before the start of a new week.
Traditional Sunday Meals: In many cultures, Sunday is a day for special meals or family gatherings. Soup can be a centerpiece for such occasions, bringing loved ones together.
Preparation and Cooking: Many soups require some time to prepare and cook, which is perfect for a leisurely Sunday. You can spend time in the kitchen without feeling rushed.
Leftover Transformation: If you've had a big family meal on Saturday and have leftover ingredients, Sunday is an ideal day to turn those leftovers into a delicious soup, minimizing food waste.
Soup for the Soul: Soup has a reputation for being a comfort food. On Sundays, you may want to pamper yourself and nourish your soul with a bowl of your favorite soup.
Health and Wellness: After a weekend of indulgence or perhaps some less-than-healthy meals, Sunday can be a day to focus on healthier choices. Soup can be a nutritious and low-calorie option.
Ease of Cleanup: Many soup recipes involve one-pot cooking, which means less cleanup afterward. This can be especially appealing when you want to keep your Sunday as stress free as possible.
Meal Planning: Preparing a batch of soup on Sunday can set you up for easy, reheatable meals throughout the week. It can be a practical choice for those who like to plan their weekly menus.
We've put together a list of some of our favorite lazy-day soup recipes, so no matter your level of cooking ability or how much time you have to dedicate to the process, there's a recipe to give you a "souper" Sunday.
This white chicken chili is flavorful, yet mild, featuring Hormel® premium chicken breast for an easy and comforting weeknight meal. Garnish with a dollop of sour cream, a sprinkle of grated cheese, or a side of warm cornbread for a hearty meal.
Ingredients
| | |
| --- | --- |
| 2 | tablespoons olive oil |
| 1 | large onion, chopped |
| 2 | cloves garlic, finely chopped |
| 1 | (15-ounce) can garbanzo or Great Northern beans, rinsed and drained |
| 1 | (15.5-ounce) can white hominy or whole kernel corn, drained |
| 1 | (10-ounce) can Hormel® Premium Chicken Breast, drained |
| 1 | (4-ounce) can chopped roasted green chiles |
| 1 | (32-ounce) box low-sodium chicken broth |
| 1 | small lime, zest grated and juiced |
| ½ | teaspoon dried oregano |
| ½ | teaspoon ground cumin |
Directions
Heat oil in large saucepan or Dutch oven over medium-high heat. Sauté onion and garlic 3 minutes or until tender.

Stir in remaining ingredients. Bring to a boil; reduce heat to low and simmer 10 minutes or until heated through.

Served with desired toppers.
This hearty chowder combines the smoky richness of Hormel® Cure 81® ham, the natural sweetness of corn and the creamy goodness of potatoes, resulting in a dish that's both satisfying and flavorful. Whether you're seeking a cozy meal to ward off the chill of fall or winter, or a hearty dish to share with loved ones, this ham, corn, and potato chowder promises to deliver warmth in every bite.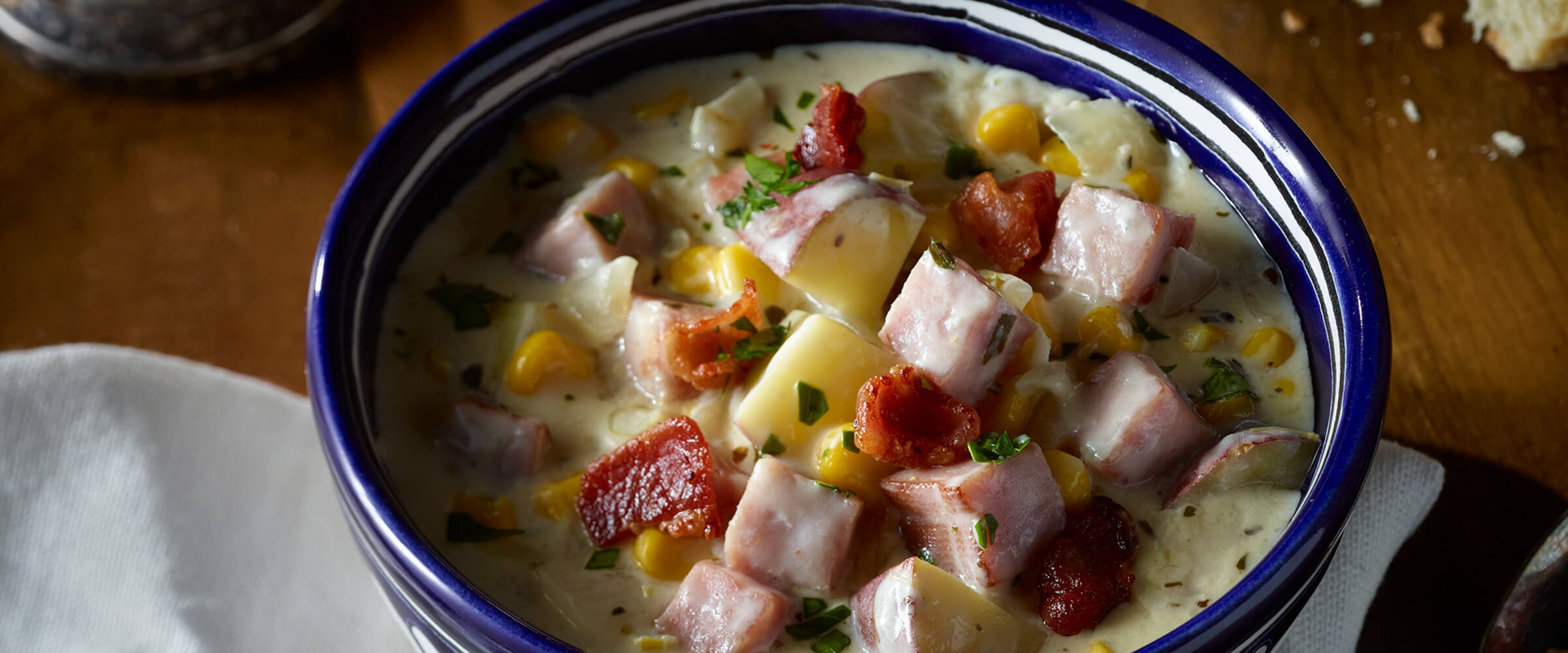 Ingredients
4

slices HORMEL® BLACK LABEL® Bacon – Original
1

½

cup chopped cooked HORMEL® CURE 81® Classic Boneless Ham

1

medium yellow onion, chopped

3

tablespoons flour

6

cups low-sodium chicken or vegetable broth

1

tablespoon chopped fresh thyme leaves

4

cups fresh corn kernels

1

large Yukon gold potato, peeled and diced
1

½

teaspoon kosher salt

½

cup heavy whipping cream
Garnish: chopped cooked bacon
Directions
In large Dutch oven, cook bacon until crisp. Remove with slotted spoon and crumble.

Add ham and onion and cook 8 minutes or until onion is translucent. Stir in flour. Whisk in broth until smooth. Add next 4 ingredients. Bring mixture to a boil.

Reduce heat and simmer 20 minutes or until potato is tender. Remove from heat and stir in cream. Season with salt and pepper to taste. Garnish with bacon, if desired.
Whether you're looking for a quick weeknight dinner or a crowd-pleasing dish for a gathering, this chicken taco chili is a flavorful solution that delivers a fiesta in every spoonful. Chicken taco chili marries the best of Tex-Mex cuisine with comforting chili, all in one delectable bowl.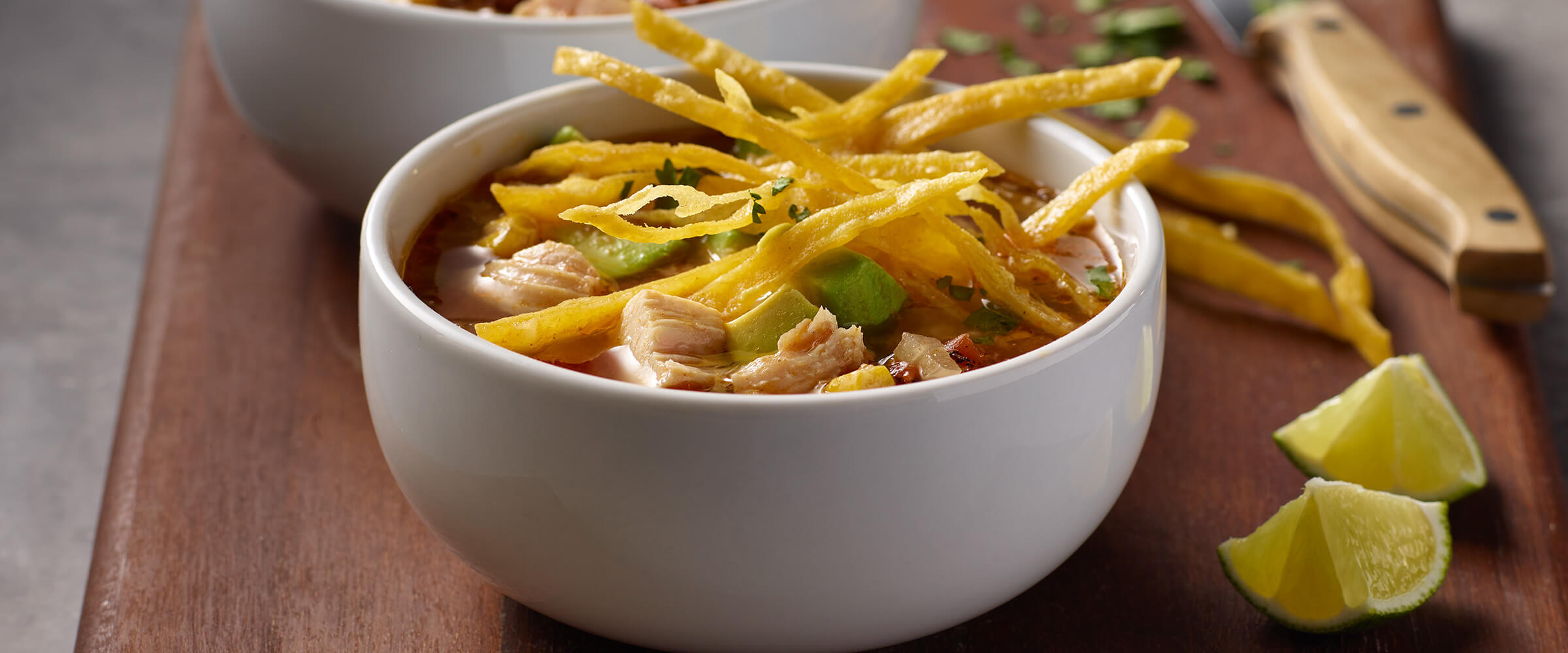 Ingredients
4

Chi-Chi's® Fajita Tortillas, cut into thin strips

3

water

1

(16-ounce) jar Chi-Chi's® Thick & Chunky Salsa

3

Herb-Ox® Chicken Bouillon Cubes

1

(1.25-ounce) package Chi-Chi's® Taco Seasoning Mix

1

(10-ounce) cans Hormel® Premium Chicken Breast , drained and
flaked

1

(15-ounce) can black beans, drained and rinsed

1

(11-ounce) can whole kernel corn with red and green bell peppers, drained
Sour cream, if desired
Directions
Heat oven to 400°F.

Place tortilla strips on baking sheet; lightly coat strips with cooking spray. Bake 5 to 6 minutes or until crisp.

Meanwhile, in large saucepan, stir together water, salsa, bouillon and taco seasoning over medium-high heat. Bring to a boil. Reduce heat to medium-low. Cook 5 minutes.

Add chicken, beans and corn to saucepan. Cook 10 to 12 minutes or until soup is hot and flavors are blended. Ladle into warm bowls; top with tortilla crisps. Garnish with sour cream.
This savory soup brings together the robust flavor of tender shredded beef with the earthy richness of black beans in a warm, hearty bowl. Garnish with sour cream and sliced avocado and green onions for a bowl of comfort and satisfaction.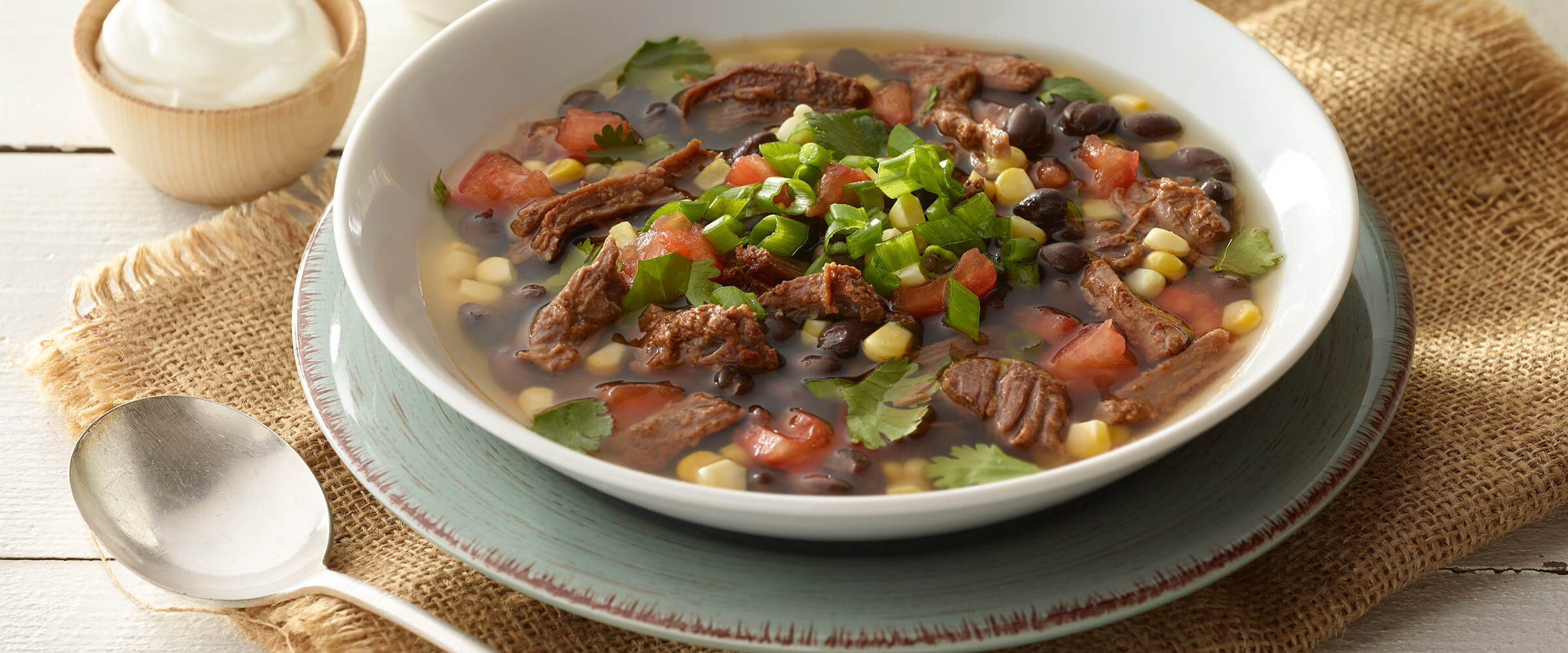 Ingredients
| | |
| --- | --- |
| 4 | HERB-OX® Beef Bouillon cubes, crumbled |
| 6 | cups water |
| 1 | (15-ounce) can black beans, drained and rinsed |
| 1 | cup frozen corn kernels |
| 12 | ounces shredded beef |
| ⅓ | cup sour cream |
| ¼ | cup chopped fresh cilantro |
| | Cilantro leaves, chopped avocado and sliced green onions, to serve |
Directions
In large saucepan, combine bouillon cubes and water. Bring to boil. Stir until bouillon cubes dissolve. Add beans and corn. Cook, covered, over medium-high heat 2 minutes or until hot.

Stir in beef. Heat, covered, 3 minutes or until hot.

Stir in sour cream and cilantro. Spoon soup into warmed bowls. Top with cilantro leaves, avocado & green onions, if desired.
Enjoy the delicious flavors of ham-and-bean soup made special with HerbOx® cold water dissolve chicken granulated bouillon and Hormel® Cure 81® ham. This comforting recipe is a hearty and satisfying meal that's perfect for chilly days.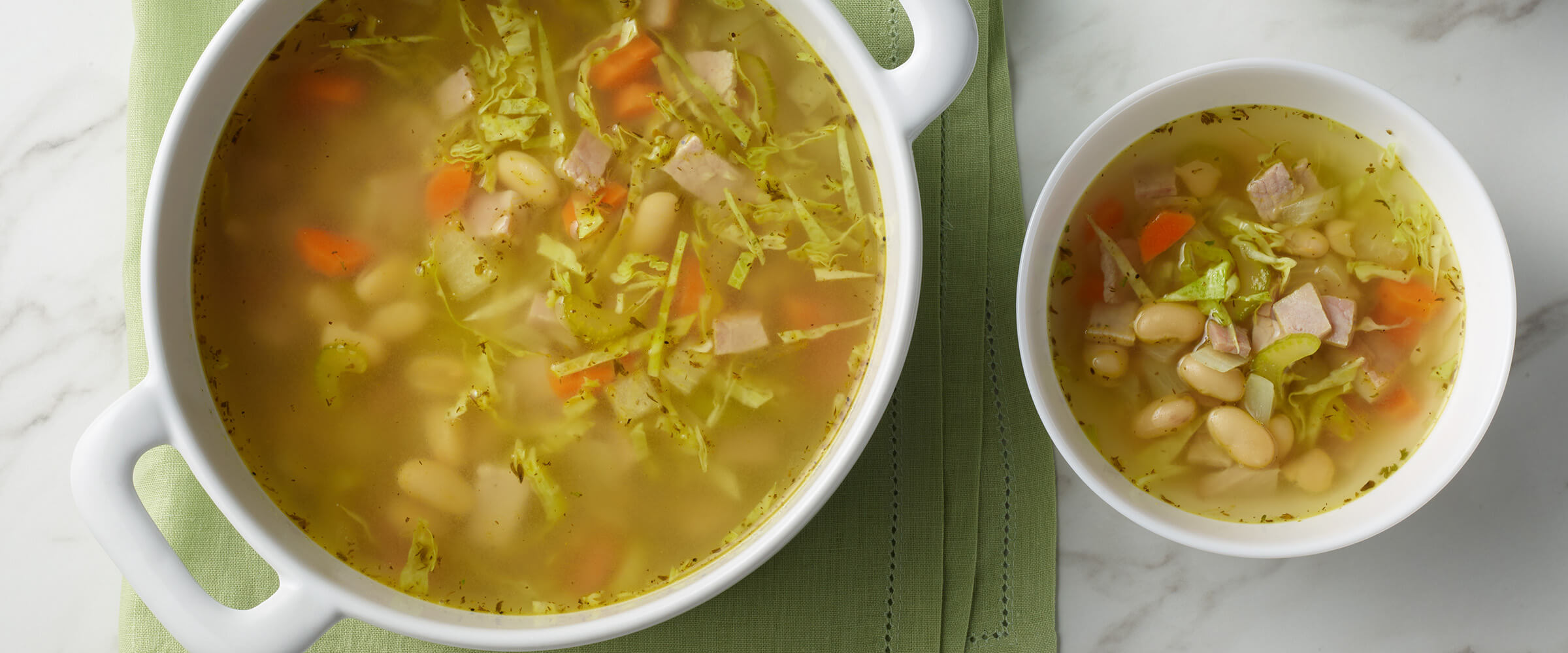 Ingredients
| | |
| --- | --- |
| 8 | cups water |
| 8 | teaspoons HERB OX® Cold Water Dissolve Chicken Granulated Bouillon |
| 2 | tablespoons olive oil |
| 1 | cup chopped onions |
| 1 | cup chopped carrots |
| ½ | cup thinly sliced celery |
| 2 | cloves garlic, finely chopped |
| 1 | teaspoon thyme |
| 1 | bay leaf |
| 2 | (15-ounce) cans cannellini beans, drained and rinsed |
| 2 | chopped HORMEL® CURE 81 Ham |
| 2 | chopped cabbage |
| ¼ | teaspoon pepper |
Directions
Dissolve bouillon into water.

In 5-quart Dutch oven, heat oil over medium-high heat until hot. Add onions, carrots, celery and garlic; cook 3 to 4 minutes, stirring frequently, until vegetables are crisp-tender.

Stir in bouillon, thyme and bay leaf. Add beans and ham. Heat to boiling. Reduce heat; simmer uncovered 10 to 12 minutes or until vegetables are tender. Stir in cabbage and pepper. Continue heating 5 to 10 minutes or until cabbage is tender. Remove bay leaf.