If you're visiting a bento shop in Taiwan, you can most certainly find "Taiwanese Pork Chop" (排骨) as a main dish option. There are a variety of ways the pork chops are prepared; deep fried and braised in soy and spices, and pan fried are the most common versions. The pork chops are much thinner than the ones you'd see in supermarkets, extremely crunchy, a little sweet with the aroma of five spice and deep umami of soy sauce and black vinegar. They are addicting. Pork chops are most commonly served with perfectly steamed rice, an array of vegetables and side dishes of the day. Pork chop and rice is a fast, easy, to-go meal that satisfies the soul.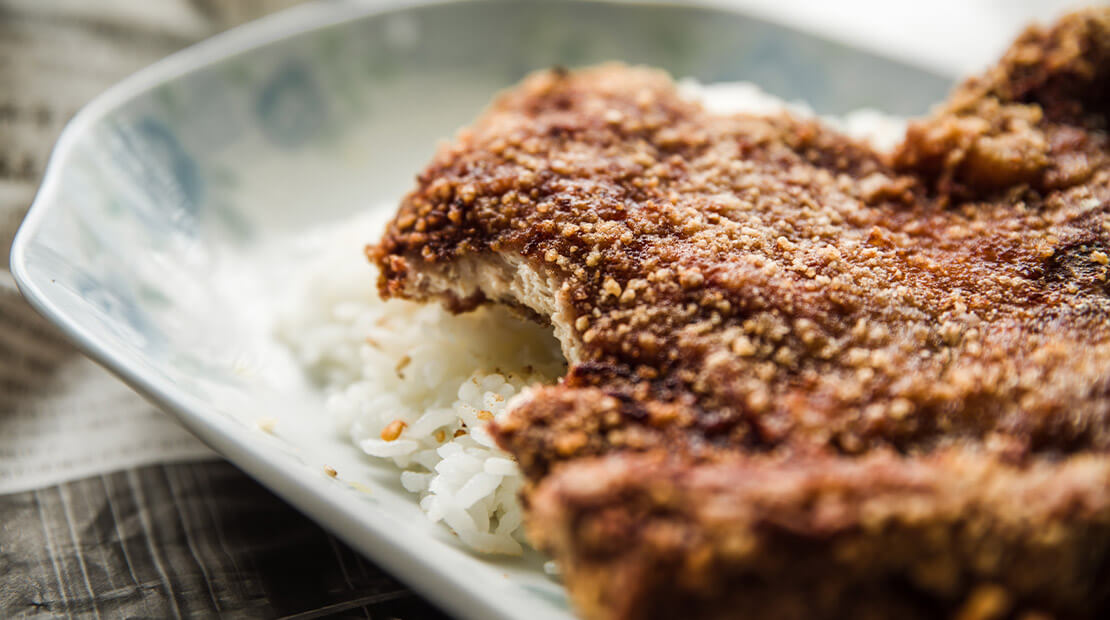 Taiwanese Pork Chop and Rice
Hands-On Time

15 minutes

Total Time

3 hours

Serves

6
1 1/2

1 ½ pounds ½-inch thick bone-in or boneless pork chops (about 6)

1/4

cup soy sauce

3

tablespoons rice cooking wine (米酒)

1

tablespoon black vinegar (烏醋)

1

tablespoon sugar

2

cloves garlic, grated

1

teaspoon toasted sesame oil

1

teaspoon black pepper

1/2

teaspoon five spice powder

1/2

teaspoon white pepper

1

egg, lightly beaten

1/2

cup Chinese sweet potato starch (地瓜粉), divided

Vegetable oil for frying
Instructions
On work surface using meat mallet or the side of heavy cleaver, pound pork chops on both sides to a 1/3- inch thickness.
In large bowl, whisk together soy sauce, rice cooking wine, vinegar, sugar, garlic, sesame oil, black pepper, five spice powder and white pepper. Stir in egg and 3 tablespoons sweet potato starch. Add pork chops, turning to coat. Cover and chill at least 2 hours or overnight.
Remove pork from marinade; pat dry. Discard marinade. Place remaining sweet potato starch on plate. Dredge pork in starch to coat well on both sides. Set aside.
In large skillet over medium-high heat, heat 1-inch vegetable oil to 350°F. Cook pork chops one at a time 1 to 2 minutes per side or until golden and crispy. Remove to a rack or paper towel lined tray.
Optional: For extra crispy pork chops; repeat process, frying pork a second time until deep golden brown, about 30 seconds per side. Return to rack or tray.
Serve with choice of sides and rice.
Tips:
To freeze: Double or triple the recipe. After pork is marinated, wrap chops individually and freeze. When the craving happens, take out desired number of chops from freezer. Defrost 10 to 20 minutes before proceeding to fry the pork chops.
Both fine and coarse sweet potato starch will work. The difference is in the appearance of the pork chop after it is fried. Coarse sweet potato starch was used in this recipe, and it results in a crispier crust.