If you've been perusing Instagram or food blogs recently, you may have suddenly stopped to marvel at the beautiful, bold purple hues of baked goods, ice creams, desserts or a plethora of other purple items. Wonder what that could be? The answer to creating those incredible purple culinary delights is ube.
But what exactly is ube? Ube (pronounced ooo-bay) is a yam known for its vibrant purple color, rich, nutty, sweet flavor and a subtle coconut like aroma. While ube is a recent up and comer in the United States, it's roots (no pun intended) stretch back to the Philippines, where it is a major crop. Ube is an important staple in Filipino food and traditions and dates much further back than its recent popularity in the U.S.
The first thing you'll notice about any ube dish is it's striking, rich, purple color. It's really no wonder it's gained so much popularity and Instagram notoriety, with its natural, dreamy purple hue. This fun, vibrant color makes ube the perfect ingredient for spring desserts and dishes.
Once you take a bite, you'll experience its sweet, creamy taste , with nutty undertones and hints of vanilla. The sweetness pairs naturally with desserts and breads, muffins, donuts, ice cream and other sweets – but don't overlook ube as a great complement to the savory as well! Our culinary team embraced the sweetness and vibrancy of ube and paired it with brands from our Hormel Foods portfolio.
These Beautiful Spring Dishes Will
Bring Color and Excitement to Your Table!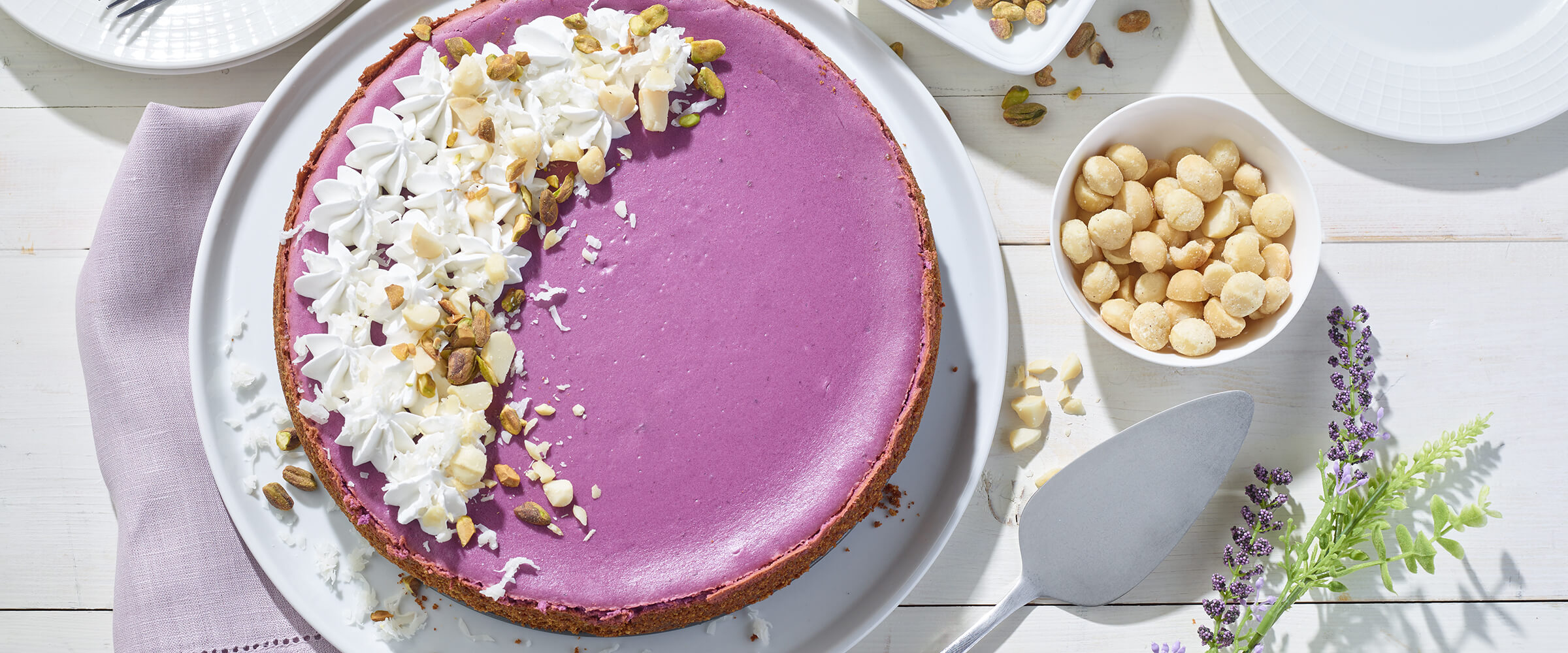 Ingredients
1

¾

cup graham cracker crumbs

¾

cup SKIPPY® Creamy Peanut Butter, divided
1

¼

cup sugar, divided

4

eggs, divided

3

(8-ounce) packages cream cheese, softened

1

cup sour cream

¼

cup ube jam

2

teaspoons ube extract
Coconut Whipped Cream; recipe follows
Suggested garnish: Chopped PLANTERS® Macadamia Nuts, Chopped PLANTERS® Pistachio Nuts and sweetened flaked coconut as desired
| | |
| --- | --- |
| 1 | (14.5-ounce) can coconut cream, well chilled |
| 2 | tablespoons powdered sugar |
Directions
Heat oven to 325°F.

To make crust, in bowl, beat together graham cracker crumbs, ½ cup peanut butter, ¼ cup sugar and 1 egg with electric mixer until smooth. Press crust evenly into bottom and 1 inch up the sides of 10-inch springform pan.

Meanwhile, in bowl, beat together cream cheese, remaining 1 cup sugar, remaining ¼ cup peanut butter, sour cream, jam and ube extract with electric mixer until smooth. Add remaining 3 eggs, one at a time, beating until fluffy.

Pour into crust.

Bake cheesecake 1 hour or until center is almost set. Cool 1 hour on wire rack. Refrigerate 4 hours or overnight.

Serve cheesecake with Coconut Whipped Cream and suggested garnish.
For the Coconut Whipped Cream
Scoop thickest chilled portion of coconut cream from can, leaving any watery liquid behind, into a mixer bowl. Add powdered sugar. Whip on high 3 to 4 minutes or until stiff peaks form.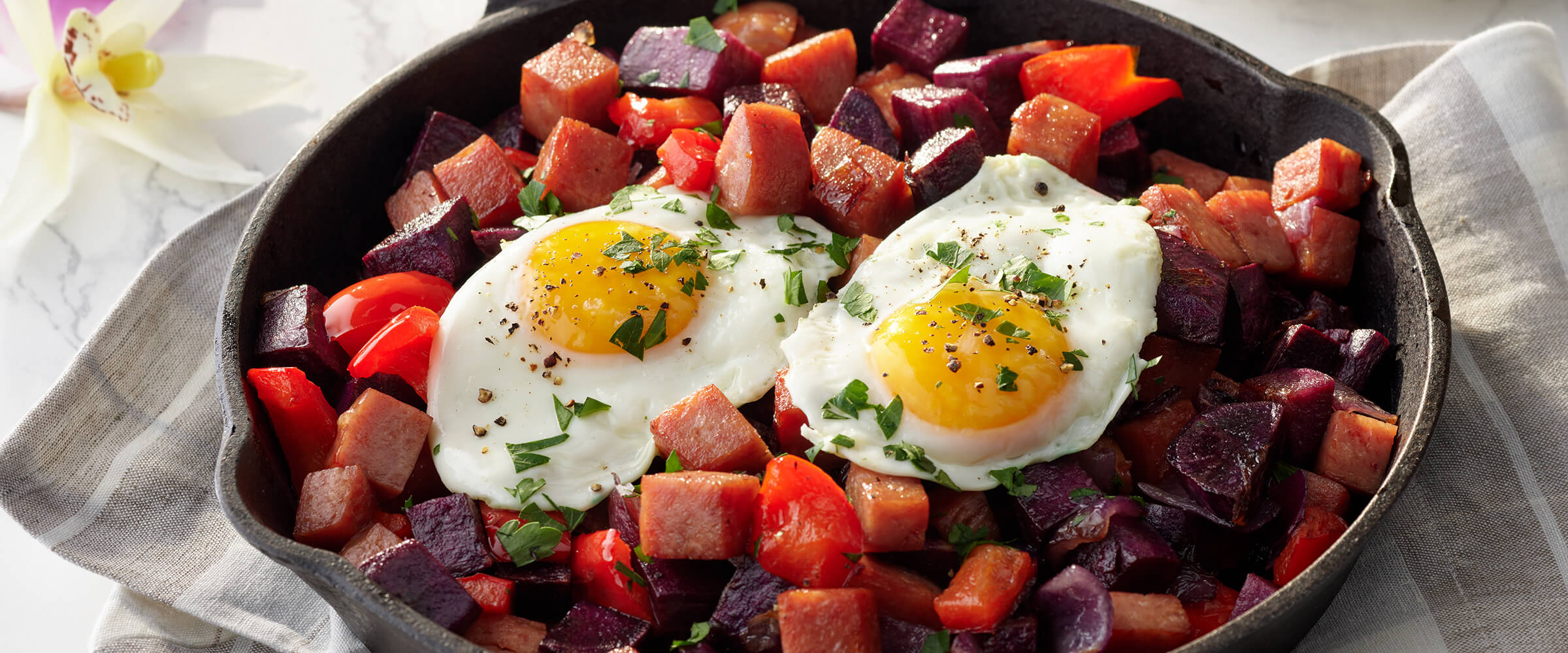 Prep Time
Cook Time
Cook Method
Dish Type
Ingredients
| | |
| --- | --- |
| 1 | (12-ounce) can SPAM® Less Sodium, diced |
| 2 | tablespoons oil |
| 1 | red onion, chopped |
| 12 | ounces ube, peeled and cubed (about 2 cups) |
| 1 | red bell pepper, chopped |
| ¼ | cup fresh parsley, chopped |
| ¼ | teaspoon freshly ground pepper |
| | Fried eggs, as desired |
Directions
In 10-inch cast-iron skillet, heat oil over medium heat.

Cook onions 3 minutes or until translucent.

Add ube and cook 7 to 10 minutes or until golden.

Stir in SPAM® Less Sodium and red bell pepper. Cook 3 to 5 minutes or until crisped and browned.

Stir in chopped parsley and pepper. Serve with eggs.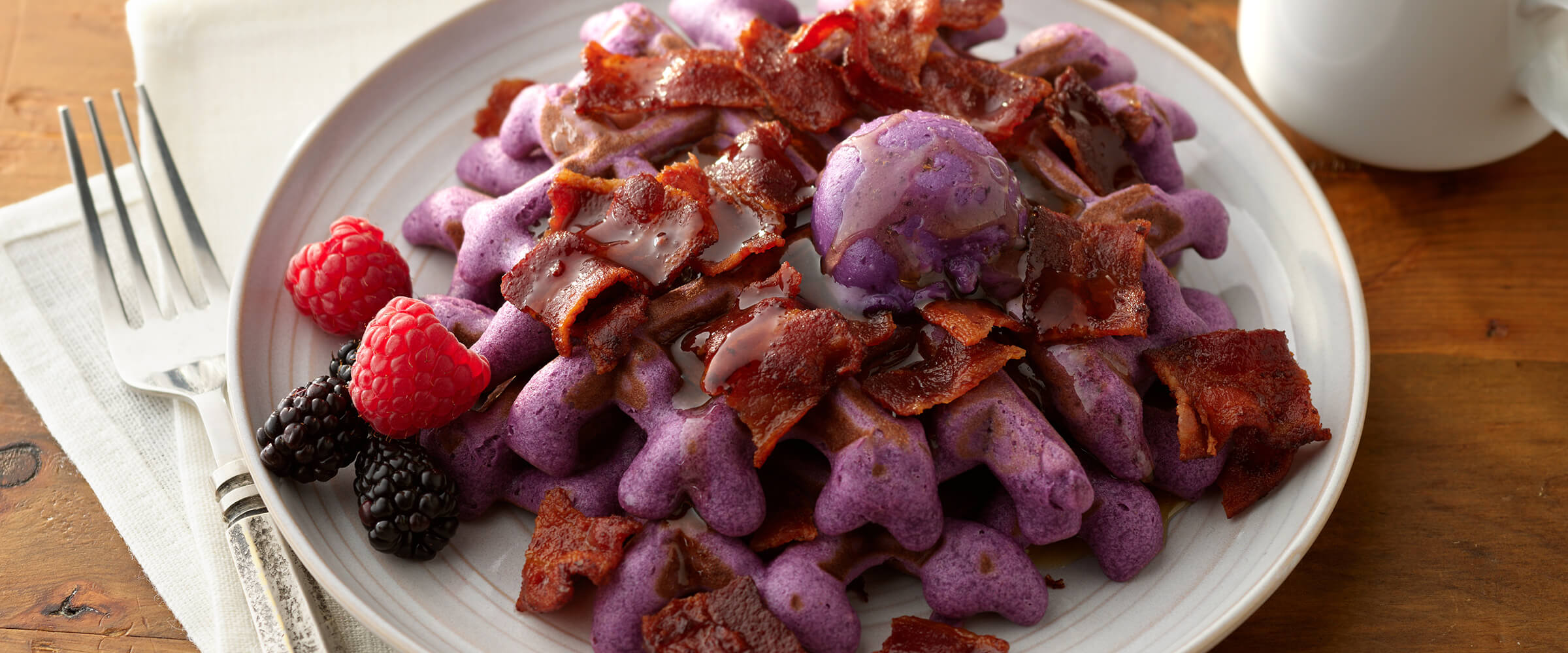 Prep Time
Cook Time
Dish Type
Ingredients
2

cups flour

1

tablespoon baking powder

½

teaspoon salt

2

eggs
1

¾

cup milk

½

cup canola oil

¼

cup ube jam

2

teaspoons ube extract

1

(16-ounce) package HORMEL® BLACK LABEL® Bacon – Original, crisply cooked and chopped
Ube Butter; recipe follows
Maple syrup for serving
| | |
| --- | --- |
| ½ | cup butter, softened |
| 2 | tablespoons ube jam |
| 1 | teaspoon ube extract |
Directions
In a large bowl, whisk together flour, baking powder and salt.

In another bowl, whisk together eggs, oil, jam and extract. Add to dry ingredients. Gently whisk to combine. Add remaining 1/4 cup milk if mixture seems too thick.

Heat waffle iron. Spray with non-stick cooking spray. Pour about ½ cup batter onto center of hot waffle iron. Close lid of waffle iron. Bake about 5 minutes or until steaming stops. Carefully remove waffle. Repeat with remaining batter.

Serve waffles topped with bacon, Ube Butter and syrup.
For the Ube Butter
In mixer bowl, whip butter. Beat in jam and extract. Refrigerate until serving.