Unlike Middle Eastern and some Mediterranean countries where lamb is the preferred centerpiece of the annual Easter meal, the American custom of eating ham at that time stems from Northern Europe where pork is the predominant dietary mainstay. In ages past when modern refrigeration wasn't available, what could not be eaten immediately was preserved during the winter months either through a brining or smoking process. In the spring, the preserved pork, now transformed to ham, was ready for consumption.
Serendipitously, the timing coincided with the annual Easter feast, and ham became the Easter meal highlight by the late 6th century. As waves of European immigrants settled in America, their food traditions were absorbed into our culinary melting pot. Chief among them is the delicious baked ham that has become the featured entree on most American Easter menus.*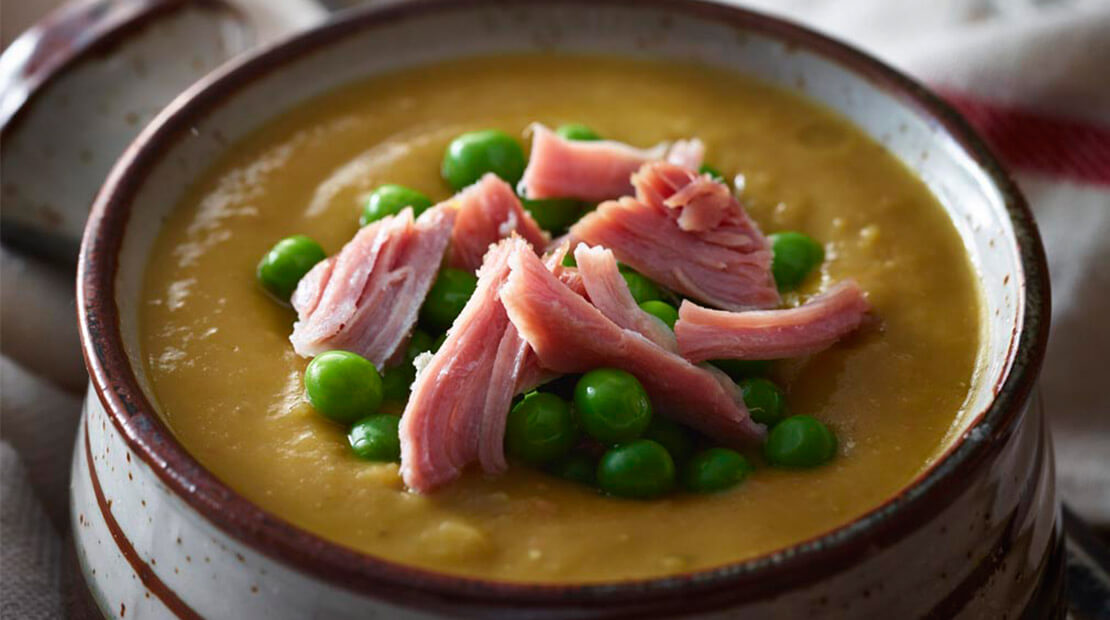 Ham Split Pea Soup
Total Time

2 hours 30 minutes

Serves

6
1

tablespoon oil

1

onion, diced

2

carrots, diced

2

stalks celery, diced

2

cloves garlic, chopped

1

teaspoon thyme, chopped

6

cups chicken or vegetable broth

1

pound split peas, picked over

1

bone-in half ham

2

bay leaves

to taste

salt, pepper and cayenne

1

tablespoon grainy mustard

1

tablespoon lemon juice
Instructions
Heat oil in a large pot over medium heat. Add the onions, carrots and celery. Cook 10-15 minutes, or until tender. Add garlic and thyme. Cook until fragrant.
Add broth, split peas, ham bone and bay leaves. Bring to a boil; reduce heat and simmer 1 to 2 hours, or until the split peas are soft and just starting to fall apart.
Remove ham bone and bay leaves, season with salt, pepper and cayenne to taste. Mix in mustard and lemon juice.
Puree with hand blender to desired consistency. Garnish with ham pieces.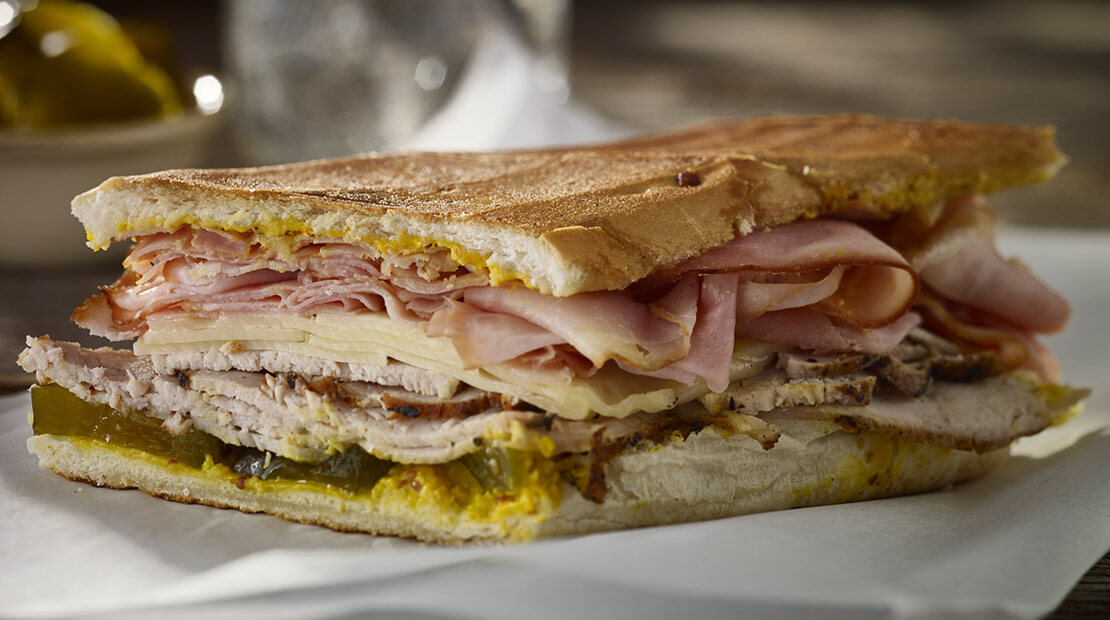 Ham Cubano
Total Time

10 minutes

Serves

4
1

loaf Cuban bread

¼

cup butter, softened

2

tablespoons yellow mustard

1

tablespoon coarse grain Dijon mustard

½

pound Swiss cheese, sliced

1

cup sweet and spicy pickles

½

pound roasted pork, thinly sliced

1

pound ham, thinly sliced
Instructions
Cut bread lengthwise. Spread butter on outer sides of bread loaf.
Combine yellow mustard and Dijon mustard in small bowl. Spread mustard mixture on cut sides of bread.
Layer one bread slice with remaining ingredients and top with remaining bread slice.
Heat griddle over medium heat. Place sandwich on griddle and place sheet of parchment paper over sandwich. Place a cast-iron skillet or other heavy skillet on top to press sandwich. Cook 3 to 4 minutes or until toasted. Flip sandwich and repeat.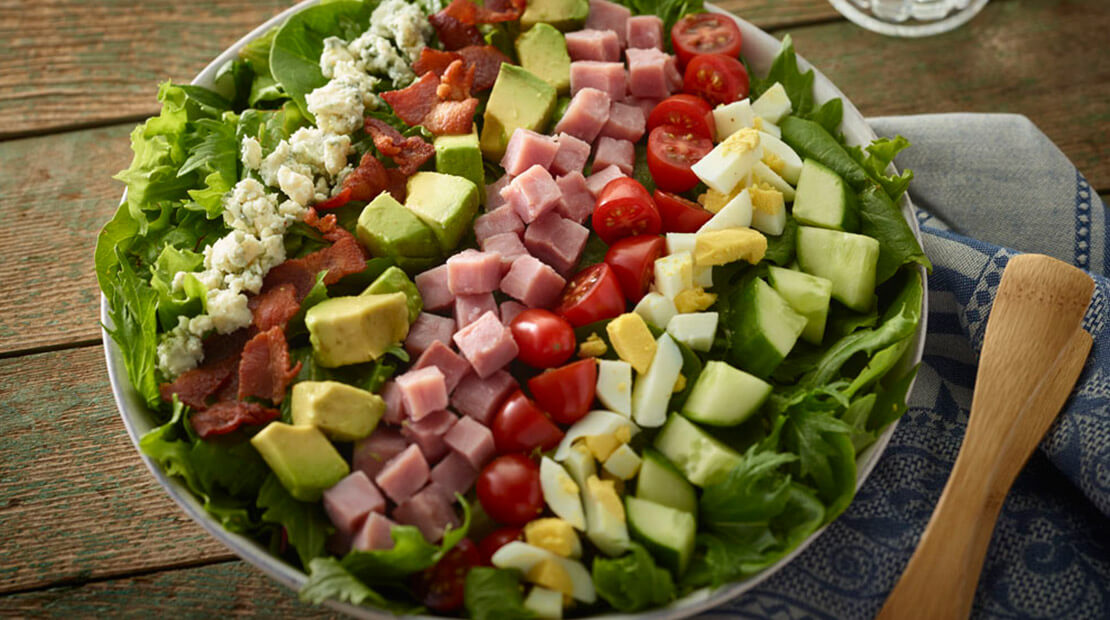 Cobb Salad
Total Time

10 minutes

Serves

6
4

cups spring mix baby greens

1

cup grape tomatoes

4

hard-boiled eggs

2

avocados, pitted and chopped

1

English cucumber, chopped

8

ounces blue cheese, crumbled

5

cups ham

2 ¾

cup cooked and crumbled Hormel® Black Label® bacon

2

ounces buttermilk ranch dressing
Instructions
Compose ingredients on serving platter. Serve with dressing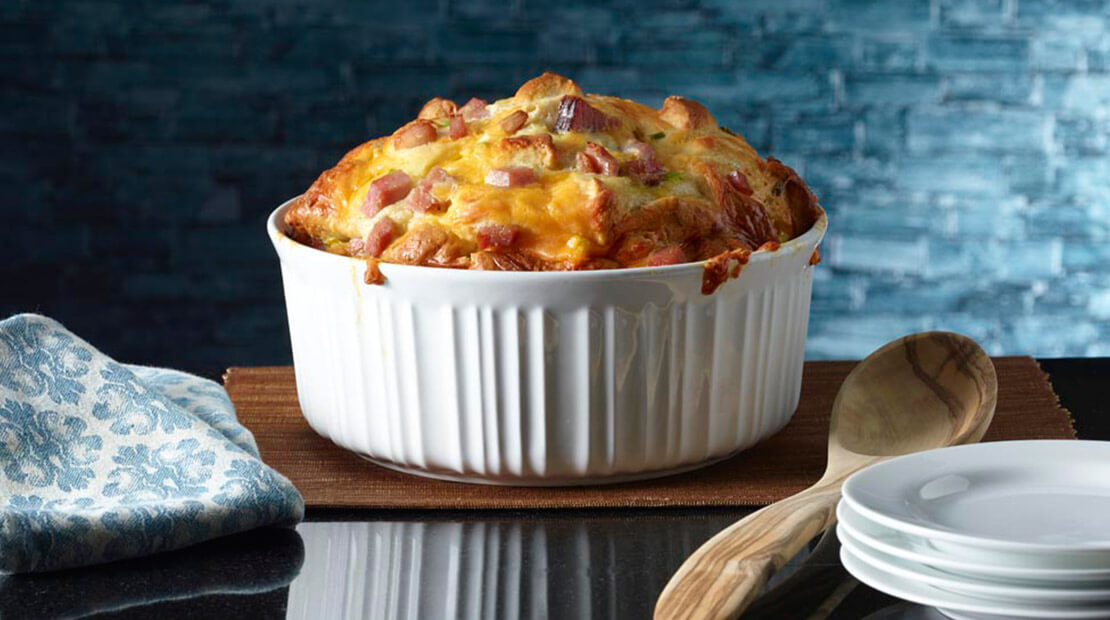 Ham-Egg and Cheese Monkey Bread
6

large eggs, lightly beaten

½

cup milk

3

(7.5-ounce) cans refrigerated biscuit dough

2

cups ham, coarsely chopped

¼

cup chopped green onions

2

cups shredded Cheddar cheese
Instructions
Ham-Egg and Cheese Monkey Bread
Heat oven to 350°F.
In large bowl whisk together eggs and milk.
Separate dough into 30 biscuits; cut each biscuit into quarters. Gently stir biscuit pieces into egg mixture.
Fold in ham, 1 cup cheese and green onions. Place mixture in lightly greased 2-1/2 quart baking dish.
Sprinkle with remaining 1 cup cheese and bake 45 minutes or until eggs are set.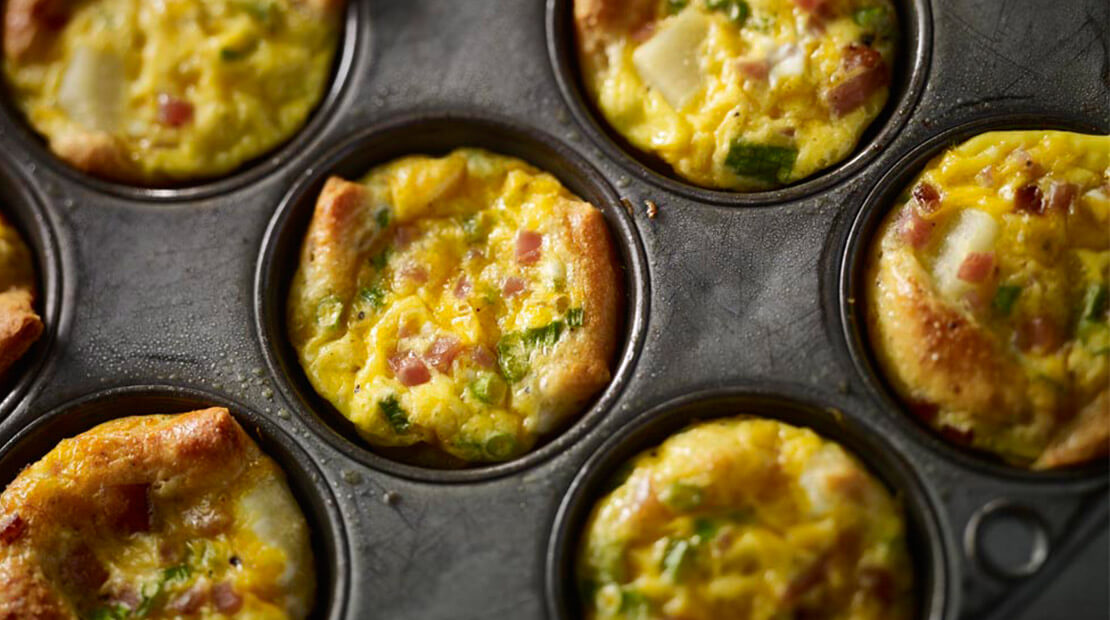 Ham Mini Quiches
Total Time

45 minutes

Serves

12
1

(8-ounce) can ready-to-bake rolls

6

large eggs

½

cup half-and-half

¼

cup chopped green onion

½

cup diced ham

¾

cup shredded Cheddar cheese

½

cup diced cooked potatoes

¼

teaspoon salt

¼

teaspoon freshly ground pepper
Instructions
Heat oven to 375°F.
Remove rolls and cut each roll in half. Press 1 crescent roll in bottom and up sides of each muffin cup. (You will end up with two extra crescent rolls that you can use later or just roll up, bake and enjoy.)
Whisk together eggs and remaining ingredients in medium bowl. Divide mixture evenly among 12-cup muffin pan, leaving ¼ inch at the top.
Bake 25 to 30 minutes or until a toothpick inserted in center, comes out clean.
*Source: Long-time food historian Edythe Preet, author of feature series Slainte! Good Cheer!, which has been running in Irish America Magazine for more than 20 years.