A Message to One Inspired Team From CEO Jim Snee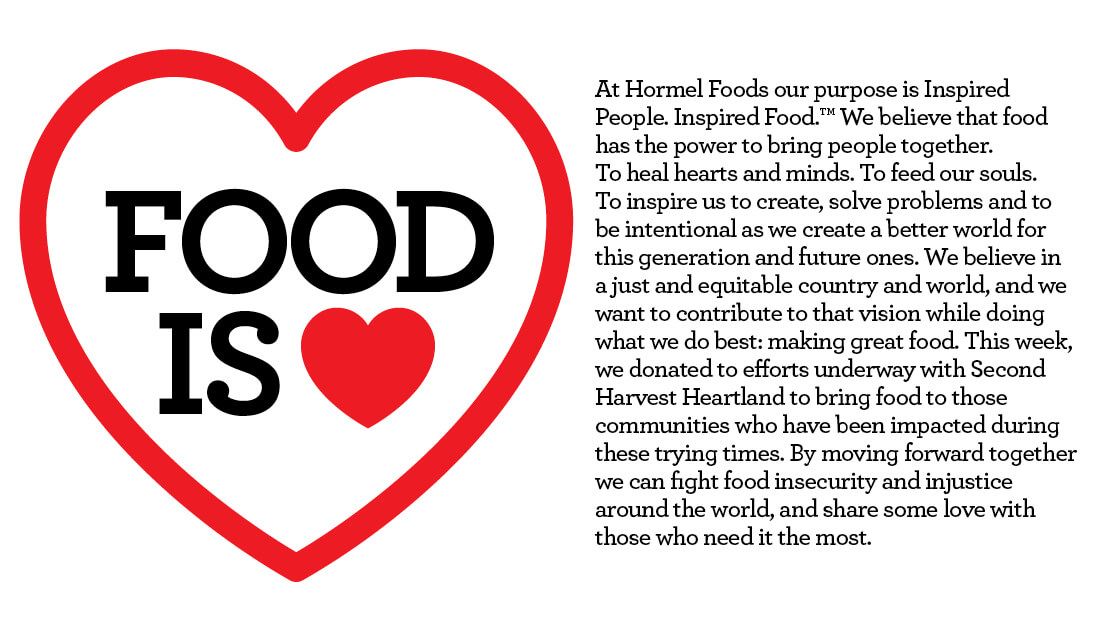 Recently, Jim Snee, chairman of the board, president and CEO at Hormel Foods addressed the company's team members – 20,000 strong – with words of comfort and support. We know that our community is so much broader than our team members, and we wanted to share this message with everyone.
To our inspired team,
On Friday, we distributed a communication acknowledging the seriousness of the events that transpired last week, and today I'd like to continue the conversation. Over the last few days, we have all watched the events unfold following the senseless killing of George Floyd in Minneapolis. What happened to George Floyd, and others before him, is heartbreaking and tragic. As a company headquartered in Minnesota, we feel the pain of our fellow residents. As a global company, we also hear the echoes of pain around the world. While some of the events that continue to take place are difficult to watch, it gives us the opportunity to remember the importance of our daily thoughts, words, actions and intentions toward others. While we may not have control over what happens on a street in Minneapolis, we can control and ensure that racism, discrimination and injustice never happen here.
We need to remember that we are one team and must be counted on to lift each other up. To our team members who are facing unimaginable hurt during this time — know you matter to us. Know we stand beside you and wrap our arms around you in support. You can count on us — your work family — to be your ally with unquestioning empathy and support. Know your voices and feelings matter and I share your feelings of anger and frustration. We have an obligation to make all team members feel safe and included in our company at all times. Anything else is a failure.
We must move beyond words and statements. As a global company, we must demonstrate that we embrace our differences and recognize that diversity fuels our excellence as an organization. We strive to have a diverse team member population that represents all races, backgrounds, ethnicities, sexual orientations and abilities. Discrimination of any kind has no place in our culture and will not be tolerated.
Our company was founded 129 years ago by a family committed to the greater good in the community. While we have accomplished a lot over our 129-year history, we recognize there is more work to be done. We have the platform to educate, inform and inspire each other and now, more than ever, we need to utilize our Cultural Beliefs:
Speak Up: Listen, voice your opinion and encourage communication. Use your voice to be an ally and advocate. Speak Up when you see mistreatment, injustice, intolerance or bias. There is no place for that at Hormel Foods. Honest and open dialogue is critical.
Challenge Yourself: Embrace the change we want to see. We all need to evaluate our interactions and biases, and seek to understand different perspectives.
Grow Talent: Take responsibility for personal and team development. We all need to take action and make inclusion a priority.
Create Solutions: Deliver ideas that improve the lives of others. Don't be part of the problem — be part of the change. What can you do in your daily life to be an ally and an advocate at work and in the community?
Build Bridges: Overcome barriers. Recognize, understand and appreciate our differences but give special attention to those voices that may not always be heard.
Safety First: We must continue to take care of each other. It is just what we do.
Results Matter: If we are having the same conversations a decade from now, shame on all of us. Experiences drive beliefs, actions and results. What else can we all do to create the right experiences?
Our Cultural Beliefs are not just words for us to put on a card or poster on the wall. We aren't perfect, but collectively, we can continue to make progress on this journey if we give inclusion and diversity the same effort we give to other parts of our business.
This time in history will leave its mark. We are committed to being uncommon and learning more about the best ways to lift up our fellow citizens in every community where we live and work. We renew our promise to learn more, listen better and inspire each other every day for the positive impact we all will leave on history.
At Hormel Foods, we are a team of 20,000 inspired people. All are welcome. All are respected. All are valued.
Stay safe.
Jim Snee, CEO