Can to Table: Baltimore-Area Restaurants Embrace SPAM as the Canned Meat Turns 80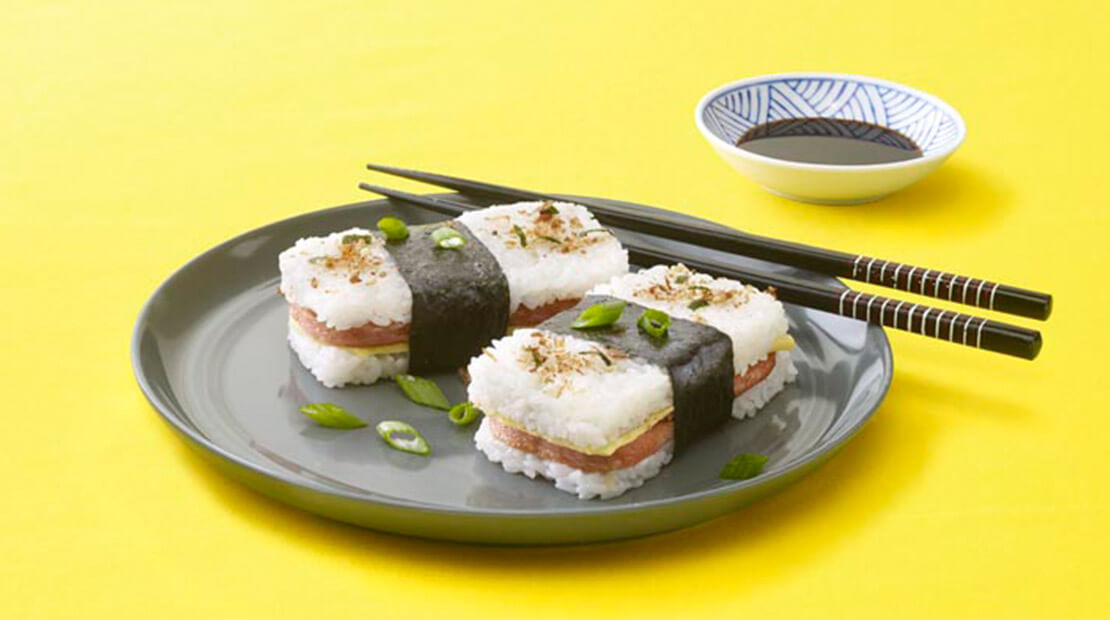 Baltimore Sun
Since 1937, a little blue can with four yellow letters has been beloved or reviled by diners across the world. Eighty years later, its rectangular contents are making a comeback on local restaurant menus.
At Fells Point's Brick Oven Pizza and Manor Hill Tavern in Ellicott City, Spam is offered as a pizza topping. At Korean restaurants like Tongnamoo in Ellicott City, Spam is served in soups. And Spam musubi — a Hawaiian Spam-sushi mashup — makes frequent appearances at sushi restaurants and Hawaiian eateries.
Kaimana Chee, executive chef at Uncle's Hawaiian Grindz, holds a Spam musubi dish, a Hawaiian Spam-sushi mashup. (Barbara Haddock Taylor / Baltimore Sun)
Created by Minnesota-based Hormel Foods Corp. in the years before World War II, Spam became a fixture in Hawaiian cuisine when it was brought to the islands by American troops during the war. Hawaii now consumes 7 million cans of Spam per year, according to the brand's website, and its influence is plain to see in restaurants such as Uncle's Hawaiian Grindz, which opened a year ago in Fallston.
"The constant game when it comes to Hawaiian food is balancing sweet and salty," said Kosmas "Tommie" Koukoulis, the owner of Uncle's. "Spam provides that nice saltiness — a nice salty meat that can balance out some of the fresh fruit they're doing."
Spam musubi is a popular snack in Hawaii, and it's the appetizer Koukoulis most often encourages diners to try at Uncle's. In the restaurant's take on the dish, a slice of teriyaki-marinated, seared Spam sits atop a bed of rice, where it is rolled in seaweed and drizzled with sweet soy sesame aioli and a soy sauce reduction …