Hormel Foods Honored as Vendor of the Year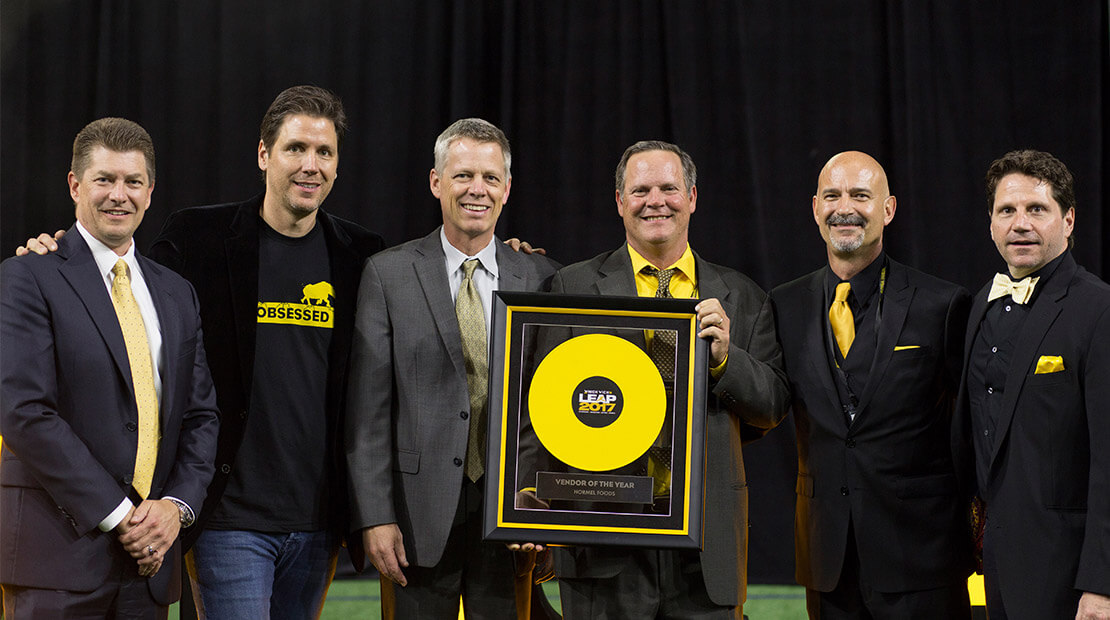 Austin, Minn.
Hormel Foods was recently named Vendor of the Year by Which Wich, a national fast-casual sandwich chain and foodservice customer.
The honor was announced at the chain's semi-annual franchisee conference held in Frisco, Texas.
"Hormel Foods was selected as Vendor of the Year because of several stand-out initiatives that they facilitated as a long-term partner," said Hala Habal, vice president of communications, Which Wich. "Hormel Foods also invited our Project PB&J to their 125th anniversary celebration by having their own employees participate in a spreading party in Minneapolis (Minn.), where they made more than 9,000 sandwiches. Hormel Foods has routinely been on the forefront of product development and R&D for the brand as well. Hormel Foods has been a partner to Which Wich from day one and continues to be a trusted and essential part of our business."
"Which Wich is a very special customer to Hormel Foods. We have been aligned with them since their inception, and now they have over 400 units worldwide. The strength of our relationship has grown through the efforts of countless individuals through the years, most notably our current National Account Manager Jay Sharkey," said Mark Ourada, vice president of sales, foodservice. "Additionally, this partnership would not be where it is today without the support from many areas of our company, including marketing, logistics, operations and R&D. Which Wich signifies what a true partner is all about, and we are extremely proud and humbled to receive this award on behalf of the company."
The partnership between Hormel Foods and Which Wich was initiated by Sinelli before the company opened its first store in 2003. The restaurants now use numerous Hormel Foods foodservice products, including ham, turkey, genoa sausage, pepperoni, roast beef, Hormel® Bacon One® perfectly cooked bacon, Hormel® Fire Braised® pork shoulder, corned beef, pastrami, SKIPPY® peanut butter, meatballs and more.
Which Wich is based in Dallas, Texas, and has locations in 37 states and 10 countries, including Mexico, Saudi Arabia, Guatemala and Panama. Learn more about the company at whichwich.com.