Hormel Installs Solar Panels At California Plant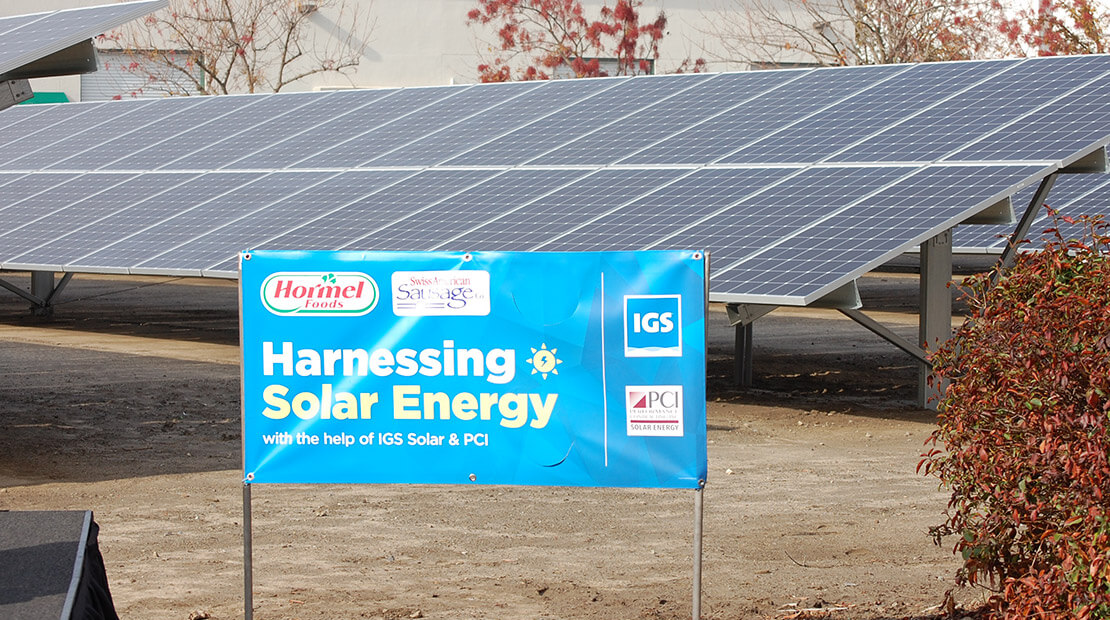 Supermarket Perimeter
Hormel Foods Corp. announced on Dec. 11 that it completed a solar energy facility at its Swiss American Sausage Co. location in Lathrop, California, with its partner IGS Solar.
The manufacturing facility produces various pepperoni and salami products for foodservice pizza toppings. Hormel originally announced this project in April 2019.
The solar company partnered with HOLT Renewables to install approximately 2,000 panels at the plant on the roof and along the ground. The project should generate around 1.2 million kilowatt hours (kWh) per year — enough to supply more than 15 percent of the facility's annual electricity consumption.
"We are pleased to announce the completion of this project," said Tom Raymond, director of environmental sustainability at Hormel Foods. "As a global branded food company, we place great emphasis on minimizing our environmental impacts. This project supports our environmental sustainability goals and is another example of our commitment and support of renewable energy."
The new solar grid will offset an estimated 288 metric tons of CO2 emissions every year that would have been emitted by fossil fuel power plants. According to Hormel Foods, that is the equivalent of removing 61 cars from the road annually or not burning 314,000 lbs. of coal.
"We're thrilled that Hormel Foods has embraced solar energy to power its California operations, and we're proud of this partnership between two Midwest companies," said Brian Amicon, vice president of commercial solar for IGS. "This project shows the importance of energy sustainability and responsible use."
Earlier this year, Hormel Foods announced that it would be accessing energy produced at a new wind farm being built in Milligan, Nebraska, by 2020. Along with the wind agreement, Hormel is also supporting renewable energy markets by using community solar gardens at five manufacturing locations, including a co-sponsorship with Westar Energy for its first community solar garden near Wichita, Kansas.