Hormel's Record-Setting Virtual Pizza Party Woos Fans, Benefits Frontline Workers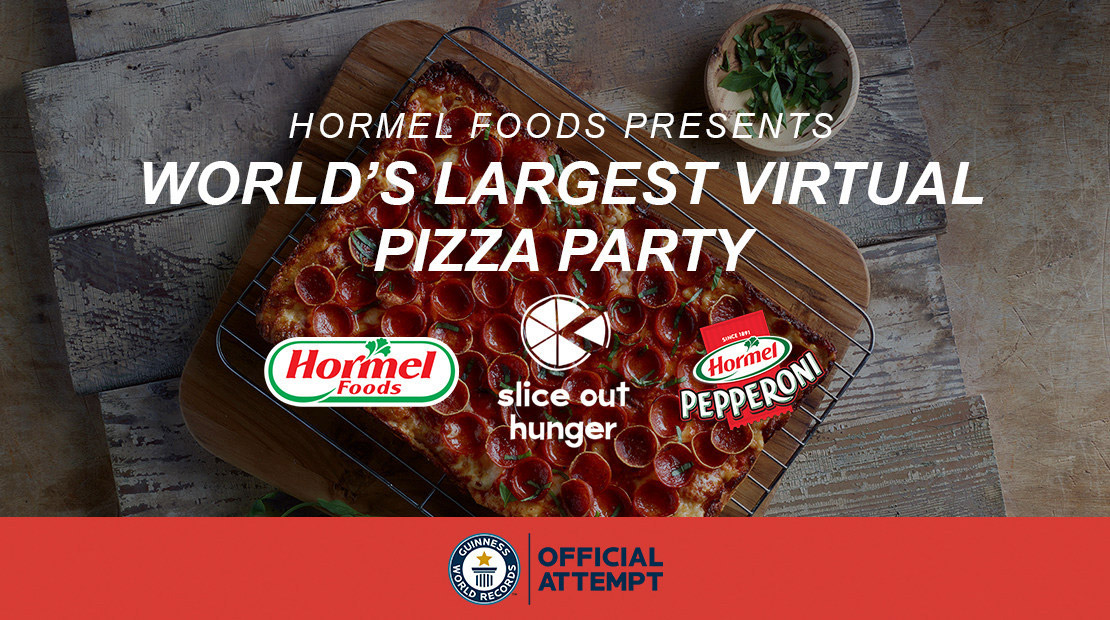 Marketing Dive
Hormel sought the Guinness World Records title for the most users in a virtual pizza party video gathering, the company announced on Friday, later tweeting that it had set the record. The Zoom chat came during Hormel Foods Spirit Week, which celebrates plant workers and staffers working during the COVID-19 pandemic.
During the event, the company gave prizes and featured special guests, including Hormel Foods CEO Jim Snee, pizza aficionado Scott Wiener from Scott's Pizza Tours in New York City, an official Guinness World Records adjudicator and other guests. After the call, the brand hosted a virtual concert starring NBC's "The Voice" runner-up Chris Kroeze on its YouTube channel.
Along with providing homebound consumers with entertainment, the pizza party included a charity component. For each participant, the company will donate $10 up to $10,000 to Slice Out Hunger's Pizza vs. Pandemic initiative, which organizes large pizza orders for frontline workers in collaboration with independent pizzerias nationwide.
To promote its pepperoni product, Hormel Foods tied together several marketing tactics that have become popular during the coronavirus pandemic. As the pandemic scuttled experiential and in-person marketing, brands have taken to video chat platforms like Zoom to build community in a virtual way. Although it didn't provide details about the achievement, Hormel's setting the world record for the largest virtual pizza party suggests that plenty of consumers engaged with the brand's mix of entertainment and community on Zoom.
The record-setting effort comes after Hormel hosted a virtual film festival on YouTube in May. Taking a similar approach, Domino's organized an online film festival highlighting fans' homemade videos in July. Like Zoom chats, virtual film festivals like these are a way for brands to provide entertainment to homebound consumers. The same is true of the virtual concert that followed the pizza party, the latest example of the livestreamed concert trend that's become dominant during the pandemic.
In addition to entertainment, the pizza party had a purpose-driven component. Hormel encouraged virtual participants to order their pizzas in advance through the Slice Pizza delivery app that benefits frontline works. Hormel joins others like PepsiCo and Lowe's in tying its marketing strategies to uplifting these workers.
"We're combining two of our favorite things: our love of pizza and our love of community," Shane Ward, Hormel Pepperoni brand manager, said in a statement. "And we're excited that fellow pizza lovers will get to join the cause, too, as we support independent pizzerias and the healthcare workers who are working tirelessly during this pandemic to keep our communities safe."
The pizza party comes as Hormel, like other frozen and packaged food category brands, looks to capture the momentum that's been a side effect of more consumers cooking at home during the pandemic. After reporting strong Q2 numbers boosted by pandemic shopping trends, competitors Kraft Heinz and Kellogg announced plans to rev up marketing in the second half of 2020.