Jennie-O Turkey Store recognized for Cooperation with National Guard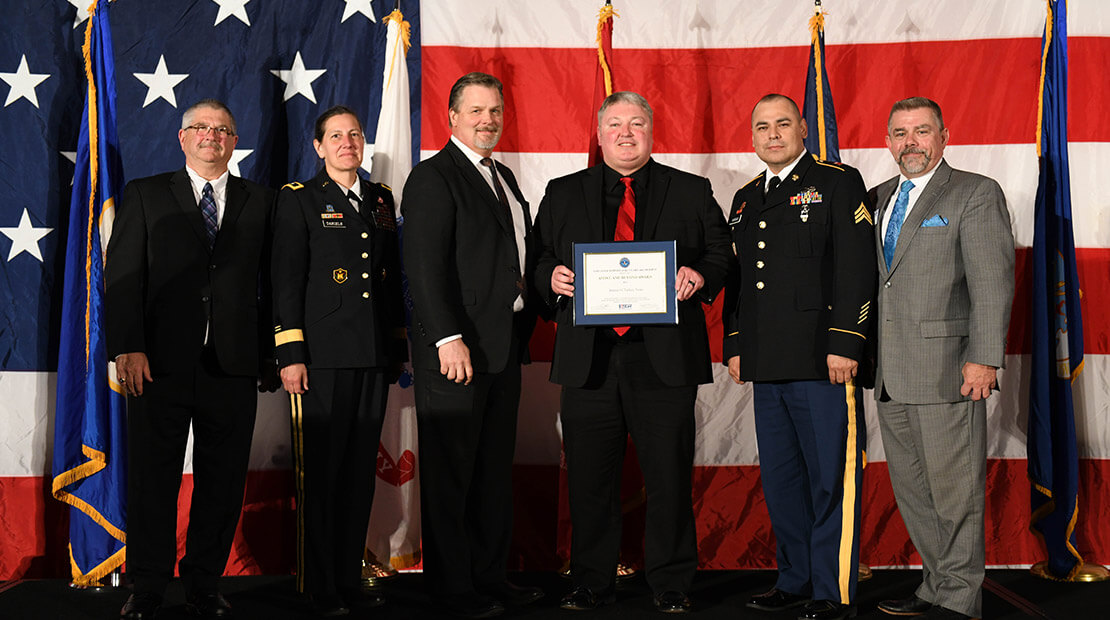 KWLM
Jennie-O Turkey Store received an "Above and Beyond" Award at the Annual Employer Support Awards Banquet on Monday, May 6, 2019 , sponsored by the Employer Support of the Guard and Reserve (ESGR) organization of Minnesota.
The company was nominated by Sergeant Daniel Vargas, US Army Reserve, who is also a supervisor at the Benson Avenue Plant. The event was held in Bloomington, MN.
The Above and Beyond Award is presented by the ESGR State Committees to recognize employers at the local level who have gone above and beyond the requirements of the Uniformed Services Employment and Re-employment Rights Act by providing their Guard and Reserve employees additional, non-mandated benefits such as differential or full pay to offset lost wages, extended health benefits and other similar benefits. The award is given in limited numbers by State Committees who have had at last one of their supervisors/managers recognized with a Patriot Award.
Accepting the award on behalf of the company was Ed Simes (Benson Avenue Plant Manager) and Mike Slette (Director of Further Processing-Manufacturing and former Benson Avenue Plant Manager). They were accompanied by Sergeant Vargas who was in full dress uniform.
Sergeant Vargas has been a member of the US Army Reserves for nearly 16 years. He said he joined because he wanted to serve his country. He has been deployed twice to Iraq. He has been employed by Jennie-O Turkey Store since 2005 and currently is a packaging/boxing supervisor at the Benson Avenue Plant.
"We are really humbled by receiving this award," said Ed Simes, Benson Avenue Plant Manager. "We have the utmost respect for our team members who serve or have served in the military. We really appreciate being nominated by one of our own."