Lights on Jennie-O Tree In Willmar Will Continue to Shine to Celebrate Return of Jayme Closs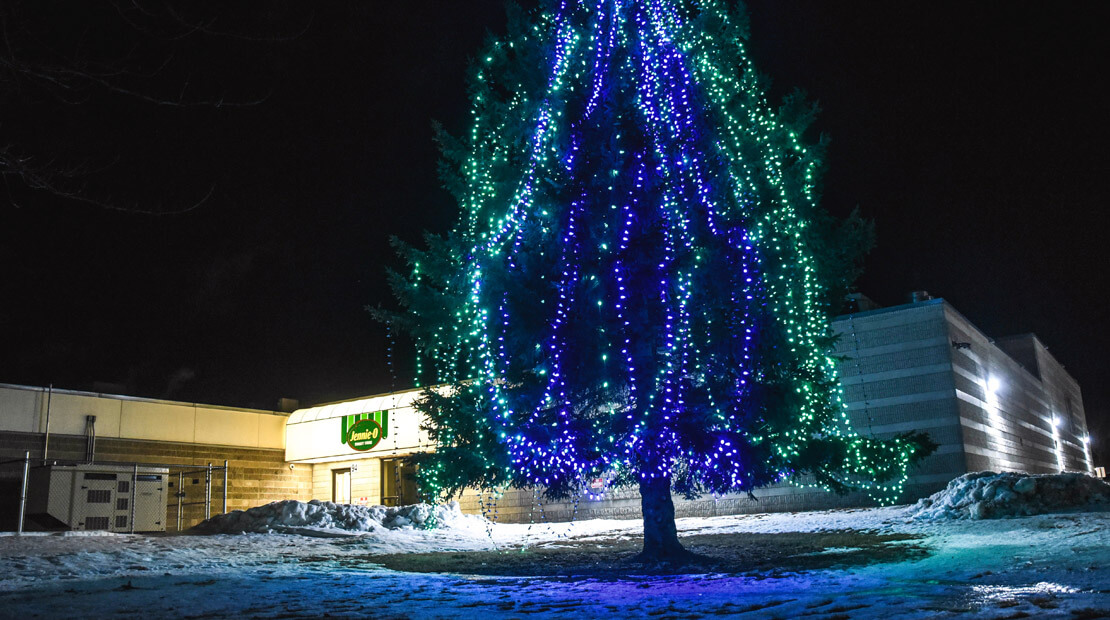 West Central Tribune
Last month 5,000 blue and green lights were lit on the "Tree of Hope" at the Jennie-O Turkey Store headquarters in Willmar with the promise the lights would stay on until Jayme Closs was found.
Now those lights are shining in celebration that Jayme has been found alive.
Three months ago, the 13-year-old girl went missing on the day her parents, James and Denise Closs — who both worked for Jennie-O in Barron, Wisconsin for 25 years — were murdered.
On Thursday news broke that Jayme had been found alive after escaping from a rural house in Gordon, Wisconsin and that a 21-year-old suspect has been arrested.
On Friday morning the Jennie-O employees in Willmar celebrated in a room with blue and green balloons.
"A lot of tears of joy were shed," said Jennie-O President Steve Lykken.
"We're absolutely elated," he said. "We're beyond the pale of excitement."
Lykken said many of the employees at the Jennie-O corporate office have worked at the Barron facility, and lived in or near Barron. "It's a family organization," he said. "We are all personally invested, so there were a lot of tears."
Pat Solheid, Jennie-O vice president, said the entire Jennie-O and Hormel Foods family, are "overjoyed" Jayme was found safe.
"Barron is an incredibly strong community and one that never lost hope in her safe return," Solheid said. "We are still mourning the loss of longtime Jennie-O family members Jim and Denise, but our entire team is celebrating with the community and the world that Jayme has been found."
Even though the goal of lighting the Tree of Hope has been met, Lykken said the tree will remain lit for several more days to continue the celebration of Jayme's return.
"I'm struggling with unplugging it today," Lykken said, adding that as an honor to Jayme the tree will "continue to shine."
Right before Christmas, the Willmar Jennie-O team lit a Tree of Hope and the Barron team joined with the community to light a Tree of Hope there. At the Barron ceremony the Willmar staff sent wish lanterns into the air.
"Yesterday, our wishes were answered," Solheid said.
Solheid said they want to give special recognition to law enforcement officials for their "dedicated and tireless efforts in finding Jayme," including Barron County Sheriff Fitzgerald and his team of officers.