Meet Justin, the Namesake and Founder of Justin's Nut Butter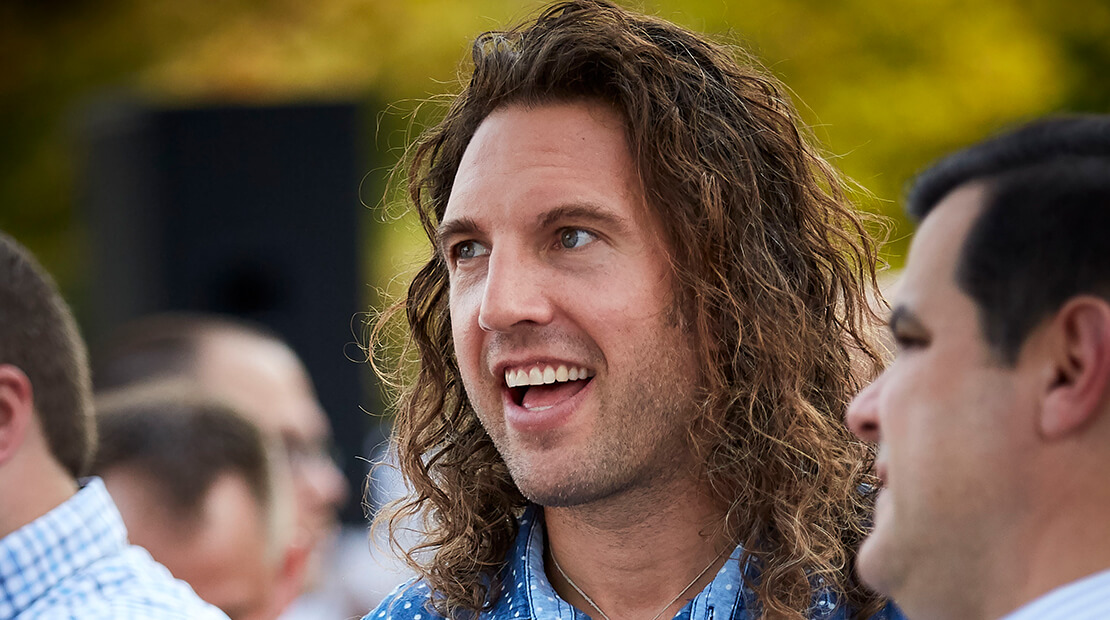 Extra Crispy
From farmer's market to industry leader
Nut butter fans out there know Justin's as one of the best. With unique flavor combinations—like maple-almond, chocolate-hazelnut, and honey-peanut—and a thick, smooth texture, Justin's nut butters are one of a kind. While the founder, Justin Gold, has believed in the power of nut butter since even before he started his business, he saw the most success after launching the first nut butter squeeze packs, which are just as easy to squirt onto a piece of toast as they are to suck directly from the packet during a commute. I spoke with Gold on the phone to learn how he creates his nut butter flavors, his go-to green smoothie, and the future of nuts.
What did you have for breakfast today?
You're going to think I'm kidding, but it's totally true. I actually have this for breakfast almost every day: It's a green nut butter smoothie.
Where do I start—there are a few key ingredients, and the first one is a good blender. I use a Blendtec, which is kind of similar to a Vitamix. So, I add kale—probably three to four leaves and I de-stem it, a little bit of frozen spinach, about half a frozen banana—I keep bananas peeled in the freezer, so I'll take half a banana and cut that in half again, and put that in the blender. Then, a scoop of vanilla Vega protein, then—this is gonna sound crazy but it's true—I do a scoop of wheatgrass powder, then a small scoop of hemp hearts, another key ingredient: a small scoop of chia seeds, and then I do two tablespoons of almond butter, then I add a little bit of soy milk, a little bit of water, a little bit of ice. Then, blend, baby!
I have this like every morning. I usually wake up early, get my workout in, and then I have a green smoothie right after. It's like having a protein salad first thing in the morning, and it keeps me full and energized until lunch. Maybe on the weekends I'll have pancakes with my kids.
I bet pancakes with nut butter is a great combo too. So, what would you say is your favorite way to eat nut butter for breakfast?
I have two favorite ways. If I'm feeding my kids, I'll put nut butter on a waffle for them. Instead of syrup I'll use maple almond butter or honey peanut butter, and that kind of covers up the dry waffle. I'll also put it on a piece of fruit, like a banana or an apple. Or literally just right out of the jar. But the reason why dads get fat is because we always finish our kids' food. Normally I'm eating a waffle because my kids didn't finish it.
I'd love to learn a bit more about Justin's. Why did you decide to launch a nut butter company?
I grew up in Western Pennsylvania, near Pittsburgh. I went to a small college, studied Environmental Policy. I really wanted to be an environmental lawyer. And then my senior year of college I was interning at an environmental law firm, and I really just became disillusioned with what being a lawyer was. So I dropped out of the LSAT course, didn't go to law school, graduated from this Environmental Policy program. Then I moved to Colorado and started waiting tables. I moved to Boulder to be near the university, because I knew I wanted to go back to school someday. And it's close to the mountains. So I'm living in Colorado, waiting tables, working in restaurants.
I'm vegetarian, so I was eating a ton of peanut butter and almond butter for protein. I would walk to the grocery store and see a whole shelf of different preserves, jams, jellies. But then I'd look at the nut butter section, which was tiny. There were literally just two types of peanut butter, smooth or crunchy. It didn't make any sense. And then I thought, Why is it that when I ate a handful of almonds it tastes amazing, but when I bought the one brand of almond butter that was available it tasted kind of gross? You could just grind your own nut butters at the store, so I thought, How hard could this be? So I just started experimenting and making my own. I would keep a journal of what I added, I would try honey, fresh banana, dry banana; I'd add strawberry jelly, dehydrated fruit. All these different concoctions—cinnamon, chocolate, maple syrup. I'd put them in all these jars and I'd put them in the cupboards. I was living with a bunch of roomates at the time and they'd always steal my nut butters, so literally I had to write "Justin's" on the jars so they knew it wasn't for them to eat. My roomates just loved them, and they'd always ask for more "Justin's." And I thought this could really be a fun business.
I didn't know anything about starting or running a business, but what I did know was how to use a library. And Boulder has a business school, so I went to their library and I started to research how to write a business plan. As I was working on the plan, I wondered if there were any natural food companies in Boulder that I could ask for help from. My mind was blown that there are a lot of natural food companies here, from Celestial Seasonings, to Horizon Organic Dairy, to Izze Soda to Rudy's Organic Bread. So I was able to find a lot of smart professions who helped me learn how to grow and scale the company.
I started with the peanut butter and almond butter. We debuted at the farmer's market and I was going to stores. I was still really struggling when I'd been in business for about four years. I went on a mountain bike ride. I was on the ride and eating an energy gel, and I thought to myself, This gel is great, but I don't want sugar right now, I want protein. I thought, Why isn't anyone putting peanut butter or almond butter into a squeeze pack? And literally no one was doing it. I thought, This is such a silly idea, clearly it can't be done.