Minnesota Vikings Receiver Adam Thielen, Renowned NFL Shoe Artist Work Together For Charity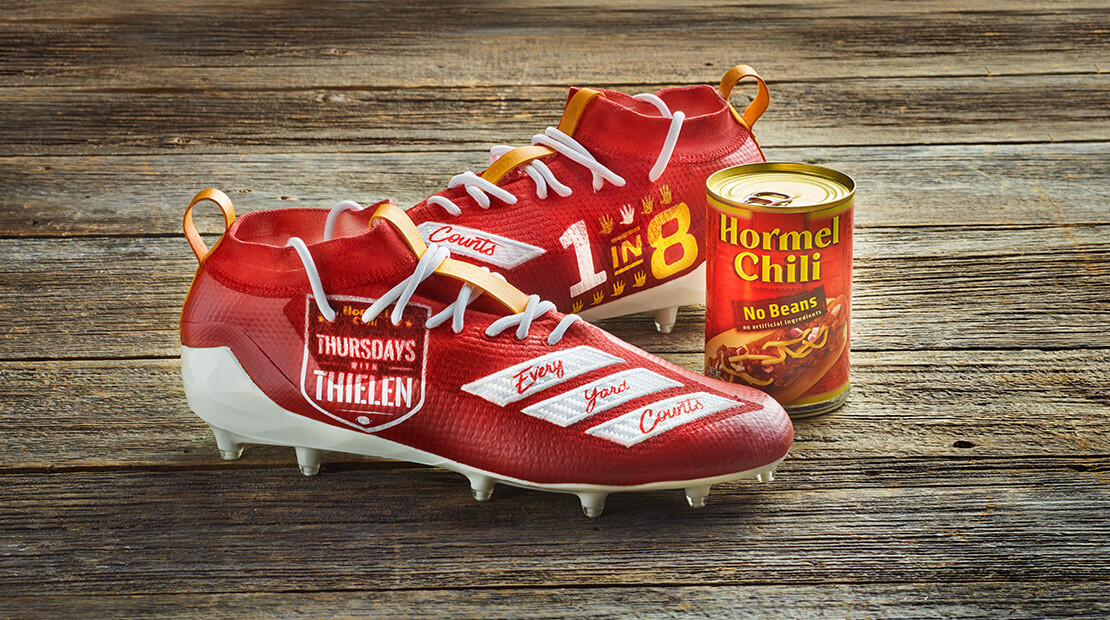 USA Today
Well-known sneaker artist Dan Gamache grew up in Poughkeepsie, New York, with a dad rooting for the Minnesota Vikings and a mom cheering for the Buffalo Bills.
"It was like, which team of terminal heartache do you want to root for?" Gamache said, chuckling. "I picked the Vikings."
That's why it's been a labor of love for Gamache to create a pair of designer cleats that Vikings receiver Adam Thielen was supposed to wear in Thursday night's game against the Washington Redskins. Thielen partnered with Minnesota-based Hormel Chili to unveil a cleat design to raise awareness that one in eight Minnesota children face hunger issues daily. The program is called "Thursdays with Thielen."
The flaw in the plan is that Thielen injured his hamstring on a touchdown catch Sunday in Detroit and on Wednesday was ruled out.
The plan is for him to still wear the special cleats during the pregame, but he cannot wear them during the game, even though he'll be on the sidelines. Week 14 of the NFL season is when players can wear custom cleats during games.
"I'm bummed I won't be able to take the field with my teammates on Thursday," Thielen said via email. "But I'm still very proud to continue my partnership with Hormel Chili. I appreciate them stepping up by donating enough chili for 6,000 meals to give to hungry families in the Twin Cities even though I won't be playing.