Mr. Peanut Shells Out $100,000 as a Way of Giving Back to the State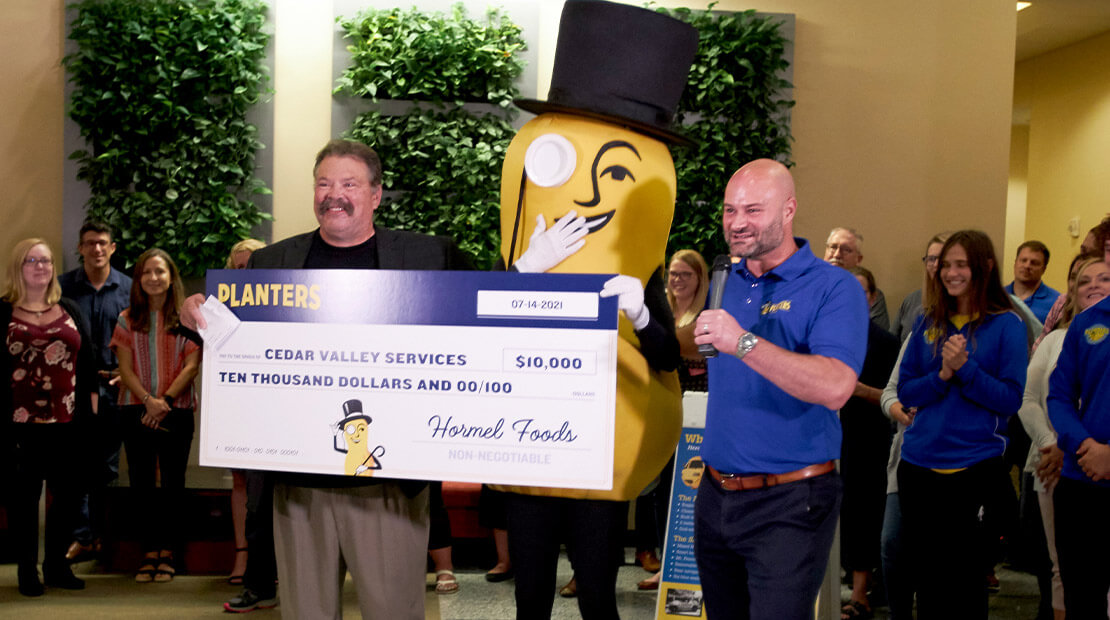 KAAL
Employees at Hormel had a reason to go nuts Wednesday as the PLANTERS® brand officially joined Hormel Foods.
Hormel purchased the PLANTERS® nut business from Kraft Heinz Co. for $3.35 billion earlier this year. The largest acquisition in the company's history.
As a way to shellebrate the move, the MR. PEANUT® character is giving away 10 checks worth $10,000 to local organizations that serve our community.
Hormel Foods presented the first check to Cedar Valley Services in Austin. The organization specializes in helping people with disabilities find employment.
The spirit of giving and recognizing local charities and Minnesotans will continue throughout the MR. PEANUT® character's summer in Minnesota as he tours the state with the NUTMOBILE™ vehicle.
"I've got a lot of pride and I think our organization has a lot of pride to be a part of this, not only are we really excited about the Planters acquisition and how well it fits into Hormel. But we're also just excited to see this legacy of giving and supporting the communities in which we do business in and so for us, it's a great source of pride," said Jeff Frank, Vice President, Hormel Foods grocery products.
During the stop, people got a chance to meet Mr. Peanut and sample different Planters snacks and for Mr. Peanut, he loves to help bring smiles.
"I mean I wanted to make an impact on people you know its the best job in the world you get to go to all these cities and uplift people especially in a year like last year when a lot of people had a really tough time it was our job to make people smile as Mr. Peanut and the Peanutter's our job is to pass out nuts and make people laugh so there is nothing better than that," said Maca-Danny-a, Peanutter.
Mr. Peanut and his "Peanutters" will be traveling all around the state in the Nutmobile.