Our 'Food Journey' Is Linked To Improving Our Environmental Impact, Says CEO Of Spam Maker Hormel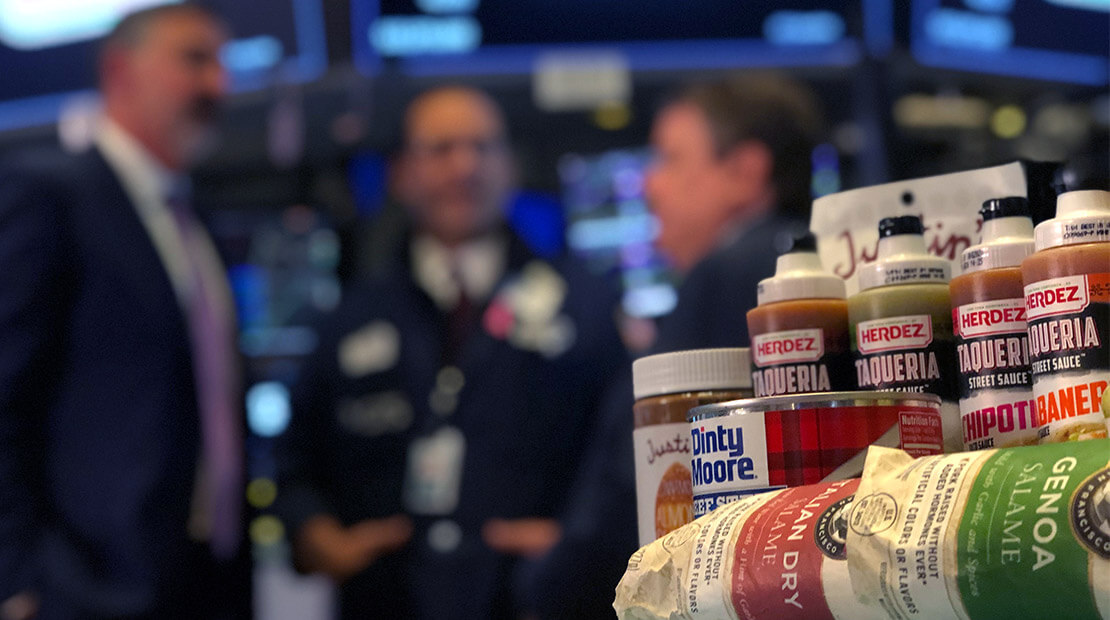 CNBC
Building on a nearly 130-year history, the meat producer has acquired plant-based brands such as Skippy and purpose-driven brands such as Applegate and Justin's
Hormel Foods CEO Jim Snee told CNBC on Thursday that the company's "food journey" is harnessed to its commitment to corporate and social responsibility.
In a sitdown with Jim Cramer at the New York Stock Exchange, Snee said Hormel focuses on three pillars: employees and partners, sustainability goals and giving back to local communities, and products that better the lives of consumers.
The "Mad Money" host was inquiring about the company's "Impact Per Shares," which Cramer uses to discover what enterprises are doing to improve their impact, particularly on the environment.
"It could be for a health benefit, it could be for a craving, right, a lot of different reasons," Snee said in the interview, "but as you think about our portfolio, it's broad, it's deep, and it's improving the lives of consumers. So those three pillars on our food journey [is] where we're making a difference."
Hormel, a global branded food company whose portfolio includes Spam and Mary Kitchen hash, among dozens of others, has a number of eco-friendly initiatives in place to achieve by 2020, according to its website. Those goals include reducing nonrenewable and water usage as well as solid waste and greenhouse gas output by 10%. The company also committed to cutting 25 million pounds of product packaging.
With about 19,000 employees and 30 factories, Hormel has a wide reach, with products marketed in 80 countries. The meat-producing company has been around for nearly 130 years. Building on that long history, Snee explained, the company's food journey has led to plant-based brands such as Skippy and purpose-driven brands such as Applegate and Justin's. Hormel acquired all three labels within the past seven years.
"This big initiative for us is food forward," he said. "We are a food company, we're incredibly proud to be a food company, and, I mean, we know that there's going to be this constant evolution and we need to be ahead of it because the consumer is changing faster than they ever have."
Snee acknowledged that the food manufacturer is facing competition in the plant-based meat alternative space, including notable players Beyond Meat and Impossible Foods.
Beyond Meat, which went public in the first half of this year, has a market value of $8.2 billion.
Hormel saw the emerging faux-meat trend way ahead of time, Snee said. Without naming the enterprise, Snee revealed that the company initially had a partnership in the plant-based market but was pushed to build its own product when the firm decided to go it alone in the IPO market.
This led to the creation of Hormel's brand Happy Little Plants, which began selling plant-based meat products last month.
"There's no arguing the consumer is more curious about plants than they ever have," Snee said. "It's about: How can we grow our business organically, how do we innovate, and how do we continue to make disciplined acquisitions?"
Hormel, with $22.3 billion market cap, saw its stock price decline about 2.7%. Shares are down nearly 2% year to date but up around 4.5% over the past 12 months.