Top 100 Food Trends in July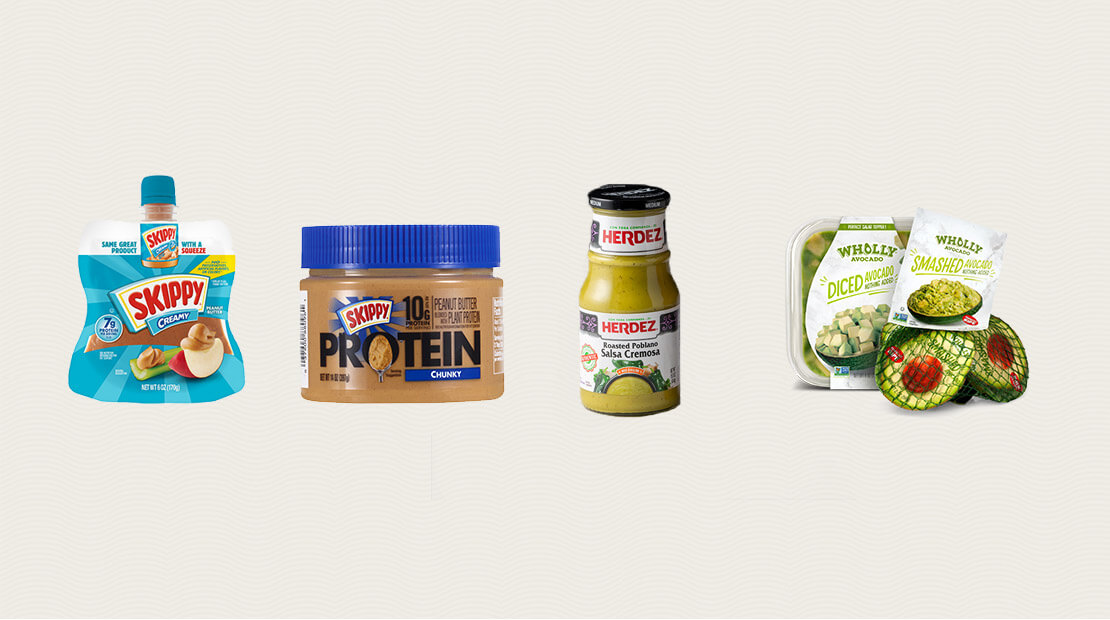 Trendhunter
There are a few innovative products in the July 2020 food list that experiment with flavors, culinary production, and ingredients …
Skippy Created Peanut Butter Blended with Plant-Based Protein
Nut butter is known as a great source of natural protein but Skippy is adding even more value to its peanut butter products with its new enriched peanut butter product. The creamy and chunky Peanut Butter Blended with Plant-Based Protein boasts three additional grams of plant-based protein per serving, offering a total of 10 grams of plant-based protein per serving. Although bolstered with additional plant-based protein, the products are said to be as flavorful and spreadable as ever, sharing the consistency peanut butter lovers have come to expect from the brand.
The 14-ounce Peanut Butter Blended with Plant-Based Protein jars are being touted as the first mainstream products of their kind, especially as they boast a squat design that helps customers avoid "peanut butter knuckles."
…
Skippy's Peanut Butter Comes in a Squeezable Six-Ounce Pouch
Skippy's beloved peanut butter is being introduced in conveniently packaged Squeeze Peanut Butter pouches that were specifically designed for portability. The Squeeze Peanut Butter varieties from Skippy make it easy to enjoy the brand's Creamy Peanut Butter and Natural Creamy Peanut Butter Spread in the form of six-ounce packages that can be squeezed directly onto crackers or fresh fruits.
As well as being convenient and saving people the need to dirty a knife for evenly spreading the product, these new portable peanut butter pouches share a simple way to intake seven grams of protein per serving. Appealing to the ingredient-conscious consumer, the products support nourishing and simple on-the-go snacking rituals.
…
The New HERDEZ Salsa Cremosa Sauces Come in Three Flavors
These new HERDEZ Salsa Cremosa sauces are a premium range of options for chefs and foodies alike that will enable them to enhance their favorite recipes with an authentic recipe. The range includes the Cilantro Lime Cremosa, Chipotle Salsa Cremosa and the Roasted Poblano Salsa Cremosa, which are all perfectly seasoned for use on chicken, pasta and more. The sauces are characterized by their creamy profile that's bursting with flavor to make them a single-step option for enhancing a range of recipes.
Associated Brand Manger at MegaMex Foods Giselle Olson spoke on the new HERDEZ Salsa Cremosa sauces saying, "Fans of HERDEZ® salsa know we stand for simple, quality ingredients that represent the heart and soul of Mexican cooking, and our new Salsa Cremosa line is an extension of that belief. Each jar is filled with creamy, unmatched flavor that you and anyone around the table won't be able to resist."
…
WHOLLY® AVOCADO Debuts Two Ultra-Convenient and Tasty Products
WHOLLY® AVOCADO is debuting two healthy, ready-to-serve avocado products, allowing consumers to indulge in a tasty treat on-the-go. Both made with hand-scooped Hass avocados, the new product line is bound to excite lovers of the creamy fruit.
First in the ready-to-serve avocado range is the WHOLLY® Diced Avocado. This product completely omits the necessity of slicing and dicing an avocado before adding it to some tortilla soup or to a salad. With a creamier and slightly less chunky texture, WHOLLY® AVOCADO also boasts the WHOLLY® Smashed Avocado Cups. Available in a package of four minis, the offering is perfect for spreading it on some toast.
Made with "100% avocado and nothing else," it is clear that the strength of these products lies in their seamless combination of taste and convenience …