Why Hormel Foods CEO Isn't Worried About a Recession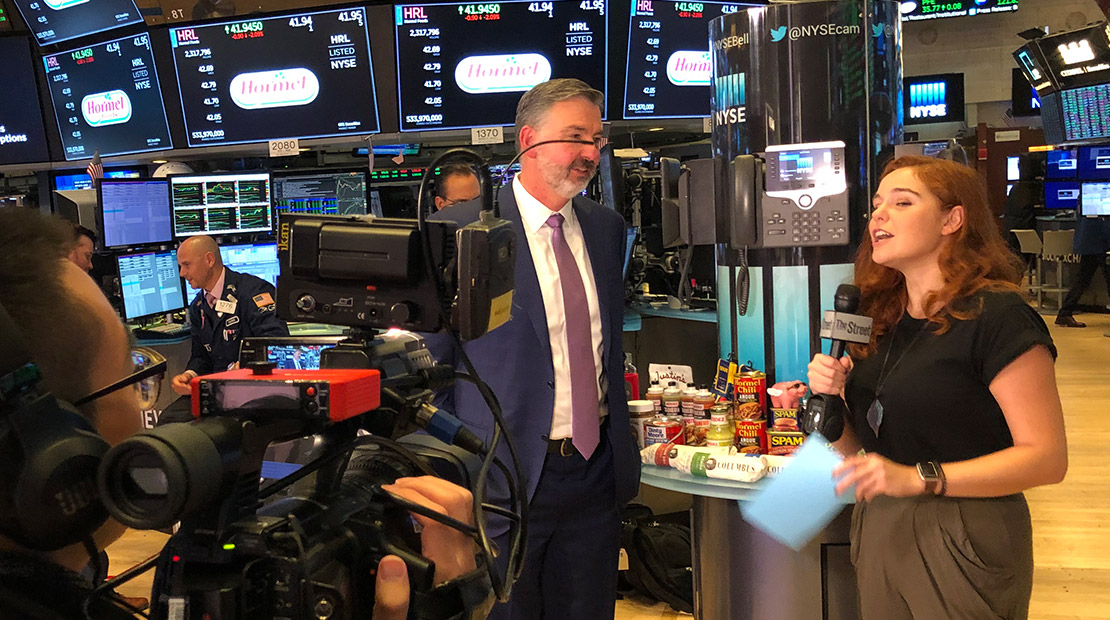 The Street
Looking to try some pumpkin spice spam? Hormel Food CEO weighs in on the millennial, pumpkin-spice Spam and why he's not worried about a recession.
People love food.
At least, that's what Hormel Foods (HRL – Get Report) CEO Jim Snee told TheStreet.
The CEO talked to TheStreet on the floor of the New York Stock Exchange ahead of his company's investor day.
Snee also talked to CNBC's Mad Money's Jim Cramer.
Looking in the short term, Snee explained that a spike in avocado prices will compress margins for their Wholly Guacamole brand and a recent outbreak of swine flu will disrupt pork supplies, but over the longer term, he said, the company's businesses and brands remain strong. When asked about international expansion, Snee noted that business in China continues to grow and they're still learning from early investments and experiments made in Brazil, reported TheStreet's Scott Rutt in his Mad Money recap.
When asked about whether or not he was worried about a recession on the horizon after the company updated its 2019 guidance to $1.76 to $1.80 a share from $1.71 to $1.85, Snee responded:
"I mean really it's consistent with what we said on our Q3 earnings call. We're only a couple of weeks out from the end of our fiscal year, so we thought it was really prudent to cut off the top end and the bottom in and give our investors a more realistic view of what we're expecting. But to your comment around, you know, a recession, I think we're in a great business. We're in a food business. You know, we always say people have to eat, but people love food, right? And nothing brings people together like food. And we like to call ourselves a global branded food company. It's all about the food."
But let's talk about the millennial.
After all, Hormel did just release a pumpkin spiced Spam.