Culinary Experts at Hormel Foods Offer Insight to Help Consumers Keep Their Holiday Turkeys Succulent and Flavorful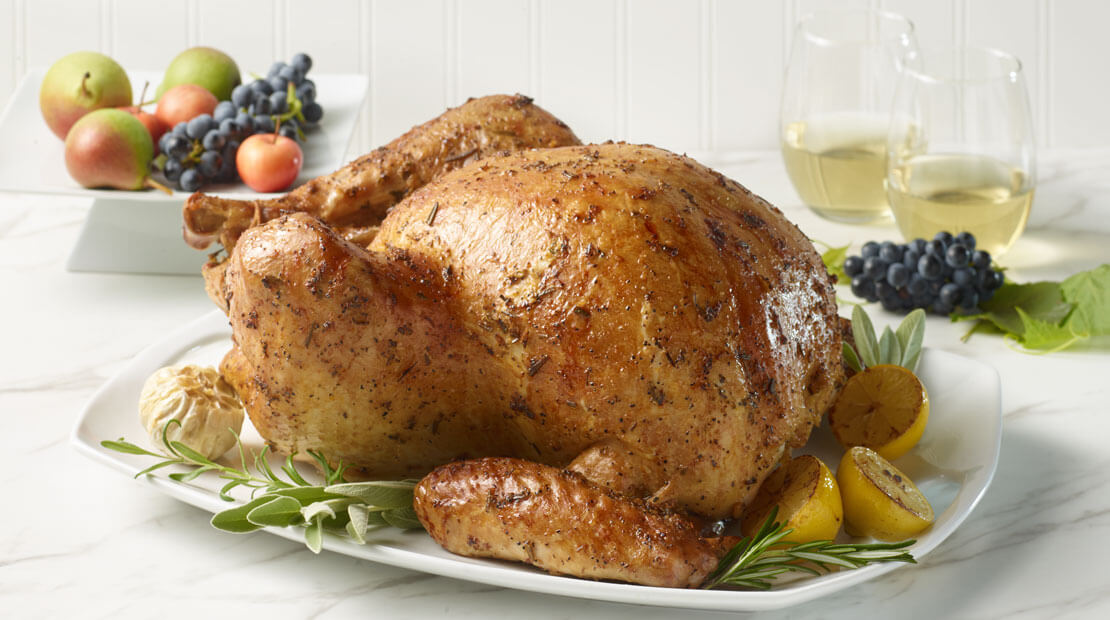 Chef Barry Greenberg offers original brining concepts to help keep dry, bland turkeys at bay
Turkey is an unquestioned staple of the Thanksgiving holiday in America, but from a cooking standpoint, it's an easy thing to get wrong. Dryness and blandness are two of the most common maladies to be mindful of when preparing a turkey. Thankfully, a good brine can help prevent both.
The culinary experts at Hormel Foods (NYSE: HRL) are today unveiling a pair of unique, savory brine recipes — one wet and one dry — to help consumers deliver a moist, flavorful bird to the dinner table this holiday season. Chef Barry Greenberg, culinary team lead at Hormel Foods, developed these two original brine concepts for consumers to consider: a char siu wet brine, and a rosemary garlic and citrus dry brine.
"Based on the structure and the protein, turkey can be very unforgiving if you don't know what you're doing, because there's just no fat there to help keep the meat from drying out," Greenberg said. "So, you have a very narrow margin of getting it right. Brining or marinating definitely swings the odds in your favor a little bit more."
Whether dry or wet, a good brine is all about salt, which keeps the meat tender during the cooking process and allows it to absorb more water and reduce the amount of liquid that is lost. With that in mind, try these original brining techniques from Hormel Foods for a fresh culinary approach to a holiday classic.
Char Siu Wet Brine
Greenberg's wet-brine recipe incorporates an Asian flavor profile that is rapidly growing in popularity: char siu. A Cantonese barbecue concept typically reserved for pork dishes, char siu can be a tantalizing option for turkeys, too. Greenberg is encouraging consumers to apply the familiar flavor of a sweet barbecue sauce in a new and exciting, culturally inspired way.
"Char siu is always on my mind because it's such a familiar flavor, and I thought it'd be great in turkey preparation, too," Greenberg said. "It looks cool, and it seems like it's everywhere right now. I think things like gochujang and Sriracha are starting to go away a little bit, but char siu is starting to fill that void. I really like that flavor just because it's familiar but still a little bit different."
After mixing all brine ingredients together, rub thoroughly onto a Jennie-O® Tender & Juicy Young Turkey Breast, place it in a large zip-top bag and let marinate in a refrigerator for 8 to 24 hours before roasting.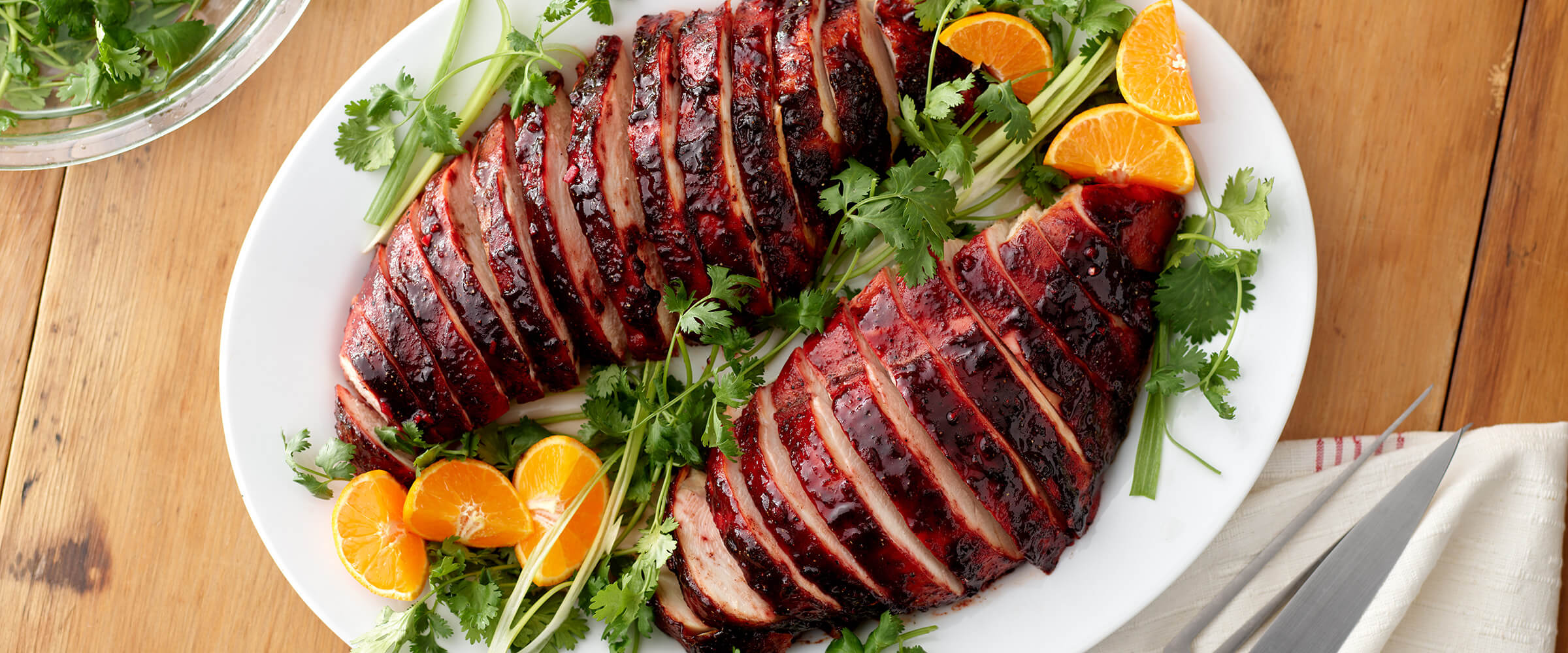 Prep Time
Cook Time
Cook Method
Dish Type
Ingredients
| | |
| --- | --- |
| 2 | tablespoons five-spice powder |
| 1 | tablespoon coarse ground black pepper |
| ¼ | cup toasted sesame oil |
| ¼ | cup rice wine |
| ¼ | cup hoisin sauce |
| ¼ | cup molasses |
| ¼ | cup honey |
| 2 | tablespoons soy sauce |
| 2 | tablespoons minced garlic |
| 2 | tablespoons beet powder |
| 1 | Jennie-O® Tender & Juicy Young Turkey bone-in whole turkey breast (4½ to 5 pounds), thawed if frozen |
Directions
In bowl, whisk together brine ingredients. Reserve 1 cup of brine to baste turkey breast.

Wearing gloves, rub turkey breast with remaining brine. Place breast in large zip top bag and expel any air before sealing. Allow to brine refrigerated 8 to 24 hours.

Heat oven to 325°F. Place turkey breast on a rack in shallow pan. Roast 2 ¼ to 2 ¾ hours, basting frequently with reserved brine mixture, or until meat thermometer inserted into the thickest part of the breast registers 165°F.
Rosemary Garlic and Citrus Dry Brine
This recipe offers a Mediterranean twist on turkey. While containing more classic ingredients like garlic and rosemary, Greenberg also calls for the zest and juice of two lemons and two oranges.
"You're not really counting on the citrus to carry sweetness. You're counting on it more to carry like a fruitiness and floral notes," Greenberg said. "When you roast garlic, when you fry rosemary, it's a powerful and strong combination, but it can also be flat. But the citrus element brightens it up some to give it bit of a Mediterranean feel."
After preparing the garlic and rosemary, combine them with the citrus elements as well as salt, sugar and pepper before applying the mixture to a Jennie-O® Fresh All Natural Young Turkey. Another chef tip from Greenberg: Use leftover rosemary-infused oil in your roux to thicken your turkey gravy.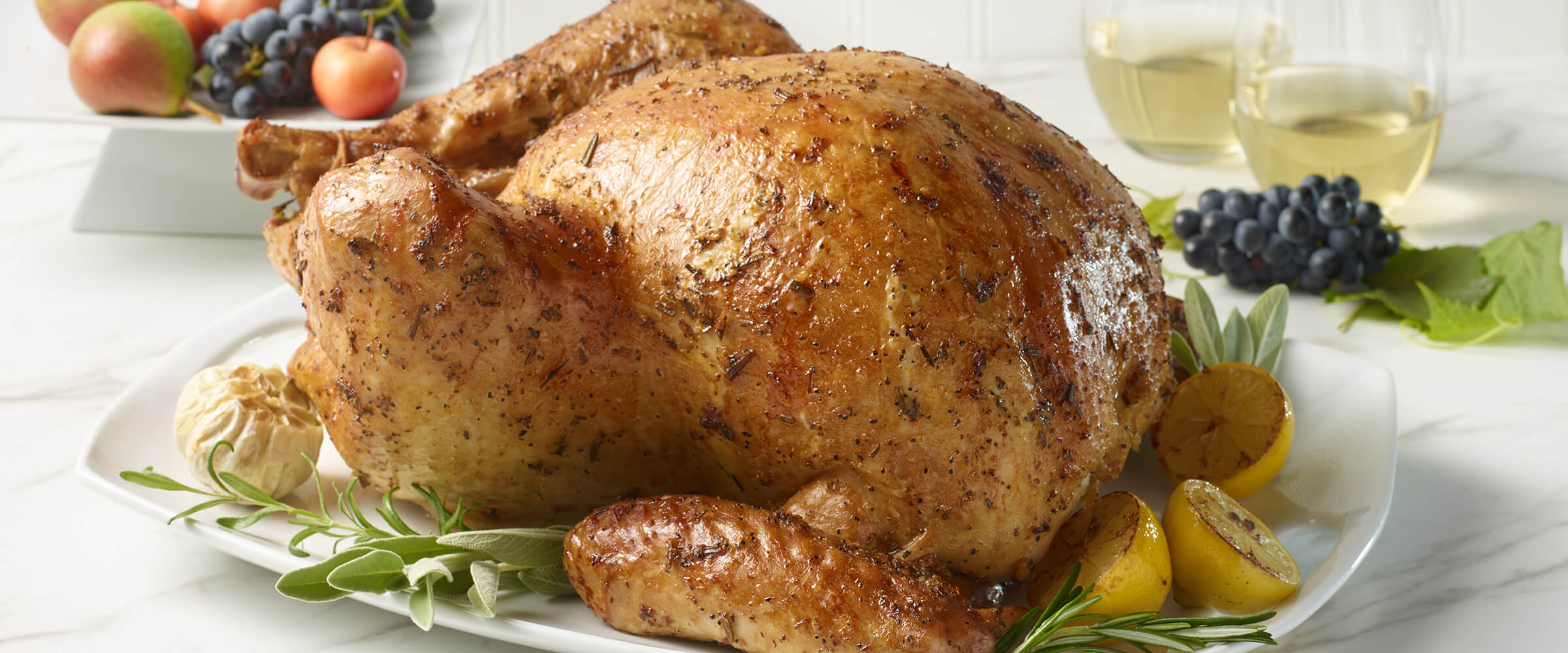 Prep Time
Cook Time
Cook Method
Dish Type
Ingredients
2

garlic bulbs

½

cup oil, divided

3

sprigs rosemary

2

lemons, zested and juiced

2

oranges, zested and juiced

2

tablespoons kosher salt

2

tablespoons sugar

1

tablespoon coarsely ground black pepper

1

(12 to 14-pound) Jennie-O® Fresh All Natural* Young Turkey *Minimally processed. No artificial ingredients.
1

½

cup chicken broth
Directions
Heat oven to 350°F. Cut ½ -inch from top of each garlic bulb to expose cloves. Place cut side up on 12-inch square of aluminum foil.

Drizzle each bulb with 2 teaspoons oil. Wrap securely in foil. Place in shallow baking pan.

Bake 45 to 50 minutes or until garlic is tender when pierced with toothpick or fork. Cool slightly. To use, gently squeeze soft garlic out of bulbs.

In small saucepan over medium heat, warm remaining oil. Add rosemary sprigs to hot oil. Cook 45 to 60 seconds, or until rosemary stops sizzling and leaves turn light brown on the tips. Let cool. Remove rosemary from oil. Remove leaves from sprigs. Chop.

In bowl, combine roasted garlic, rosemary, zest and juice of lemons and oranges, salt, sugar and pepper.

Wearing gloves, season cavity of turkey with some of the brine mixture. Rub the outside of the turkey with the remaining brine mixture.

Place turkey in extra-large zip-top bag, and expel any air before sealing. Allow to brine refrigerated 8 to 24 hours.

Roast bird at 325°F, basting frequently with chicken broth 4¼ to 4¾ hours or until turkey is fully- cooked, 180°F as measured by a meat thermometer inserted into the thickest part of the thigh. ALWAYS confirm doneness with a meat thermometer. Juices should run clear. Let turkey stand 20 minutes before carving.
Try Both!
Thanksgiving can be a stressful time for consumers to venture beyond their typical turkey plan, especially if they're expecting guests. But there's an easy solution to that.
"When I was cooking for family, a number of times we'd have two small birds as opposed to one big bird," Greenberg said. "One would be pretty traditional, and the other would probably be smoked or something a little different. My suggestion would be, if you're having a big crowd, try two different flavors. How often do you really cook a whole turkey? Maybe it's just during the holiday season that you even have the time to do something like that. Why not branch out and try something a little different than the traditional?"
For more recipes from Hormel Foods and its family of brands, visit hormelfoods.com/recipes. For Jennie-O® product information, additional recipes and where to buy, visit jennieo.com.
About Hormel Foods – Inspired People. Inspired Food.™
Hormel Foods Corporation, based in Austin, Minn., is a global branded food company with over $12 billion in annual revenue across more than 80 countries worldwide. Its brands include Planters®, Skippy®, SPAM®, Hormel® Natural Choice®, Applegate®, Justin's®, Wholly®, Hormel® Black Label®, Columbus®, Jennie-O® and more than 30 other beloved brands. The company is a member of the S&P 500 Index and the S&P 500 Dividend Aristocrats, was named on the "Global 2000 World's Best Employers" list by Forbes magazine for three years, is one of Fortune magazine's most admired companies, has appeared on the "100 Best Corporate Citizens" list by 3BL Media 13 times, and has received numerous other awards and accolades for its corporate responsibility and community service efforts. The company lives by its purpose statement — Inspired People. Inspired Food.™ — to bring some of the world's most trusted and iconic brands to tables across the globe. For more information, visit www.hormelfoods.com