Hormel Foods and Which Wich hold Project PB&J® Spreading Party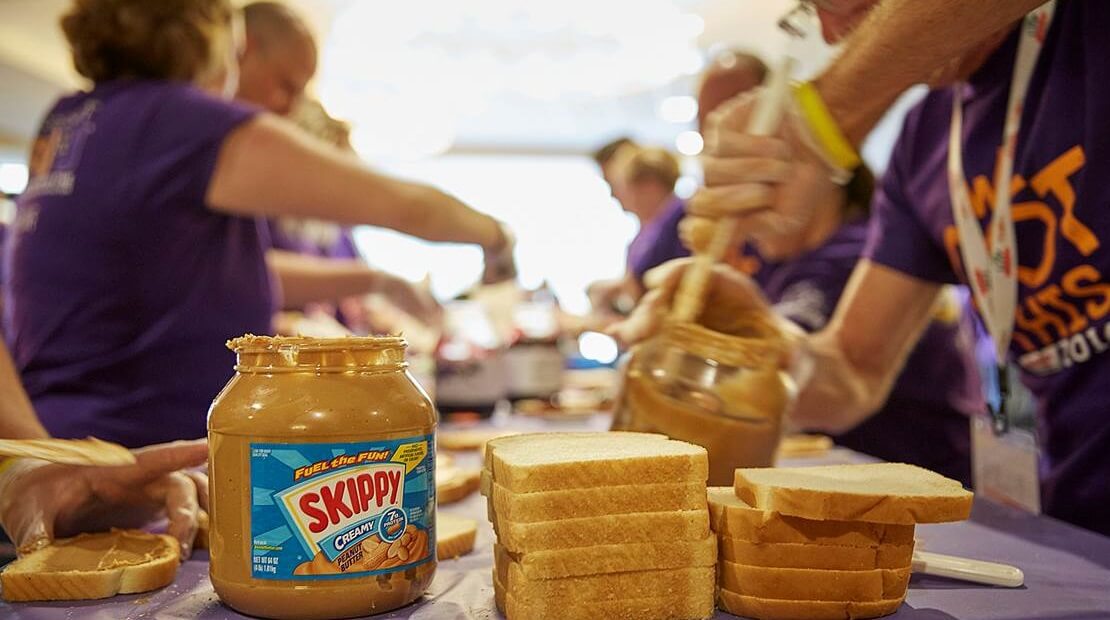 Austin, Minn.
As the company celebrates its 125th anniversary this year, Hormel Foods Corporation (NYSE: HRL) today announced its foodservice sales team is teaming up with Which Wich® Superior Sandwiches for a Project PB&J® Spreading Party during their national sales meeting in Minneapolis on July 27th.
The goal: for 200 foodservice sales team members to make 9,000 PB&J sandwiches made with SKIPPY® peanut butter in an hour, which will then be donated to Loaves and Fishes, Catholic Charities and People Serving People to help those in need.
"Giving back to communities is an important value of Hormel Foods," said Mark J. Ourada, vice president of sales, foodservice, Hormel Foods. "That is why we are pleased to team up with a valued partner, Which Wich, to hold a Project PB&J® Spreading Party during our event."
In 2015, Hormel Foods donated $5.2 million in cash and product donations to help those in need. In addition to donating 2.5 million cans of SPAMMY®, a shelf-stable poultry product fortified with vitamins and minerals to help malnourished children in Guatemala, Hormel Foods donated $400,000 to charities in 40 communities where it had manufacturing facilities and contributed to several disaster relief efforts in 2015.
"Hormel has been a pre-day-one partner to Which Wich and we are thrilled to help them spread some love throughout Minneapolis," said Hala Habal, vice president of communications for Which Wich.
Which Wich also has a tradition of giving back to the communities it serves. For each PB&J purchased, Which Wich donates a PB&J wich to someone in need through Project PB&J® and banks one to give away in large scale on a global level. As kids themselves, founders Jeff and Courtney Sinelli shared a love for peanut butter and jelly sandwiches. PB&J was the first wich created for the brand, and the two chose to use it as a way for Which Wich to show its support for those who are less fortunate.
"We started Project PB&J with the belief that a simple peanut butter and jelly sandwich can change the world," Sinelli said. "Since then, we've seen PB&J's bring comfort and comfort food to those who need it."