Hormel Foods Celebrates Record Year and Highlights Refrigerated Foods Success at Annual Shareholder Meeting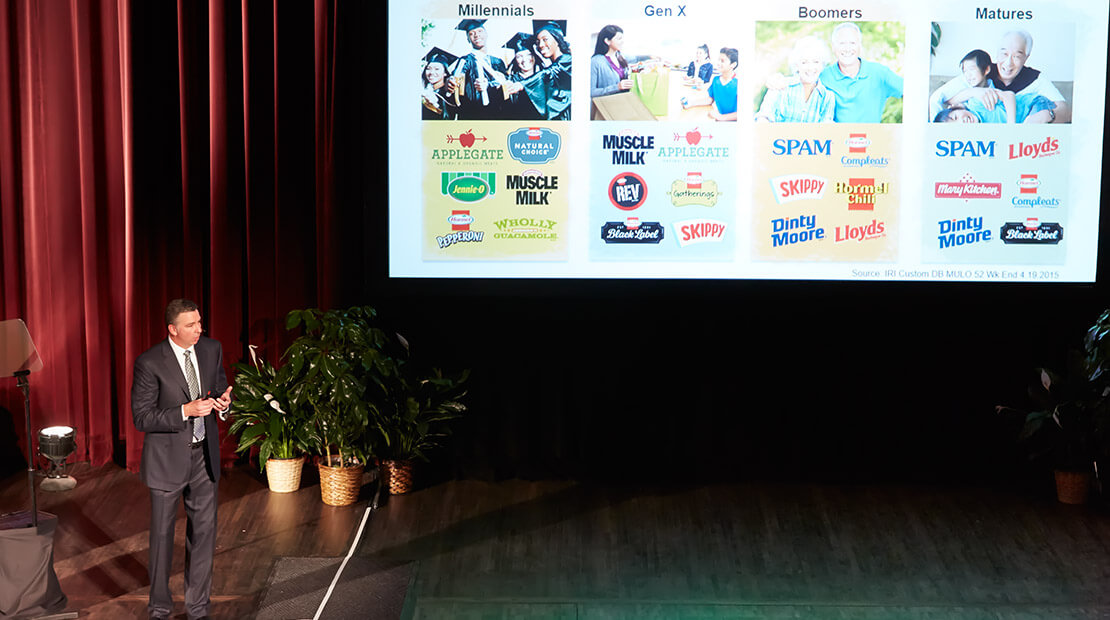 Austin, Minn.
During its annual shareholder meeting in Austin, Minn., Hormel Foods Corporation (NYSE: HRL) celebrated a record fiscal year in 2015, and highlighted the company's Refrigerated Foods segment.
Jeffrey M. Ettinger, chairman of the board and chief executive officer at Hormel Foods, spoke about the company's continued growth and success for the year. "The results we achieved in 2015 were strong," Ettinger said. "We reported record bottom line results, with adjusted net earnings* up 19 percent over last year and all five segments registering earnings growth. Additionally, we raised our annual dividend by 16 percent to $1.16 per share, marking the 50th consecutive year we have increased our dividend."
James P. Snee, president at Hormel Foods, highlighted the company's key reasons for past success and how it will continue to grow in the future. "For 125 years, we have been focused on continuous improvement, and it has been a critical component for our success."
"Additionally, our broad portfolio is a clear strength for Hormel Foods. Our strong brands connect with consumers across the entire demographic spectrum, and there is still tremendous potential for us to increase household penetration in almost all categories."
Thomas R. Day, group vice president, Refrigerated Foods, delivered the meeting's feature presentation. Day discussed how the segment has delivered solid performance with its core offerings and how the addition of the Applegate® brand will add to the group. "We identified the opportunity for continued growth within Refrigerated Foods was in the natural and organic market. We believe that through the Applegate® products, we are able to offer consumers the choices they're asking for with the number one brand in the natural and organic meats category."
*Adjusted Financial Measures

Adjusted net earnings exclude charges relating to the closure of the Stockton, California, manufacturing facility, the exit from international joint venture businesses, the goodwill impairment charge associated with the Diamond Crystal Brands business and an adjustment to the contingent consideration accrual for CytoSport in fiscal 2015. The tables below show the calculations to reconcile from the non-GAAP adjusted measures to the GAAP measures for the full year.