Hormel Foods Corporation Honors 71 Suppliers With Spirit of Excellence Award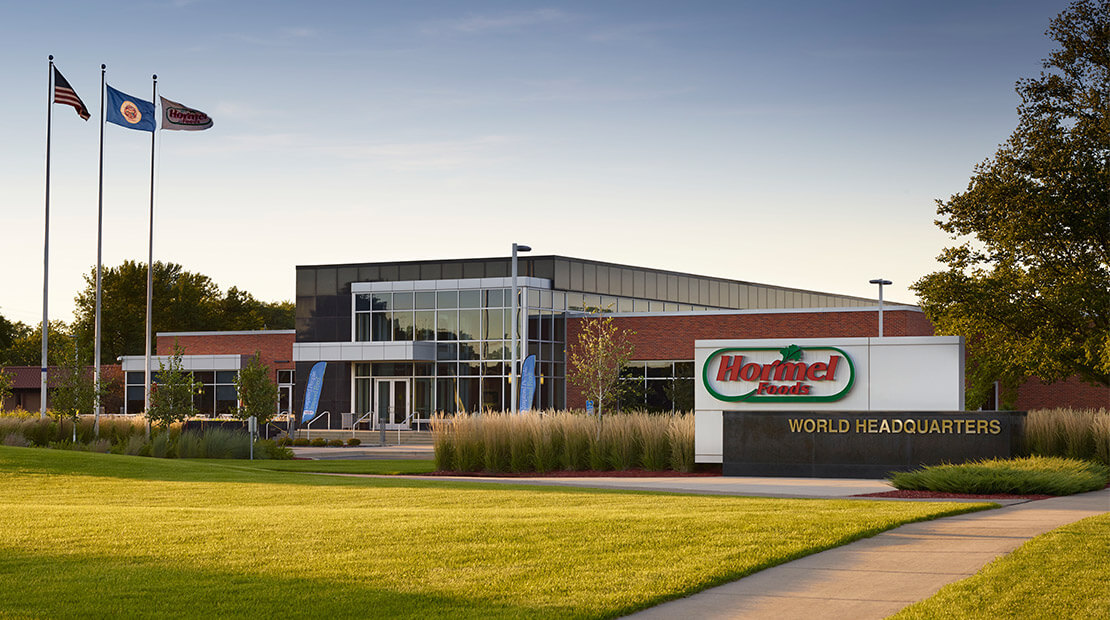 Austin, Minn.
Hormel Foods Corporation (NYSE: HRL) is announcing the names of 71 suppliers who have been awarded Hormel Foods' Spirit of Excellence Award for their active role in the company's continuous improvement process.
These suppliers range from a variety of service areas, including purchasing, transportation, provisions, pork producers, contractors, co-packers and local plant suppliers.
"We hold our suppliers to the highest standards and these organizations have helped Hormel Foods achieve its process goal to set our industry's 'gold standard' for quality and product safety," said James P. Snee, director of purchasing, Hormel Foods. "While the individual criteria for each service area differs, all awarded suppliers provide a high level of technical expertise in their industry along with superior customer service."
Criteria factored into qualifying for the Spirit of Excellence Award include: ability to meet requirements, ability to make timely deliveries, provide accurate administrative support and maintain inventories. The awarding committee also looks for value-added benefits, including customer support, awareness of environmental concerns and sales representative performance. A universal measurement system has been in place since 1990 to ensure every supplier is held to the same standards.
All winners of the 2007 Spirit of Excellence Awards enter the running for the Hormel No. 1 Award. This award is given out every five years and will next be awarded in 2011 for 2006-2010; criteria for the Hormel No. 1 Award call for the recipient to have received a Spirit of Excellence Award during four out of five years.
The 2007 Spirit of Excellence Award winners are:
A.J. Lysne Contracting Corporation
Alcan Packaging
Alkar-RapidPak, Inc.
American Fuji Seal, Inc.
Aramark Uniform Services
Bacon Maker Farms
Bissonette Partnership
Bunzl Processor Division
Byron O'Connor
Cayman Creek
Commercial Services
David Schultz
Decker Truck Lines
Dickey Transport, Inc.
Dickson Industries, Inc.
Don Hummer Trucking
Donald Gildner
Ecolab, Inc.
Environmental Land Management
Ferguson Enterprises Inc.
Fieldale Farms Corporation
Fox Electric
G E LeBlanc, Inc.
Gamer Packaging, Inc.
Gleeson Constructors L.L.C.
Graphic Packaging International, Inc.
Green Bay Packaging, Inc.
Griffith Laboratories U.S.A., Inc.
Holiday Express Corporation
Honey Creek Farms—M & M Farms
Hugoson Pork Inc.
Jackie Huper
Jayhawk Boxes, Inc.
K & K Fabrication Inc.
K & K Livestock
Kevin Lauwagie
KMC Marketing
KOFAB
Kustom Pak Foods, Ltd.
Lou Rich, Inc.
Maple Valley Pork #8
Marcel Fett
McFarland Truck Lines, Inc.
Midwest Coast Transport
Minnesota Corrugated Box Inc.
Morton Salt Group
Muller Pinehurst Dairy Inc.
Multivac
Newly Wed Foods
Norway Ridge Farms
Paris Foods
Pork Behrens
Red Arrow Products Co. LLC
Rebco Pork, Inc.
Preston Refrigeration Co.
Roberson Beef Farm
RR Donnelley
Sealed Air Corporation Cryovac Division
Silgan Containers Corporation
Smyth Companies, Inc.
Stuart W. Johnson & Co., Inc.
Sunny Hillside Farms, Inc.
Terry Haust
The Joseph Company, Inc.
The Meyers Printing Companies, Inc.
Voigt Legacy Farms, LLC.
Werner Electric/Van Meter Industrial, Inc.
Weyerhaeuser
Wilbur Pig
Wolf-Tec, Inc.
xpedx
###