Hormel Foods Donates 80,000 Pounds of Food to Support the KARE 11 Food Fight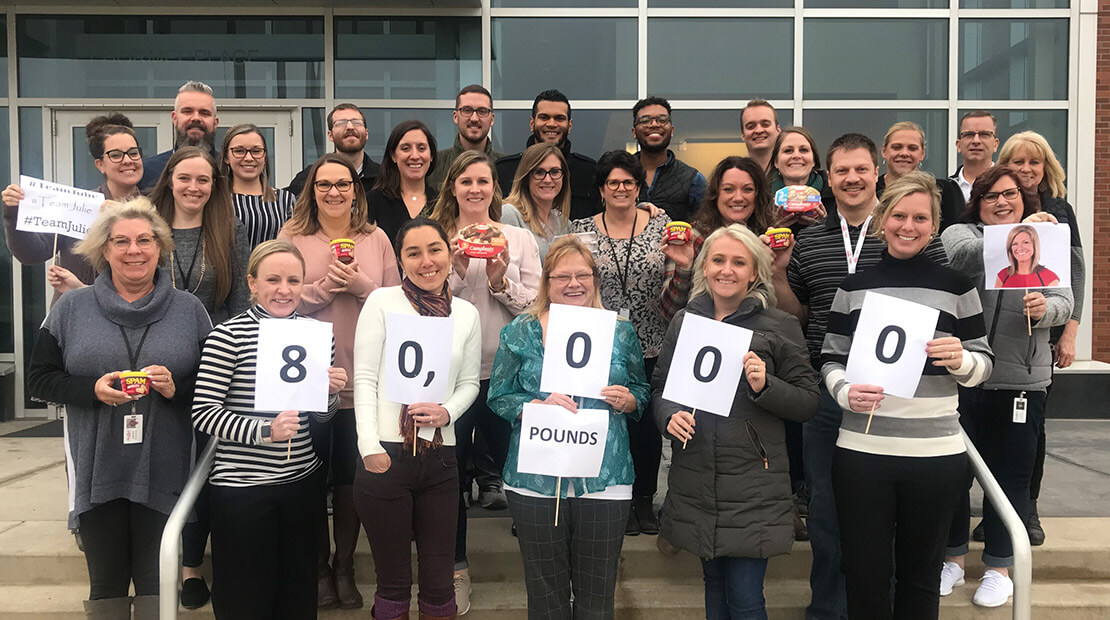 Austin, Minn.
Hormel Foods Corporation (NYSE: HRL), today announced a donation of 80,000 pounds of food to support #TeamJulie in the KARE 11 Food Fight. The Food Fight is a competitive food drive between the KARE 11 (Minneapolis, Minn.) news anchors that benefits the
Second Harvest Heartland
food bank.
The company's donation consists of over 75,000 pounds of Hormel® Compleats® microwave meals and 5,000 pounds of SPAM® mezclita spread.
When KARE 11 News Anchor Julie Nelson found out about the donation, she said, "Hormel Foods just donated 80,000 pounds of food to #TeamJulie and Second Harvest Heartland. 80,000 pounds! Thank you, Hormel Foods, for making a difference in our community. We are so grateful!"
"As a global branded food company, fighting food insecurity is extremely important to us," said Steve Venenga, vice president of Grocery Products marketing at Hormel Foods. "We are pleased to support #TeamJulie in the KARE 11 Food Fight to rally around this important cause right before the holidays."
The goal of this year's food drive is 2 million pounds of food for Second Harvest Heartland. In 2014, the drive resulted in a donation of more than 1.4 million pounds of food. Hormel Foods also participated in the 2014 drive, contributing over 10,000 pounds of food.
"We are so grateful for this generous donation from Hormel Foods to #TeamJulie," said Allison O'Toole, CEO of Second Harvest Heartland. "It is through ongoing partnerships like those we have with Hormel Foods and KARE 11 that we are able to help ease the burden of hunger that so many of our neighbors experience."
For more information about the KARE 11 Food Fight, please visit https://www.givemn.org/team/Foodfight2019. For additional information about the hunger-relief efforts of Hormel Foods, visit https://csr.hormelfoods.com/.