Hormel Foods Reports First Quarter Results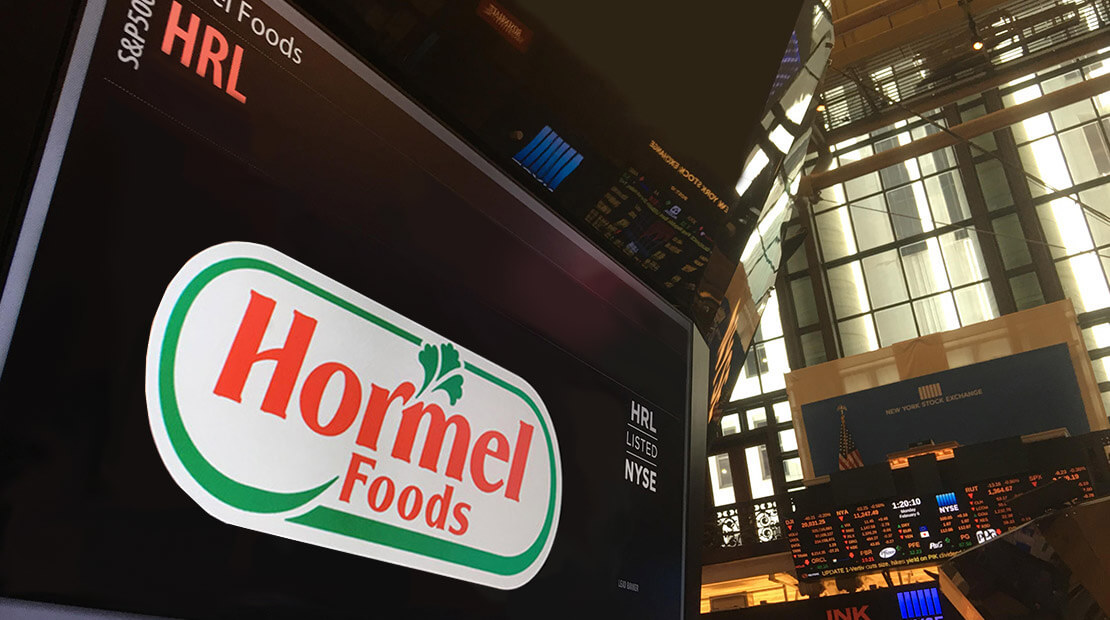 Austin, Minn.
Hormel Foods Corporation (NYSE: HRL) today reported its performance for the fiscal year 2010 first quarter.
HIGHLIGHTS
First Quarter
• Diluted EPS of $.82, up 37 percent from $.60 per share in 2009
• Segment operating profit up 34 percent from last year
• Dollar sales of $1.7 billion up 2 percent from 2009
• Volume up 3 percent from 2009
• Grocery Products operating profit up 37 percent; volume up 10 percent; dollar sales up 8 percent
• Refrigerated Foods operating profit up 53 percent; volume flat; dollar sales down 1 percent
• Jennie-O Turkey Store operating profit up 14 percent; volume up 7 percent; dollar sales up 5 percent
• Specialty Foods operating profit up 28 percent; volume up 1 percent; dollar sales up 5 percent
• All Other operating profit down 6 percent; volume up 5 percent; dollar sales up 1 percent
• The Country Crock® chilled side dish line was acquired from Unilever effective February 1, 2010
The company reported fiscal 2010 first quarter net earnings of $111.2 million, up 37 percent from earnings of $81.4 million a year earlier. Diluted earnings per share for the quarter were $.82 this year compared to $.60 per share last year. Sales totaled $1.73 billion, which was up 2 percent from fiscal 2009.
COMMENTARY
"We are pleased to report record earnings and sales for the quarter. Four of our five business segments delivered double-digit profit gains during the quarter. We are particularly gratified to see the solid improvement in sales and will continue to focus our efforts in this area. Our announcement last week regarding our new Hormel brand advertising campaign demonstrates our commitment to growing our top-line," said Jeffrey M. Ettinger, chairman of the board, president and chief executive officer.
"Our Grocery Products segment had an excellent quarter, with strong sales of canned meats and Mexican food products. Our Refrigerated Foods segment had a strong quarter, helped by improved cutout margins. Our Jennie-O Turkey Store segment showed strength, largely as a result of a better whole bird season. They also experienced improved sales of value-added products. Our Specialty Foods segment had a good quarter, with strong sales of private label products and sugar substitutes, while our International segment experienced weaker results," remarked Ettinger.
SEGMENT OPERATING HIGHLIGHTS – FIRST QUARTER
Grocery Products (15% of Net Sales, 29% of Total Segment Operating Profit)
The Grocery Products segment achieved an impressive segment operating profit improvement of 37 percent versus 2009. Lower costs and increased revenues of our core products such as Hormel® chili,Dinty Moore® stews, and the SPAM® family of products drove profitability. We were also pleased with the contribution from our new MegaMex Foods business. Overall, revenue increased 8 percent for the quarter.
Refrigerated Foods (52% of Net Sales, 38% of Total Segment Operating Profit)
The Refrigerated Foods segment finished a strong first quarter with segment operating profit 53 percent greater than last year, as favorable spreads between hog costs and primal values benefitted the segment. Revenue was flat for the quarter, as we experienced softer demand for hams, bacon and commodity pork. Additionally, the foodservice sales environment remains weak.
Jennie-O Turkey Store (18% of Net Sales, 18% of Total Segment Operating Profit)
Jennie-O Turkey Store improved its segment profit results by 14 percent during the first quarter. Stronger whole bird sales and better commodity meat prices helped drive results. Revenue increased 5 percent for this segment due to increased whole bird and value-added sales.
Specialty Foods (11% of Net Sales, 11% of Total Segment Operating Profit)
Segment profit for Specialty Foods increased 28 percent, with positive contributions from each of its three business units. Improved results were driven primarily by sales of private label products and sugar substitutes. Revenue grew 5 percent, led by higher contract manufacturing and sugar substitute sales.
All Other (4% of Net Sales, 4% of Total Segment Operating Profit)
The All Other segment, which consists of Hormel Foods International, experienced a segment profit decline of 6 percent for the quarter, due primarily to weaker exports of fresh pork products. Revenue was up modestly for the quarter due to strong exports of the SPAM® family of products.
Net Interest and Investment Income
Net interest and investment income was negatively impacted by lower returns on the rabbi trust investments during the first quarter, compared to a year ago.
General Corporate Expense
General corporate expenses were higher in the first quarter due to increased pension and employee benefit expenses.
OUTLOOK
"As a result of our better than expected results in the first quarter, we are raising our full year guidance range from $2.63 to $2.73 per share to $2.68 to $2.78 per share. We anticipate higher hog costs as we progress through the year, and we recognize the strong investment performance in our rabbi trust last year will result in a more difficult comparison. Nevertheless, we believe our strong portfolio of branded products and the strength of our dedicated team should allow us to build upon the momentum of our excellent start," concluded Ettinger.
DIVIDENDS
Effective February 15, 2010, the Company paid its 326th consecutive quarterly dividend, at the annual rate of $.84.
CONFERENCE CALL
A conference call will be Webcast at 8:00 a.m. CT on Thursday, February 18, 2010. Access is available at https://www.hormelfoods.com. If you do not have Internet access and want to listen to the call over the phone, the dial in number is 800-762-8779 and you must provide the access code of 4198205. An audio replay is available by calling 800-406-7325 and entering access code 4198205. The audio replay will be available beginning at 10:30 a.m. CT on Thursday, February 18, 2010, through 11:59 p.m. CT on Thursday, March 4, 2010. The Webcast replay will be available at 10:30 a.m. CT, Thursday, February 18, 2010, and archived for one year.
"Country Crock" is a registered trademark of the Unilever Group of Companies and is used under license. All rights reserved.
Statements Follow
###
Segment Data
Fiscal 2010 First Quarter Segment Operating Results (in Thousands)
FIRST QUARTER – 13 WEEKS ENDED
NET SALES January 24, 2010 January 25, 2009 % Change
Grocery Products $ 261,644 $ 241,943 8.1
Refrigerated Foods 892,302 897,424 (0.6)
Jennie-O Turkey Store 319,951 305,039 4.9
Specialty Foods 186,942 178,890 4.5
All Other 66,608 65,790 1.2
Total $ 1,727,447 $ 1,689,086 2.3
OPERATING PROFIT
Grocery Products $ 54,170 $ 39,635 36.7
Refrigerated Foods 70,188 45,745 53.4
Jennie-O Turkey Store 33,267 29,249 13.7
Specialty Foods 19,630 15,317 28.2
All Other 7,722 8,245 (6.3)
Total segment operating profit 184,977 138,191 33.9
Net interest and investment income (6,118) (5,064) (20.8)
General corporate expense (10,363) (8,497) (22.0)
Noncontrolling interest 1,062 794 33.8
Earnings before income taxes $ 169,558 $ 125,424 35.2
HORMEL FOODS CORPORATION
CONSOLIDATED STATEMENTS OF OPERATIONS
(In thousands, except per share amounts)
Thirteen Weeks Ended
1-24-2010 1-25-2009
Net sales $ 1,727,447 $ 1,689,086
Cost of products sold 1,409,060 1,416,771
GROSS PROFIT: 318,387 272,315
Selling, general and administrative 145,532 142,525
Equity in earnings of affiliates 2,821 698
OPERATING INCOME: 175,676 130,488
Other income & expenses:
Interest & investment income 443 2,391
Interest expense (6,561) (7,455)
EARNINGS BEFORE INCOME TAXES: 169,558 125,424
Provision for income taxes 57,289 43,247
(effective tax rate) 33.79% 34.48%
NET EARNINGS 112,269 82,177
Less: net earnings attributable to noncontrolling interest 1,062 794
NET EARNINGS ATTRIBUTABLE TO
HORMEL FOODS CORPORATION $ 111,207 $ 81,383
NET EARNINGS PER SHARE
Basic $ .83 $ .61
Diluted $ .82 $ .60
WEIGHTED AVG SHARES OUT
Basic 133,589 134,377
Diluted 135,356 135,163
DIVIDENDS DECLARED
PER SHARE $ .21 $ .19
HORMEL FOODS CORPORATION
CONDENSED CONSOLIDATED STATEMENTS OF FINANCIAL POSITION
January 24, 2010 October 25, 2009
(In Thousands)
ASSETS
CURRENT ASSETS
Cash and cash equivalents $ 449,092 $ 385,252
Accounts receivable 348,695 372,292
Inventories 729,231 722,371
Deferred income taxes 62,832 66,435
Prepaid expenses 11,256 9,130
Other current assets 19,483 19,253
TOTAL CURRENT ASSETS 1,620,589 1,574,733
INTANGIBLES 741,915 761,009
OTHER ASSETS 426,285 403,600
PROPERTY, PLANT & EQUIPMENT, NET 941,903 952,713
TOTAL ASSETS $3,730,692 $3,692,055
LIABILITIES AND SHAREHOLDERS' INVESTMENT
TOTAL CURRENT LIABILITIES $ 655,454 $ 685,029
LONG-TERM DEBT – LESS CURRENT MATURITIES 350,000 350,000
OTHER LONG-TERM LIABILITIES 512,523 532,705
SHAREHOLDERS' INVESTMENT 2,212,715 2,124,321
TOTAL LIAB. & SHAREHOLDERS' INVESTMENT $3,730,692 $3,692,055
HORMEL FOODS CORPORATION
CONDENSED CONSOLIDATED STATEMENTS OF CASH FLOWS
Thirteen Weeks Ended
1-24-2010 1-25-2009
OPERATING ACTIVITIES (In Thousands)
Net earnings $ 112,269 $ 82,177
Depreciation and amortization of intangibles 30,850 31,033
(Increase) Decrease in working capital (33,222) 65,918
Other 4,038 (2,739)
NET CASH PROVIDED BY OPERATING ACTIVITIES 113,935 176,389
INVESTING ACTIVITIES
Net sale of available-for-sale securities 0 1,528
Acquisitions of businesses/intangibles (384) (543)
Net purchases of property / equipment (17,652) (23,919)
Increase in investments, equity in affiliates, and other assets (565) (4,075)
NET CASH USED IN INVESTING ACTIVITIES (18,601) (27,009)
FINANCING ACTIVITIES
Dividends paid on common stock (25,373) (24,877)
Share repurchase (16,081) (10,375)
Other 9,960 (4,169)
NET CASH USED IN FINANCING ACTIVITIES (31,494) (39,421)
INCREASE IN CASH AND CASH EQUIVALENTS 63,840 109,959
Cash and cash equivalents at beginning of year 385,252 154,778
CASH AND CASH EQUIVALENTS AT END OF QUARTER $ 449,092 $ 264,737
About Hormel Foods
Hormel Foods Corporation, based in Austin, Minn., is a multinational manufacturer and marketer of consumer-branded food and meat products, many of which are among the best known and trusted in the food industry. The company leverages its extensive expertise, innovation and high competencies in pork and turkey processing and marketing to bring quality, value-added brands to the global marketplace. The company is a member of the Standard & Poor's 500 Index. Hormel Foods has been named one of "The 400 Best Big Companies in America" by Forbes magazine for 10 consecutive years. The company enjoys a strong reputation among consumers, retail grocers, foodservice and industrial customers for products highly regarded for quality, taste, nutrition, convenience and value. For more information, visit https://www.hormelfoods.com.
FORWARD-LOOKING STATEMENTS
This news release contains forward-looking information based on management's current views and assumptions. Actual events may differ materially. Please refer to the cautionary statement regarding Forward-Looking Statements and Risk Factors that appear on pages 30-35 in the company's Annual Report for the fiscal year ended Oct. 25, 2009, which can be accessed at www.hormelfoods.com under "Investors-SEC Filings."