Hormel Foods Reports First Quarter Results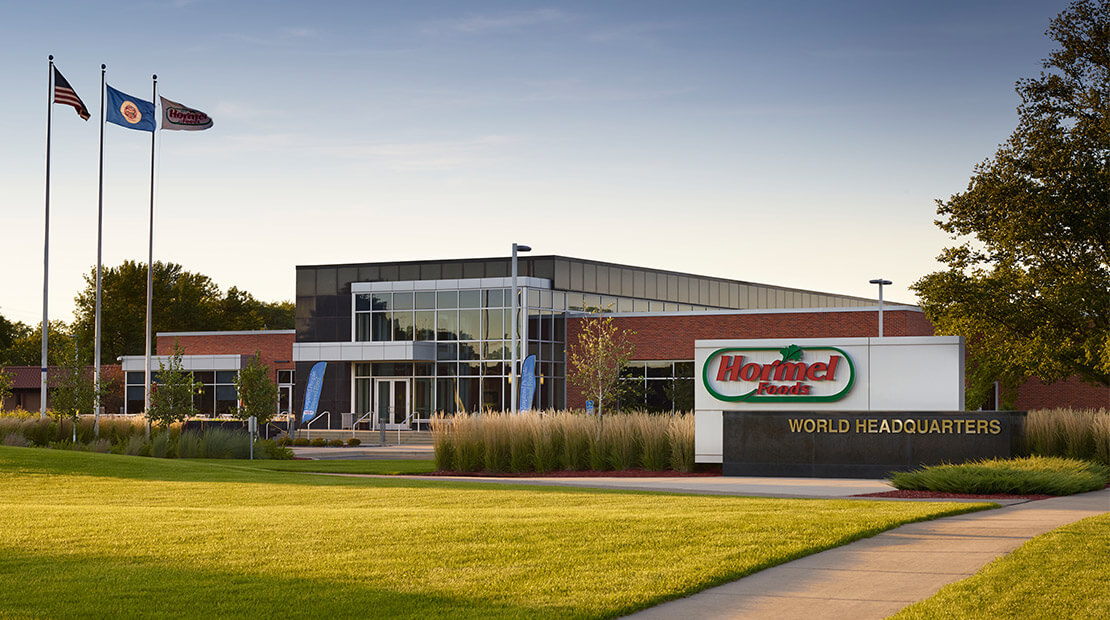 Austin, Minn.
Hormel Foods Corporation (NYSE: HRL) today reported its performance for the fiscal year 2012 first quarter. All comparisons are to first quarter of fiscal 2011.
HIGHLIGHTS
First Quarter
– Diluted EPS of $.48, down 13 percent from $.55 per share
• Segment operating profit down 17 percent
• Dollar sales of $2.0 billion, up 6 percent
• Volume down 2 percent
• Grocery Products operating profit down 9 percent; volume down 6 percent; dollar sales down 3 percent
• Refrigerated Foods operating profit down 44 percent; volume flat; dollar sales up 7 percent
• Jennie-O Turkey Store operating profit up 4 percent; volume down 7 percent; dollar sales up 4 percent
• Specialty Foods operating profit down 4 percent; volume up 1 percent; dollar sales up 14 percent
• All Other (International) operating profit up 25 percent; volume flat; dollar sales up 17 percent
The company reported fiscal 2012 first quarter net earnings of $128.4 million, down 14 percent from earnings of $148.8 million a year earlier. Diluted earnings per share for the quarter were $.48 this year compared to $.55 per share last year. Sales totaled $2.04 billion, which was up 6 percent from fiscal 2011.
COMMENTARY

"Our first quarter earnings of 48 cents per share was the second best in our Company's history, albeit down from a year ago," said Jeffrey M. Ettinger, chairman of the board, president and chief executive officer. "Sales grew six percent, with four of our five segments registering sales gains in the quarter."
"I was pleased with the strong results achieved by our Jennie-O Turkey Store segment, led by increased retail value-added sales. Our International business also delivered a solid quarter, fueled by strong export sales. Results of our Refrigerated Foods segment were hindered by significantly lower pork operating margins, and our Grocery Products segment results were adversely impacted by softer sales in the center of the store," commented Ettinger.
"We are encouraged by continued growth of our MegaMex Foods joint venture, led by increased sales of our DON MIGUEL products and our WHOLLY GUACAMOLE line. Our Foodservice group also achieved solid sales growth during the quarter," stated Ettinger.
SEGMENT OPERATING SUMMARIES – FIRST QUARTER
Grocery Products (13% of Net Sales, 22% of Total Segment Operating Profit)
The Grocery Products segment operating profit declined 9 percent, due primarily to lower volumes and higher raw material costs. Sales fell 3 percent with overall softer results partially offset by sales growth of the MegaMex Foods joint venture.
Refrigerated Foods (53% of Net Sales, 26% of Total Segment Operating Profit)
Refrigerated Foods segment profit declined 44 percent, due primarily to lower pork operating margins. Sales grew 7 percent during the quarter, led by sales of HORMEL® pepperoni, HORMEL® COUNTRY CROCK® side dishes, and HORMEL® NATURAL CHOICE® deli meats in the Meat Products group, and by sales of our HORMEL® NATURAL CHOICE® deli meats, AUSTIN BLUES® barbecue products, and CAFÉ H® ethnic products in the Foodservice group.
Jennie-O Turkey Store (19% of Net Sales, 38% of Total Segment Operating Profit)
Jennie-O Turkey Store had an outstanding quarter, with segment operating profit up 4 percent, over a very strong quarter a year ago. Sales grew 4 percent led by sales of JENNIE-O TURKEY STORE® retail fresh tray pack items and turkey burgers.
Specialty Foods (11% of Net Sales, 8% of Total Segment Operating Profit)
Segment operating profit for Specialty Foods declined 4 percent, due primarily to higher raw material and freight costs. Sales grew 14 percent, led by sales of nutritional products, private label products, sugar, and liquid portions.
All Other (4% of Net Sales, 6% of Total Segment Operating Profit)
Segment operating profit for the All Other segment, which consists primarily of Hormel Foods International, increased 25 percent for the quarter, while sales grew 17 percent, led primarily by stronger exports of fresh pork and the SPAM® family of products.
Net Interest and Investment Income/Expense

Net interest and investment expense was lower as a result of improved investment returns and lower interest expense.
General Corporate Expense
General corporate expenses were lower than last year due to higher expenses last year associated with the vesting of options under the Universal Stock Option award granted to all employees in 2007.
OUTLOOK

"As we stated in our fourth quarter release, we anticipated a challenging operating environment this year, and for comparisons to be more difficult in the first half of the year and to become more favorable in the back half. We continue to look for slowly improving results from our Refrigerated Foods segment as pork operating margins return to more normalized levels. Sales in our Grocery Products segment and Meat Products group should also improve, as we begin to see the effects of our new advertising campaigns supporting our HORMEL and SPAM brands. Taking all of the relevant factors into account, we are maintaining our full-year earnings guidance range of $1.79 to $1.89 per share," concluded Ettinger.
DIVIDENDS
Effective February 15, 2012, the Company paid its 334th consecutive quarterly dividend, at the annual rate of $.60.
CONFERENCE CALL
A conference call will be webcast at 8:30 a.m. CT on Thursday, February 23, 2012. Access is available at https://www.hormelfoods.com. If you do not have Internet access and want to listen to the call over the phone, the dial-in number is 877-941-0843 and the access code is 4509484. An audio replay is available by calling 800-406-7325 and entering access code 4509484. The audio replay will be available beginning at 10:30 a.m. CT on Thursday, February 23, 2012, through 11:59 p.m. CT on March 8, 2012. The webcast replay will be available at 10:30 a.m. CT, Thursday, February 23, 2012, and will be archived for one year.
Statements Follow
"Country Crock" is a registered trademark of the Unilever Group of Companies and is used under license. All rights reserved.
Segment Data
Fiscal 2012 First Quarter Segment Operating Results (dollars in thousands)
FIRST QUARTER – 13 WEEKS ENDED
NET SALES
29-Jan-12
30-Jan-11
% Change
Grocery Products
$269,479
$276,899
(2.7)
Refrigerated Foods
1,083,525
1,010,702
7.2
Jennie-O Turkey Store
377,371
364,517
3.5
Specialty Foods
218,024
191,345
13.9
All Other
91,040
78,095
16.6
Total
$2,039,439
$1,921,558
6.1
OPERATING PROFIT
Grocery Products
$44,093
$48,562
(9.2)
Refrigerated Foods
53,749
96,134
(44.1)
Jennie-O Turkey Store
76,762
73,825
4.0
Specialty Foods
16,647
17,278
(3.7)
All Other
12,471
9,993
24.8
Total segment operating profit
203,722
245,792
(17.1)
Net interest and investment expense (income)
1,624
6,138
(73.5)
General corporate expense
8,727
11,252
(22.4)
Noncontrolling interest
938
1,209
(22.4)
Earnings before income taxes
$194,309
$229,611
(15.4)
HORMEL FOODS CORPORATION
CONSOLIDATED STATEMENTS OF OPERATIONS
(in thousands, except per share amounts)
Thirteen Weeks Ended
1/29/2012
1/30/2011
Net sales
$ 2,039,439
$ 1,921,558
Cost of products sold
1,702,030
1,547,553
GROSS PROFIT:
337,409
374,005
Selling, general and administrative
152,477
145,161
Equity in earnings of affiliates
11,001
6,905
OPERATING INCOME:
195,933
235,749
Other income & expenses:
Interest & investment income
1,590
441
Interest expense
(3,214)
(6,579)
EARNINGS BEFORE INCOME TAXES:
194,309
229,611
Provision for income taxes
64,976
79,576
(effective tax rate)
33.44%
34.66%
NET EARNINGS
129,333
150,035
Less: net earnings attributable to noncontrolling interest
938
1,209
NET EARNINGS ATTRIBUTABLE TO HORMEL FOODS CORPORATION
$128,395
$148,826
NET EARNINGS PER SHARE
Basic
$0.49
$0.56
Diluted
$0.48
$0.55
WEIGHTED AVG SHARES OUT
Basic
263,946
266,560
Diluted
269,608
271,740
DIVIDENDS DECLARED
PER SHARE
$0.1500
$0.1275
HORMEL FOODS CORPORATION
CONDENSED CONSOLIDATED STATEMENTS OF FINANCIAL POSITION
1/29/2012
11/30/2011
ASSETS
CURRENT ASSETS
Cash and cash equivalents
$548,618
$463,130
Short-term marketable securities
76,383
76,077
Accounts receivable
422,505
461,110
Inventories
882,828
885,823
Income taxes receivable
0
24,423
Deferred income taxes
69,485
69,203
Prepaid expenses
12,952
10,048
Other current assets
8,960
8,417
TOTAL CURRENT ASSETS
2,021,731
1,998,231
INTANGIBLES
760,495
762,930
OTHER ASSETS
579,786
576,140
PROPERTY, PLANT & EQUIPMENT, NET
908,282
907,090
TOTAL ASSETS
$4,270,294
$4,244,391
LIABILITIES AND SHAREHOLDERS' INVESTMENT
TOTAL CURRENT LIABILITIES
$724,586
$778,186
LONG-TERM DEBT – LESS CURRENT MATURITIES
250,000
250,000
OTHER LONG-TERM LIABILITIES
556,602
556,389
SHAREHOLDERS' INVESTMENT
2,739,106
2,659,816
TOTAL LIAB. & SHAREHOLDERS' INVESTMENT
$4,270,294
$4,244,391
HORMEL FOODS CORPORATION
CONDENSED CONSOLIDATED STATEMENTS OF CASH FLOWS
Thirteen Weeks Ended
1-29-2012
1-30-2011
(in thousands)
OPERATING ACTIVITIES
Net earnings
$ 129,333
$ 150,035
Depreciation and amortization of intangibles
30,815
31,197
Increase in working capital
(11,040)
(21,177)
Other
3,052
5,277
NET CASH PROVIDED BY OPERATING ACTIVITIES
152,160
165,332
INVESTING ACTIVITIES
Acquisitions of businesses/intangibles
(168)
(7,207)
Net purchases of property / equipment
(29,403)
(15,457)
Decrease in investments, equity in affiliates, and other assets
998
4,143
NET CASH USED IN INVESTING ACTIVITIES
(28,573)
(18,521)
FINANCING ACTIVITIES
Dividends paid on common stock
(33,600)
(27,904)
Share repurchase
(11,117)
(13,731)
Other
5,814
24,762
NET CASH USED IN FINANCING ACTIVITIES
(38,903)
(16,873)
EFFECT OF EXCHANGE RATE ON CASH
804
1,030
INCREASE IN CASH AND CASH EQUIVALENTS
85,488
130,968
Cash and cash equivalents at beginning of year
463,130
467,845
CASH AND CASH EQUIVALENTS AT END OF QUARTER
$548,618
$598,813
ABOUT HORMEL FOODS CORPORATION
Hormel Foods Corporation, based in Austin, Minn., is a multinational manufacturer and marketer of consumer-branded food and meat products, many of which are among the best known and trusted in the food industry. The company leverages its extensive expertise, innovation and high competencies in pork and turkey processing and marketing to bring branded, value-added products to the global marketplace. The company is a member of the Standard & Poor's 500 Index, Dow Jones Sustainability Indexes, Maplecroft Climate Innovation Indexes, Global 1000 Sustainable Performance Leaders and was named one of "The 100 Best Corporate Citizens" by Corporate Responsibility Magazine in 2011. The company enjoys a strong reputation among consumers, retail grocers, foodservice and industrial customers for products highly regarded for quality, taste, nutrition, convenience and value. For more information, visit https://www.hormelfoods.com.
FORWARD-LOOKING STATEMENTS
This news release contains forward-looking information based on management's current views and assumptions. Actual events may differ materially. Please refer to the cautionary statement regarding Forward-Looking Statements and Risk Factors that appear on pages 27-30 in the company's Annual Report for the fiscal year ended Oct. 30, 2011, which can be accessed at www.hormelfoods.com under "Investors-SEC Filings."