Justin's Gets Nutty For More Innovation: New Cashew & Almond Butter Cups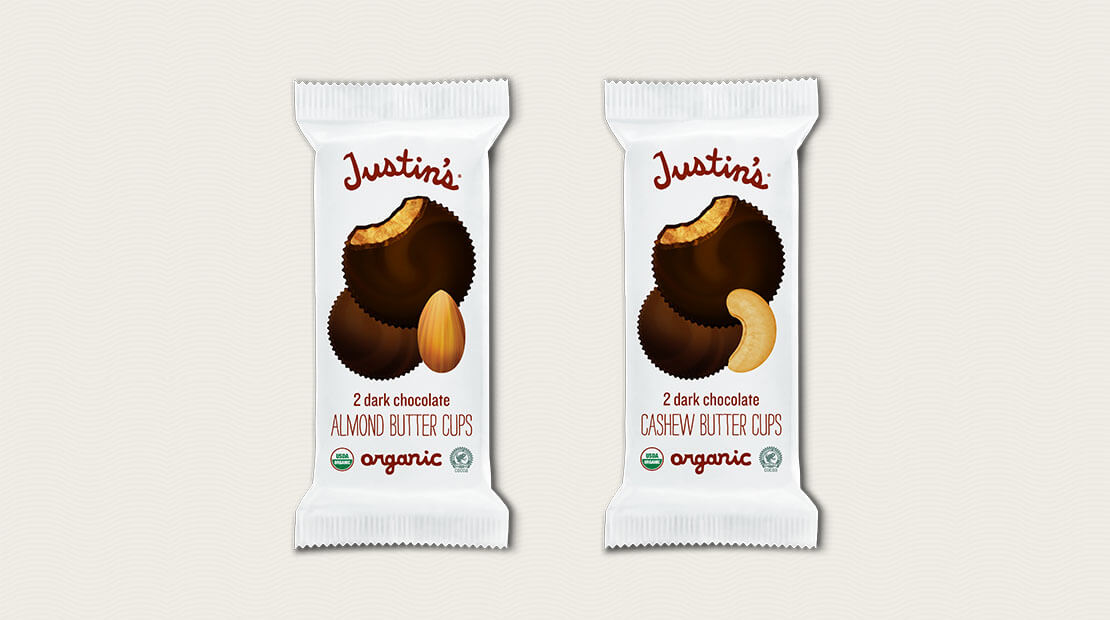 Boulder , Colo.
Leading Nut Butter Brand Disrupts the Confectionery Category with Organic Dark Chocolate Almond & Cashew Butter Cups
Justin's, maker of naturally delicious, high-quality nut butters, nut butter snacks and organic peanut butter cups, today announces the roll out of the newest additions to the brand's delicious and coveted line of confections: Brand fan-requested Dark Chocolate Almond Butter Cups and incredibly delightful Dark Chocolate Cashew Butter Cups. These brand new finely crafted, mouth-watering, USDA-certified organic nut butter cups will be popping up on shelves starting this month!
"If you know me you know I have a sweet tooth, and with that I believe the world doesn't need more candy. But, we know consumers still want candy (like me!) but that means it needs to be made better, with high quality and organic ingredients. And for as long as I can remember (since launching my organic PB cups anyway) brand fans have been asking me for almond butter cups—well now they're here," said Justin Gold, founder of Justin's. "As a leading almond butter brand, I knew we couldn't offer anything less than the best Dark Chocolate Almond Butter Cup. Not only do I think we did it, we also upped the ante and crafted another exciting innovation in nut butter cups alongside it—delicious Cashew Butter Cups in the same nostalgic 2-cup pack we know consumers already love when looking to meet their desire for both variety and permissible sweet snacks. They both taste so good I have a tough time choosing which to have first. We may have hit the ultimate confection connection!"
As the brand first to market organic peanut butter cups in the nostalgic 2-pack cup form, Justin's continues to lead through innovation by introducing double the delight with two new nut butter cups to bring variety to the discerning confections consumer:
Organic Dark Chocolate Cashew Butter Cups: A new original, Justin's introduces the first Cashew Butter Cup in 2-cup packs on the market, meeting the increasing desire for permissible, better-for-you snacks and treats. These cups are the perfect balance of flavor-rich cashew butter with yummy, organic dark chocolate, ideal for sharing (or not!) and satisfying sweet tooth cravings.
Organic Dark Chocolate Almond Butter Cups: As almond butter has become synonymous with the Justin's brand, this natural next permissible indulgence brings everything you love about the brand together into the ultimate bite— JUSTIN'S® Almond Butter perfectly paired with delectable high-quality organic dark chocolate. Also available in 2-cup packs, the highly requested duo will be a fan favorite for a long time to come!
If these two new confections aren't enough to make taste buds flip, Justin's also added Organic Mini White Chocolate Peanut Butter Cups to its lineup earlier this year rounding out the peanut butter cup product line. As the only organic White Chocolate Mini Peanut Butter Cup on the market, this new bite-sized treat addresses the growing desire for variety and more snackable forms. Already pleasing palates right out of the gate, the new confection was also just named the 2018 Most Innovative Sweet Snack by the National Confectioners Association (NCA) at the Sweets & Snacks Show last month! These new minis can be found at retailers and online for all your sweet snacking occasions.
Delivering a deliciously velvety taste and texture, JUSTIN'S® Dark Chocolate Cashew Butter Cups & JUSTIN'S® Dark Chocolate Almond Butter Cups offer an exceptional organic treat with high quality, mindfully sourced ingredients and less sugar than conventional cups. The brand new confections are available for $2.29 per 2-cup pack. All Justin's new confections are Non-GMO Project Verified, Certified Gluten-Free and made without artificial flavoring or preservatives, while also being crafted with Rainforest Alliance Certified™ chocolate and Orangutan-Friendly Palm Oil. For more information on availability and where to find the new delicious nut butter cups from Justin's, visit www.justins.com.