Justin's Goes Nuts For New Spreads: Classic & Maple Cashew Butter And Cinnamon Almond Butter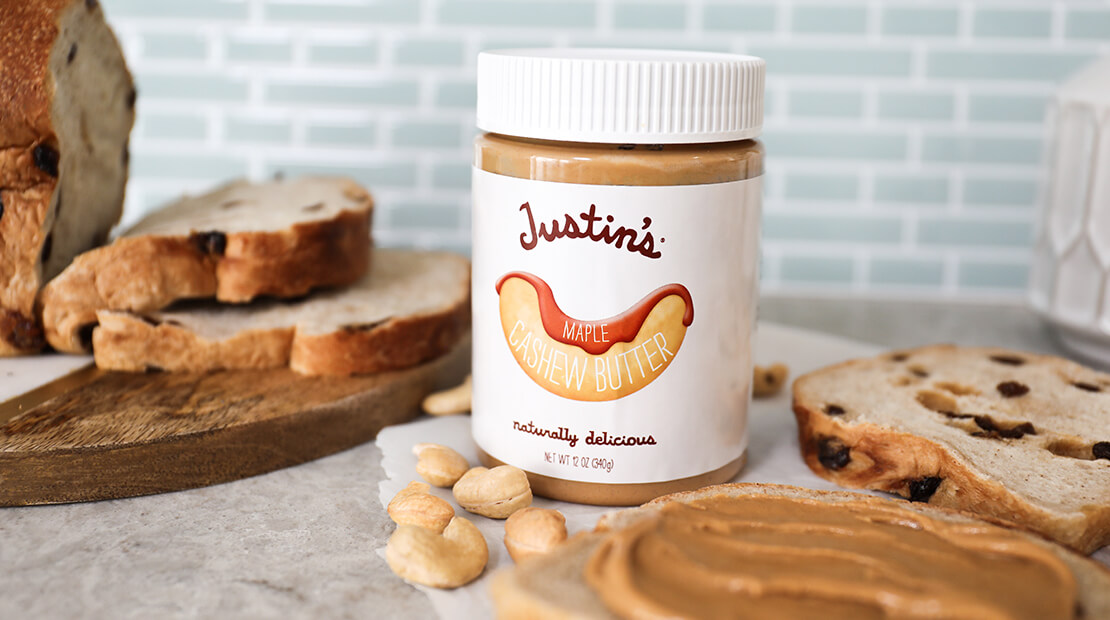 Boulder , Colo.
Leading Nut Butter and Confections Brand Releases New Nut and New Flavor to Naturally Delicious Spreads Line
Justin's, maker of naturally delicious, high-quality nut butters, nut butter snacks and organic peanut butter cups, today officially announces three new products to its great tasting and admired nutty family: Introducing Justin's new line of natural no-stir Classic & Maple Cashew Butter, with the addition of another surefire favorite to the brands delicious Almond Butter lineup, Cinnamon Almond Butter! Available in jars for spreading and convenient 1.15 oz. squeeze packs for snacking, Justin's now offers the ultimate variety with a little something for everyone. Proudly rolling out on shelves this month, Justin's celebrates its expanding nut butter line for both seasoned and new nut butter enthusiasts to enjoy.
"It's quite a big, delicious year for us here at Justin's and we are more than excited to share these three delightfully tasty, new brand extentions," said Justin Gold, founder of Justin's. "Consumers demand damn good taste, options and quality, which is exactly why we knew it was time to open the vault (my notebook, really) and bring out a few new firsts for the brand—from new nuts to new flavors, to the first-ever cashew butter-filled squeeze pack. We're only getting started, but we really look forward to seeing our fans go nuts for our new spreads just as much as we have!"
As a category-leading brand best known for bringing almond butter to the mainstream consumer, Justin's continues to grow the category with the introduction of these one-of-a-kind-grind, and spreadable innovations:
Cashew Butter: A completely new nut and total game changer to the coveted collection, Justin's Cashew Butter goes the extra mile by being the first-ever natural, no-stir cashew butter providing all the tasty, convenient, on-the-go nutrition fans want in a satiating spread. Perfect for changing up the classic brown bagged lunch or whipping up a batch of freshly baked goods, Justin's Cashew Butter is available in two varieties, Classic—made without added salt or sugar—or Maple—made with 100 percent Organic Maple Sugar—both in jars and portable squeeze packs for a simply delicious delight.
Cinnamon Almond Butter: Spicing up one of Justin's flagship nut butter offerings and being the first new flavor variety since 2010, Cinnamon Almond Butter enters the spreads scene with the subtly sweet promise of 100 percent Organic Cinnamon and all the California almond goodness taste buds can handle, making it a great everyday option. Packed with pure deliciousness for consumers seeking that added variety on-shelf, this new spread pairs perfectly with just about everything—toast, bananas, muffins and more, or even straight from the pack! Available in jars and portable squeeze packs, the snacking possibilities are simply endless.
Justin's new spreads are all Non-GMO Project Verified, Certified Gluten-Free, made without additives, artificial flavoring or preservatives, while also being made with Orangutan-Friendly Palm Oil. For more information on availability and where to find the new offerings from Justin's, visit www.justins.com.