SKIPPY® Peanut Butter Continues to Bring Fun to the Snacking Category with New SKIPPY® P.B. Bites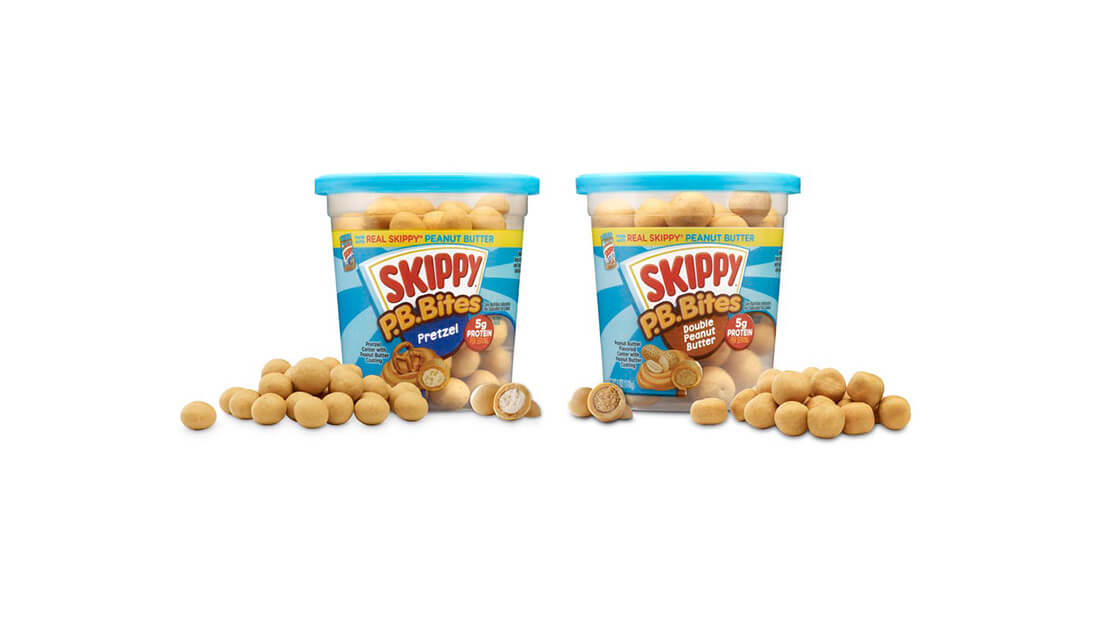 Austin, Minn.
The makers of the SKIPPY® brand have taken the big taste of real SKIPPY® peanut butter and put it into bite-size snacks with new SKIPPY®P.B. Bites.
Portable and poppable, this new snack is packed with double the peanut buttery goodness. Featuring a crunchy center with a soft, non-sticky peanut butter coating, the product is the first in its category of peanut butter snacks and offers moms an easy, quick and nutritious snack option to satisfy kids' after-school hunger.
"We know consumers are looking for protein-rich snack options that are also quick and convenient to meet an on-the-go lifestyle," said Luis G. Marconi, vice president of grocery products marketing at Hormel Foods. "Continuing our commitment to innovation and taking peanut butter beyond the jar, we are excited about SKIPPY® P.B. Bites – an easy, satisfying peanut buttery snack with no preparation or refrigeration required."
SKIPPY®P.B. Bites come in two delicious varieties – pretzel and double peanut butter – meeting both creamy and crunchy snacking preferences. In line with snacking trends, SKIPPY®P.B. Bites offer five grams of protein per serving, packing this portable snack with the boost of energy kids need in between meals.
"We recognize the growing demand for single-portion, portable snacks and the role that peanut butter plays in the snacking world," said Michael J. Guanella, senior brand manager at Hormel Foods. "As a convenient, fun and nutritious snack option, SKIPPY®P.B. Bites were created to meet this demand and satisfy the snacking needs of peanut butter-loving consumers, anywhere, anytime."
To help spread the word about the good-hearted fun that enjoying peanut butter brings to everyday moments, Hormel Foods, the makers of SKIPPY®P.B. Bites, has launched a national marketing campaign today. The campaign includes TV, digital and earned media components.
In the new advertisements, SKIPPY® P.B. Bites aims to highlight the hunger kids experience between lunch and dinner, often peaking upon their return home from school or extracurricular activities. Directed by Steve Miller, the TV spot features voiceovers from famed announcer, American TV journalist and producer Bill Kurtis. BBDO Minneapolis led the SKIPPY® P.B. Bites campaign's TV and digital efforts.
SKIPPY®P.B. Bites are available in supermarkets and convenience stores nationwide in the peanut butter aisle, with a suggested retail price of $2.89 – $3.19.
Fans can connect with the SKIPPY® brand through the peanutbutter.com site; on Facebook, at Facebook.com/Skippy; on Twitter, at the handle @Skippy; and on Pinterest, at pinterest.com/skippybrand.