The Makers of HORMEL® Chili Turn Up the Heat with Limited-Edition Ghost Reaper World's Hottest Canned Chili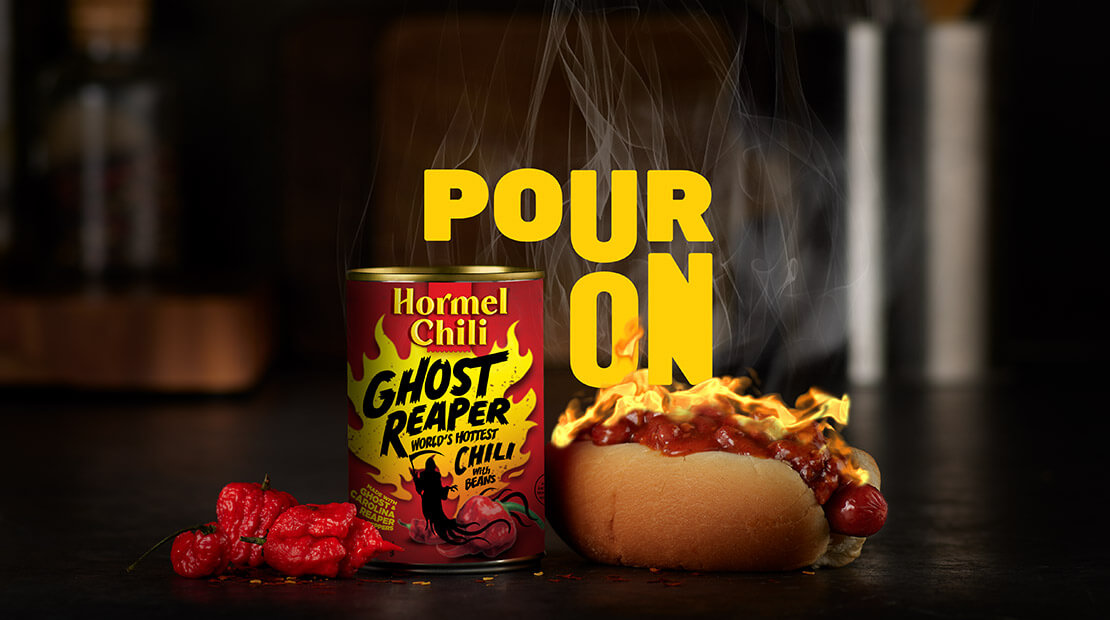 Austin, Minn.
New seasonal canned chili available for a limited time only
Get ready heat heads. Today, the makers of Hormel® chili, America's iconic No. 1 selling chili brand, announced the launch of limited-edition Hormel® Ghost Reaper World's Hottest Chili with Beans. For this fiery offering, the Hormel®chili brand took its signature chili with beans and added two of the world's hottest peppers – ghost and Carolina reaper – to bring chili fans an intensely satisfying chili like no other.
Just how hot is this Ghost Reaper chili variety? The hottest ghost and Carolina reaper peppers combined total more than 3 million Scoville Heat Units (SHU), so this chili packs a punch.
Sold as a two-pack alongside a can of Hormel® Chili Hot with Beans – a spicier blend of America's No. 1 chili – heat connoisseurs who enjoy the pleasure of spicy food are provided multiple options to pour on the delicious flavor of Hormel® Chili.
"Chili is a dish that can be enjoyed so many different ways, whether it's straight out of the bowl, on a hot dog, incorporated into dips and other recipes, or as a pour on for a quick and delicious dinner upgrade," said Sarah Johnson, Hormel® chili brand manager. "However fans want to enjoy their chili, for a short time they can lay stake to a pretty bold claim: that they've tasted the hottest canned chili in the world."
Starting at 7 a.m. CDT on Oct. 25, the limited-time offering two-pack including Hormel®Ghost Reaper World's Hottest Chili with Beans will be available while supplies last.
For recipe inspiration, including Hormel® World's Hottest Chili layered queso dip or hot chili cheese dip, as well as palate cooling heat relief sides, sauces and dips, visit www.hormelchili.com.
For more information about Hormel® chili, including recipes, nutritional information and where to buy, visit www.hormel.com/brands/hormelchili or follow the brand on social media at www.facebook.com/hormel.chili, www.twitter.com/hormelchili, www.instagram.com/hormelchili, and www.pinterest.com/hormelchili.