The Muscle Milk® Brand Launches Limited Edition Military-Inspired Bottle to Benefit Hope For The Warriors®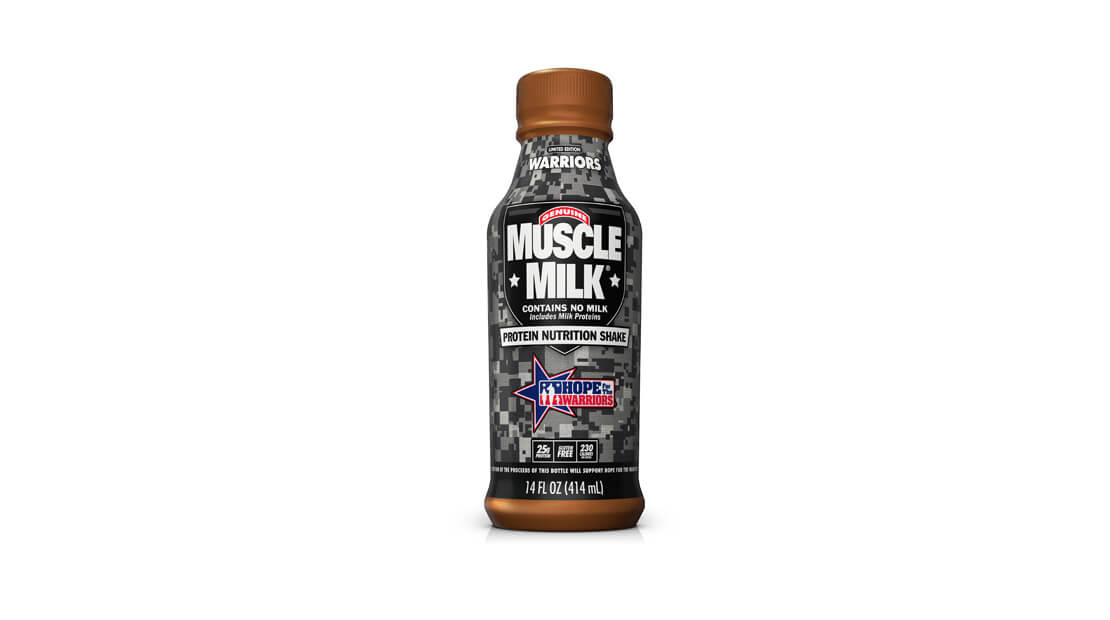 Benicia, Calif.
CytoSport, Inc., the parent company to the Muscle Milk® brand, has teamed up with Hope For The Warriors® to launch a limited edition, ready-to-drink bottle to honor those who have served our country through military service.
ytoSport, Inc. will donate a portion of sales from each bottle to Hope For The Warriors®, a national nonprofit dedicated to restoring a sense of self, restoring the family unit and restoring hope for our service members and our military families.
The limited edition bottles are available on military bases around the country and will hit shelves on American military bases overseas later this month. The shakes are available in 14 ounce bottles in chocolate flavor and contain 25 grams of protein to help aid muscle recovery.
"Our company is proud to support our military heroes," said Greg N. Longstreet, president and chief executive officer for CytoSport, Inc. " This limited edition bottle is our way to bring awareness and funds to Hope for the Warriors® and the programs they provide for these veterans. As a company that produces products within the United States, we are honored to say thank you to our military."
As part of the partnership, the Muscle Milk® brand will provide products at the finish line for select Hope For The Warriors® races and sporting events. CytoSport, Inc. employees also compiled and donated 500 recovery packs with workout gear, shaker bottles and powder packets to provide to veterans training through Hope For The Warriors® programs.
"Hope For The Warriors® is pleased to grow this partnership with the Muscle Milk® brand, who has been involved in our rehabilitation, athletic, and Run For The Warriors® community for years," said Robin Kelleher, president of Hope For The Warriors®. "We are humbled by their support for our military and shared vision that pursuing athletic goals is a key component of the physical and psychological recovery for service members and military families."