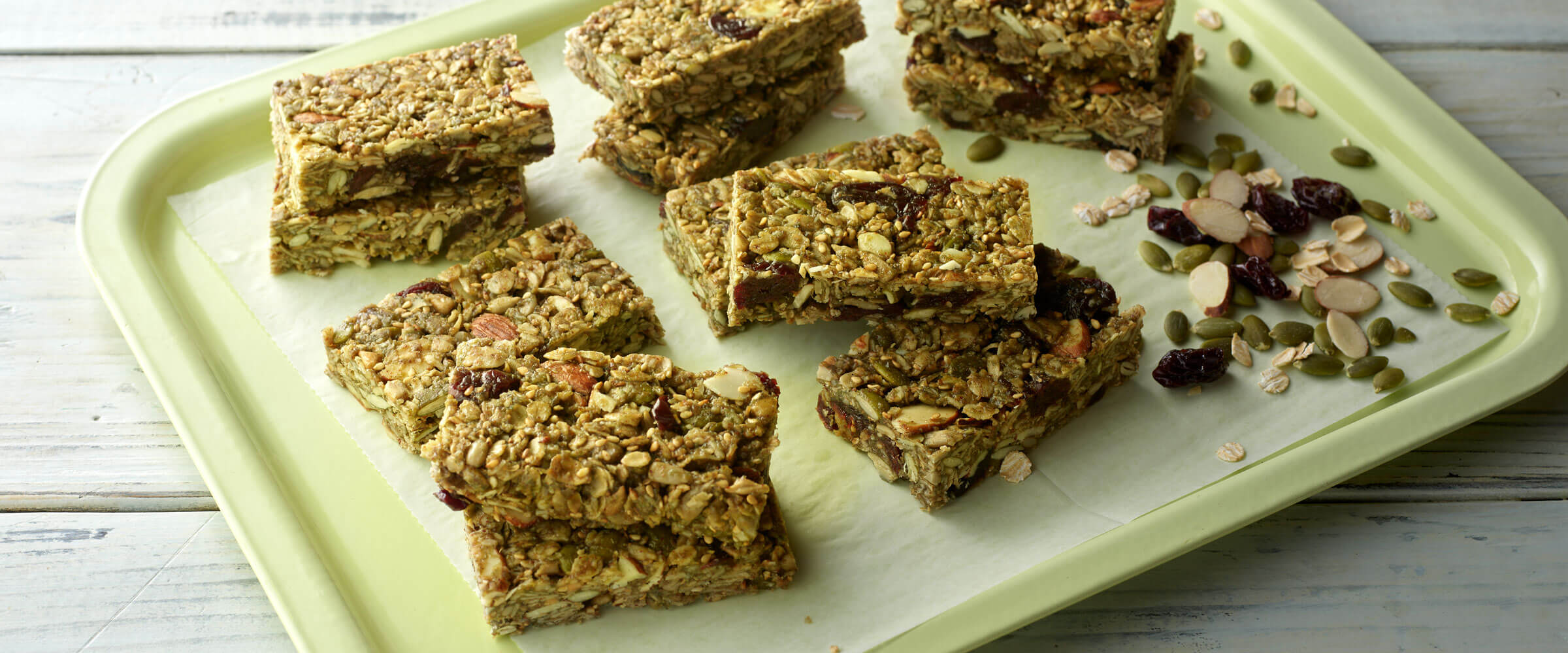 Ingredients
| | |
| --- | --- |
| 2 | cups organic rolled oats |
| ¾ | cup raw sliced almonds |
| ½ | cup raw pepitas |
| ½ | cup raw sunflower seeds |
| ½ | cup unsweetened shredded coconut |
| ¼ | cup toasted sesame seeds |
| 2 | tablespoons flaxseed meal |
| 1 | cup dried cherries |
| 1 | teaspoon spirulina powder (optional) |
| ¾ | cup Justin's® Classic Almond Butter |
| ½ | cup brown rice syrup |
| 1 | tablespoon coconut oil |
| 2 | teaspoons organic vanilla extract |
| ½ | teaspoon sea salt |
Directions
Heat oven to 350°F. Line baking sheet with aluminum foil and coat lightly with coconut oil or olive oil cooking spray. Spray 9 x 13-inch baking pan with coconut oil or olive oil cooking spray; line with parchment paper or aluminum foil.

On prepared baking sheet, spread oats, almonds, pepitas, sunflower seeds and shredded coconut. Bake 8 to 10 minutes or until lightly toasted. Remove from oven. Add toasted sesame seeds, flaxseed meal, dried cherries and spirulina powder, if desired, and toss to combine.

In large saucepan over low heat, combine almond butter, brown rice syrup, coconut oil, vanilla and salt. Cook and stir 3 to 5 minutes or until heated through. Using the foil as an aid, transfer the granola mixture into the brown rice syrup mixture. Mix well with a spatula to coat evenly.

Pour into prepared baking pan. Press down firmly. Let cool completely.

Cut into squares. Store in airtight container up to 1 week.