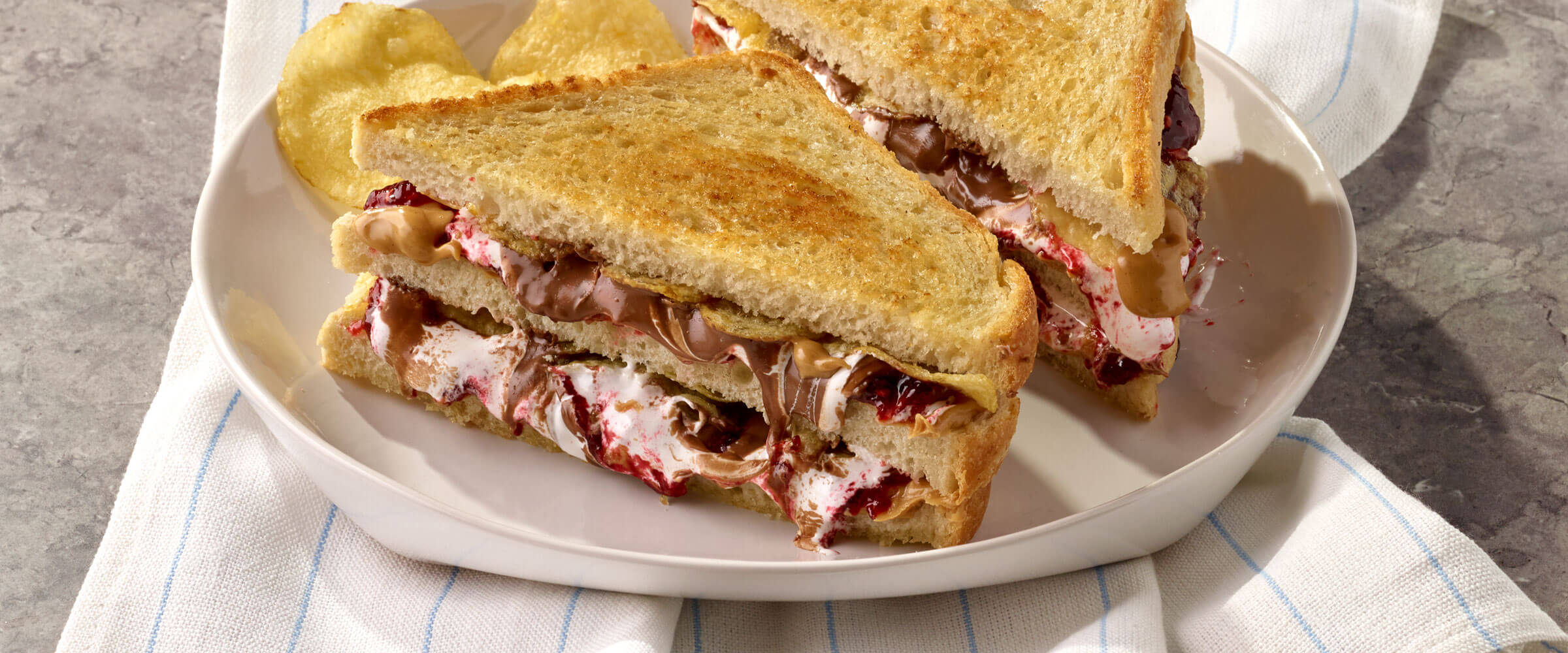 As a member of the core group of chefs working to develop new products at Hormel Foods, Chef Chris is able to oversee food products not just at the recipe ideation phase, but all the way "from day one through production." He says there's no one pathway to creating a new product — even two perfect peanut butters like SKIPPY® SUPER CHUNK® peanut butter and SKIPPY® natural peanut butter spread with honey are entirely different products, each with their own story and flavor.
Nothing beats the combination of creamy SKIPPY® peanut butter and rich milk chocolate. Unless it's married with raspberry preserves, marshmallow fluff, and kettle chips. Better yet, let's butter and grill it so it's all warm and melty inside with kettle chips for crunch!
Prep Time
Cook Time
Cook Method
Dish Type
Ingredients
| | |
| --- | --- |
| 3 | slices bread |
| 2 | tablespoons SKIPPY® creamy peanut butter |
| 2 | tablespoons milk chocolate spread |
| 1 | tablespoon raspberry preserves |
| 2 | tablespoons marshmallow fluff |
| ¼ | cup kettle chips |
| 2 | tablespoons butter, softened |
Directions
Heat griddle or large skillet over medium heat.

Top each of 2 bread slices with 1 tablespoon peanut butter, 1 tablespoon milk chocolate spread, 1 tablespoon raspberry preserves, 1 tablespoon marshmallow fluff and a layer of chips. Stack the two topped bread slices. Cover with remaining bread slice. Butter top and bottom of sandwich.

On griddle, cook sandwich until golden brown on both sides and filling is melted. Cut sandwich into 2 triangles.
Other Sandwiches & Burgers Ideas