While it may not be exactly fashion forward, what our ugly sweater platter lacks in stylish looks it makes up for in layers of fun and flavor. And let's face it, you're a regular fashion plate the rest of the year — these holidays are the time for you and family and friends to have a blast at a party you'll be talking about for months, and that you'll be chuckling about even longer.
♪♪ Make your friends an Ugly Sweater platter, watch their eyes alight ♪♪
Everybody loves an ugly sweater get-together. And our ugly sweater platter makes 'em even better. Just as there seems to be no limit to how ugly a sweater can get, there's really no limit to how yummy your platter can be. Take a dash of creativity and just mix it in with your favorite finger and party foods.
Our merry mavens of all that is tasty are of course partial to the beloved brands from Hormel Foods. You probably know us for SPAM® brand, world-topping bacon and other mouthwatering meats, but consider: We also offer delectables like Justin's® nut butter chocolate cups, Skippy® peanut butter, Planters® snack nuts, Wholly® Guacamole, and dozens of other people-pleasing products and dishes.
♪♪ This year your party will be out of sight ♪♪
Use our beautiful ugly photo as your inspiration, or perhaps your starting point. Think of fun, unexpected pairings and striking patterns using shape and color. A bit of artfully placed tinsel and a few goofy ornaments can take your gathering to the next level. If you're looking for a theme, think of your favorite holiday traditions, customs and stories — a platter built around Rudolf's blinking red nose just may strike that right balance of the garish with the delish.
It's a great way to chase away the winter blues with fun that people of any age can enjoy. No knitting required!
♪♪ So have yourself an Ugly Sweater Platter now ♪♪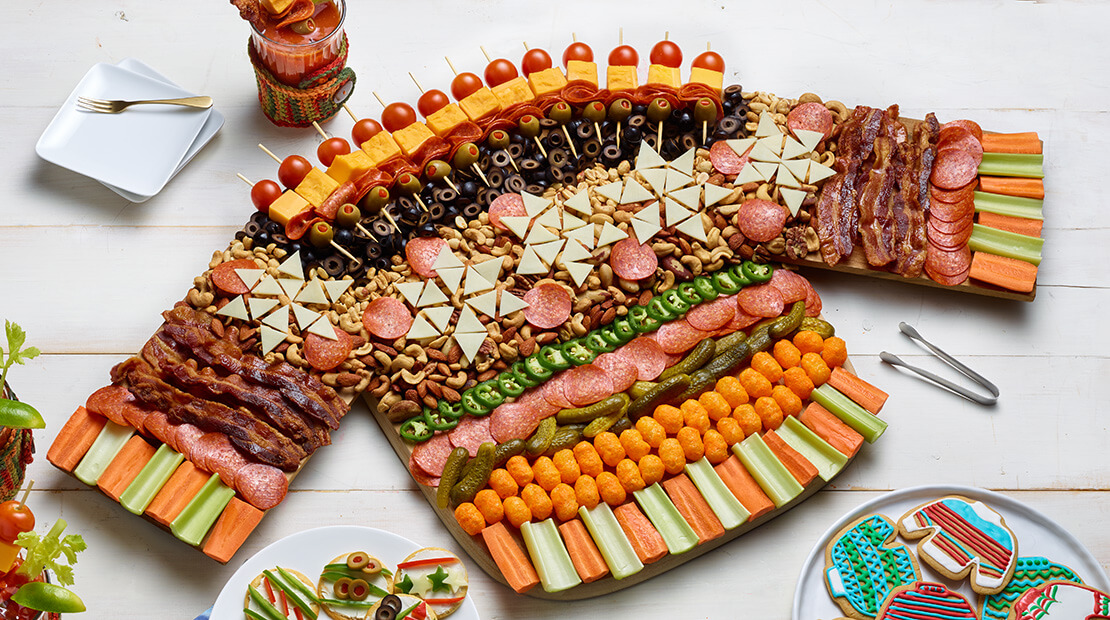 Ugly Sweater Board
Hands-On Time

10 minutes

Total Time

30 minutes

Serves

10
HORMEL® Pepperoni
HORMEL® BLACK LABEL® Bacon

White Cheddar Cheese Slices, Cheddar Cheese Blocks

PLANTERS® Salted Dry Roasted Peanuts
PLANTERS® Salted Mixed Nuts
PLANTERS® Cheez Balls

Spanish Olives, Sliced Black Olives, Cornichons Pickles, Carrot Sticks, Celery Sticks, Sliced Jalapeños, Sliced Peppers
Instructions
Using 1 large serving board and 2 smaller boards for the sweater arms, assemble all ingredients using photo as a guide.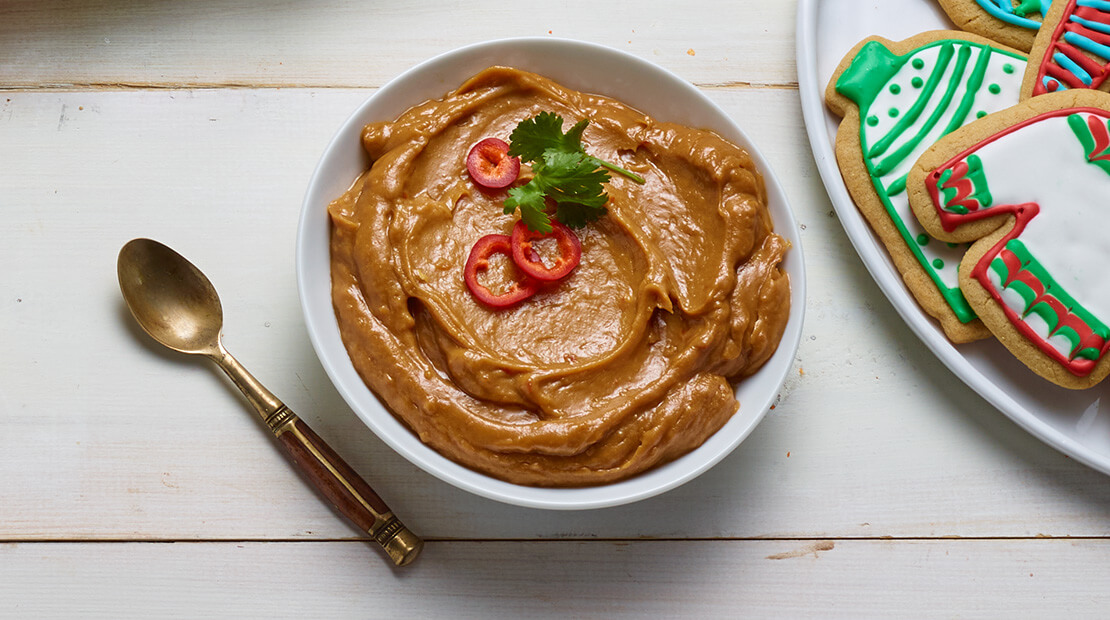 Peanut Butter Dipping Sauce
Hands-On Time

10 minutes

Total Time

20 minutes

Serves

8
2

tablespoons SKIPPY® Creamy Natural Peanut Butter Spread

1/4

cup seasoned rice vinegar

2

tablespoons HOUSE OF TSANG® Hoisin Sauce

2

teaspoons HOUSE OF TSANG® Soy Sauce

1

teaspoon Sriracha hot sauce

2

tablespoons water

Garnish: chopped dry-roasted peanuts
Instructions
In small bowl, combine peanut butter and remaining ingredients. Garnish with peanuts, if desired.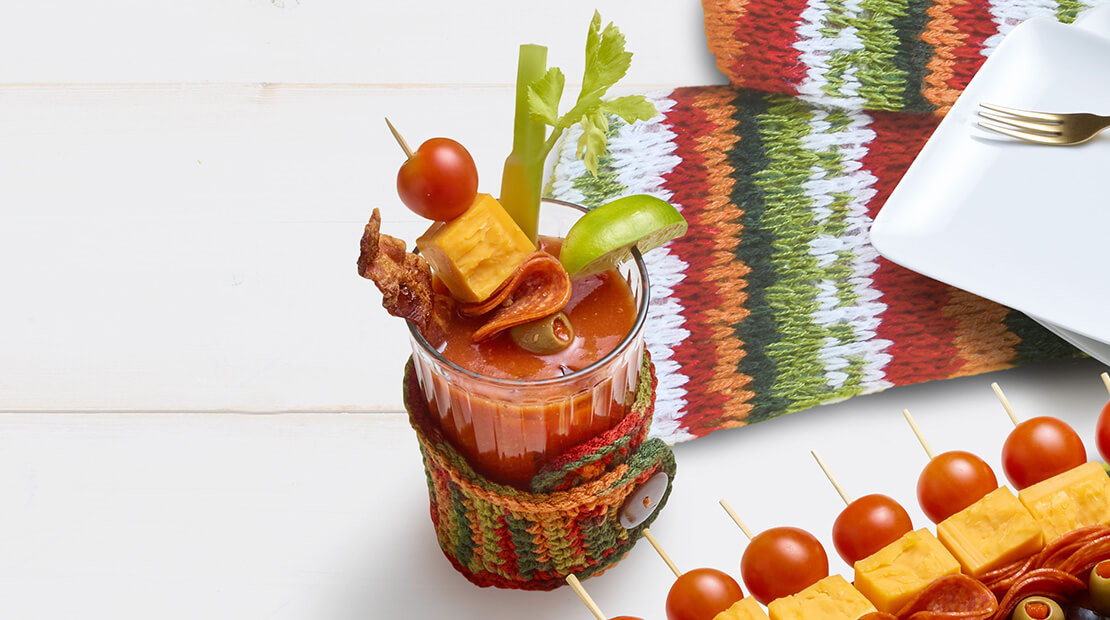 BLACK LABEL® Bacon Bloody Mary
Hands-On Time

10 minutes

Total Time

20 minutes

Serves

8
4

cups tomato juice

1/3

cup prepared horseradish

1/4

cup Worcestershire sauce

2 to 3

tablespoons fresh lime juice

1

tablespoon hot sauce

2

teaspoons celery salt

1

teaspoon black pepper

12

ounces vodka
Instructions
In pitcher, combine tomato juice, horseradish, Worcestershire sauce, lime juice, hot sauce, celery salt, and pepper.
In tall ice-filled glasses, pour 1½ ounces vodka.
Fill glass with tomato juice mixture. Serve with serving suggestions including HORMEL® BLACK LABEL® Bacon Strips.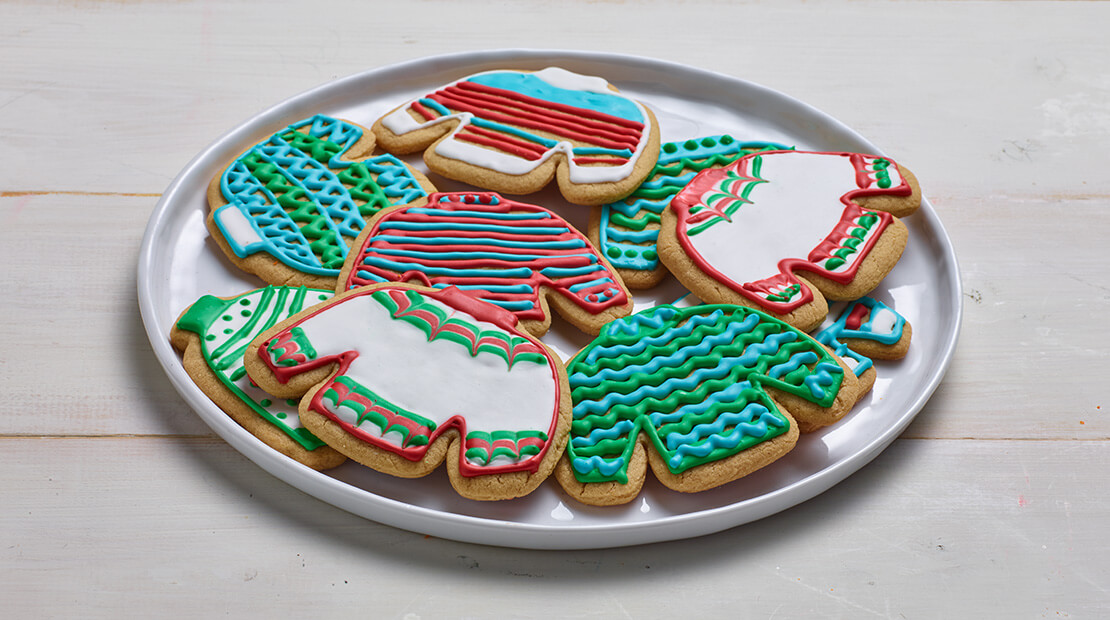 Ugly Sweater Peanut Butter Cookies
Hands-On Time

10 minutes

Total Time

1 hour

Serves

36 cookies
3/4

cup butter, melted

1/2

cup SKIPPY® Creamy Peanut Butter

1/3

cup sugar

1/3

cup honey

1/4

teaspoon salt

2 1/2

cups flour

White, pink, teal, and blue Icing, as desired
Instructions
Heat oven to 375°F. Line 2 baking sheets with parchment paper.
In large bowl combine butter, peanut butter, sugar and honey stirring until smooth. Add flour and salt mixing to form soft dough.
Sprinkle work surface lightly with flour. Roll dough to 1/3-inch thickness. Using sweater shaped cookie cutter, cut out cookies and place 2 inches apart on prepared baking sheets. Bake 8 to 10 minutes or until lightly browned. Let cool 5 minutes before removing to rack. Cool completely.
Decorate as desired.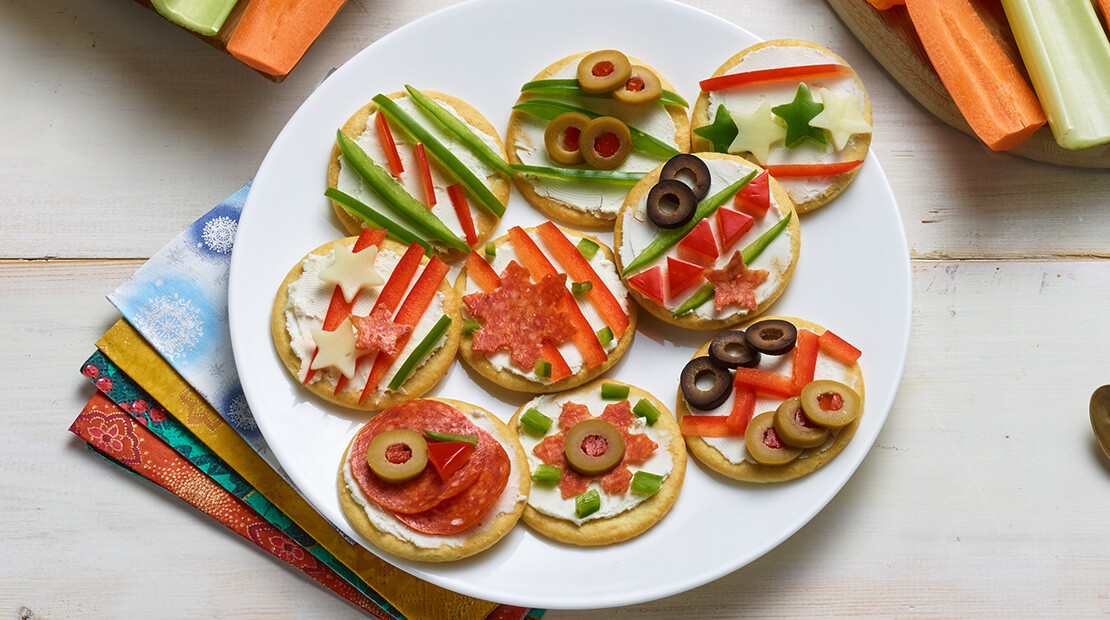 Ugly Sweater Crackers
Hands-On Time

10 minutes

Total Time

30 minutes

Serves

8
24

large round crackers

1

(8-ounce) tub cream cheese

HORMEL® Pepperoni

Sliced cheese

Pimento stuffed olives, sliced

Thinly sliced red and green pepper
Instructions
Spread each cracker with cream cheese.
Using mini cookie cutters, cut shapes out of pepperoni and sliced cheese. Arrange ingredients in sweater designs, gently pressing the toppings onto spread covered crackers to adhere.
Stories
Start A New Tradition: A 'SwapCookerie' Party!
Good food is all the sweeter when shared with good friends.
Swap Cookies!