We've collected a few of our favorite sweet and savory combinations to impress the bacon lovers in your life.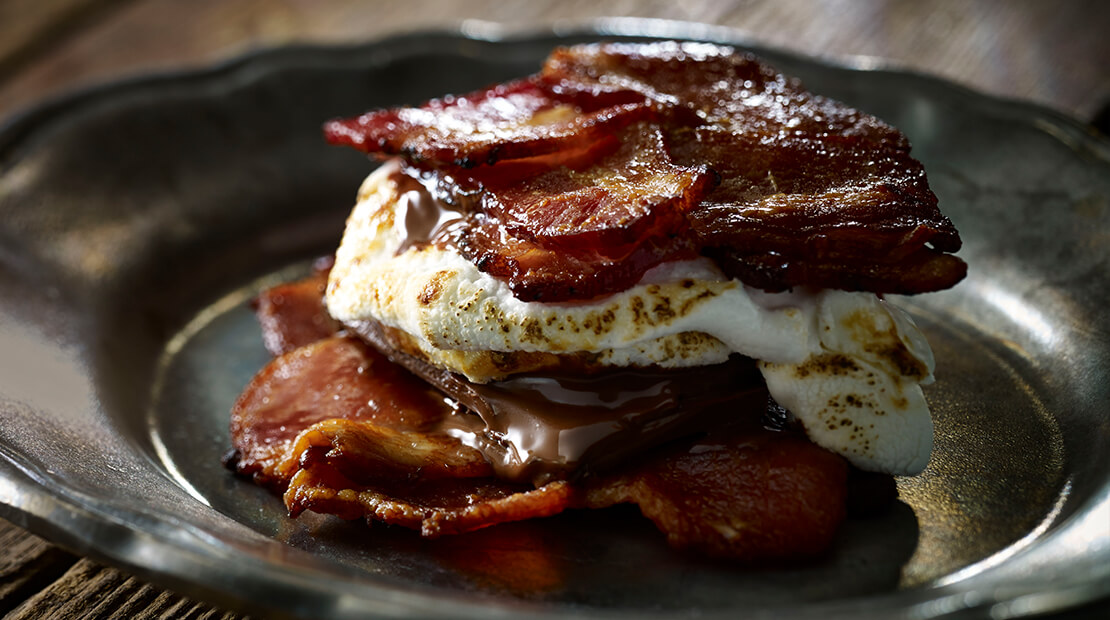 Bacon S'Mores
Total Time

35 minutes

Serves

4
24

slices HORMEL® BLACK LABEL® Premium Brown Sugar Bacon

4

graham crackers, broken in half (8 squares)

1

(1.55-ounce) milk chocolate bar, quartered

4

marshmallows, toasted
Instructions
Heat oven to 400°F. Cut each bacon slice in half. On flat surface, arrange 2 bacon half-slices side-by-side. Weave 2 bacon half-slices in opposite direction. Very carefully lift bacon lattice to large rimmed baking pan. Repeat with remaining bacon. Bake 15 to 20 minutes or until crisp. Remove from baking pan and drain. For each s'more, layer 1 graham square, 1 bacon square, 1 chocolate quarter, 1 bacon square, 1 toasted marshmallow, 1 bacon square and 1 graham square.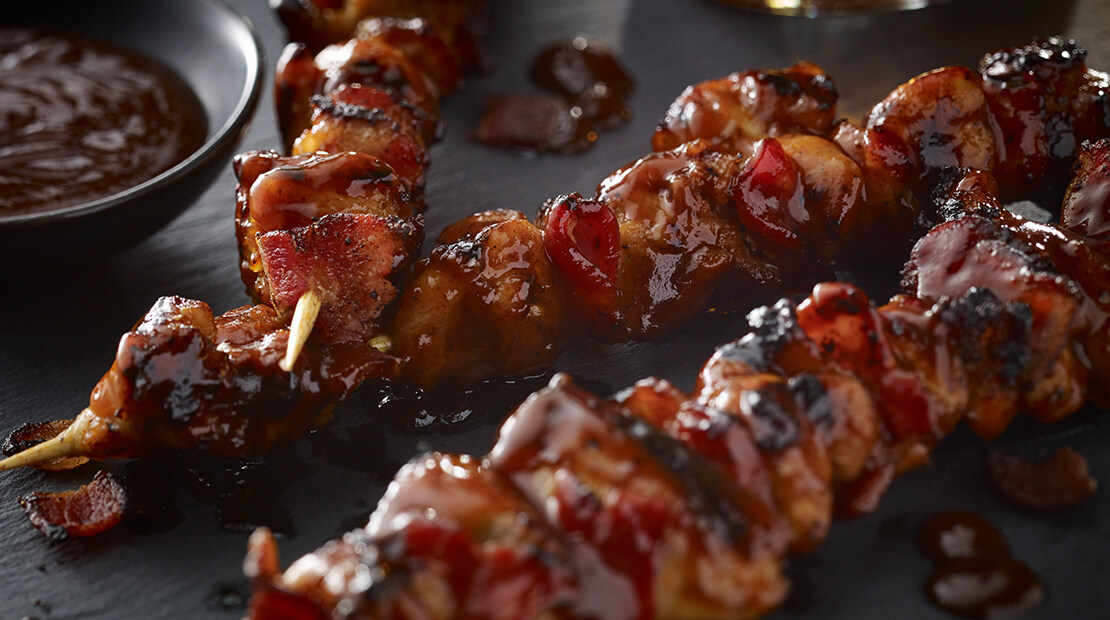 Bacon Bourbon Barbeque Chicken Kabobs
Total Time

30 minutes

Serves

8
1

(16-ounce) bottle barbecue sauce

1/4

cup bourbon

2

teaspoons kosher salt

1

teaspoon freshly ground pepper

1/2

teaspoon garlic powder

1/2

teaspoon onion powder

3

tablespoons packed dark brown sugar

2

tablespoons smoked paprika

1

(12-ounce) package HORMEL® BLACK LABEL® Premium Cherrywood Bacon, divided

2

pounds boneless skinless chicken thighs, cut into 1-inch pieces
Instructions
Heat grill to 400°F. In a small bowl, combine barbeque sauce and bourbon. Reserve 1/3 sauce mixture. Combine kosher salt, next 5 ingredients and 6 bacon slices in food processor; pulse until smooth. Place chicken in a bowl and rub with salt mixture. Cut remaining bacon slices into 11/2-inch pieces. Thread chicken pieces onto metal skewers alternately with remaining bacon pieces. Place skewers on grill. Cook 3 to 5 minutes on each side, or until cooked through. Brush with barbeque sauce mixture and cook an additional 1 minute on each side. Serve with reserved barbeque sauce mixture.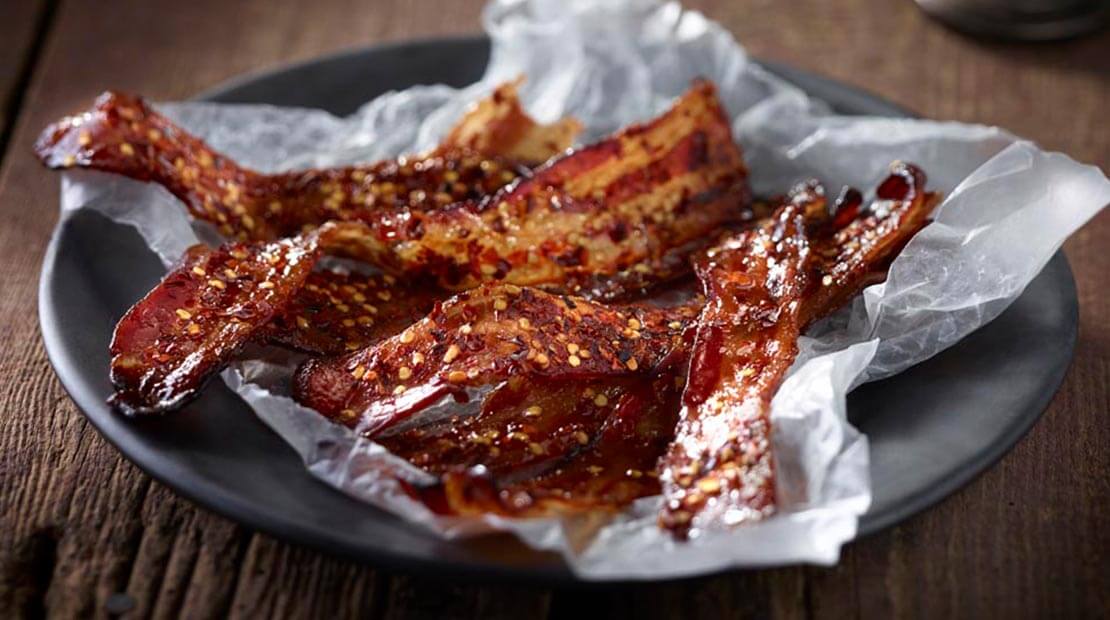 Candied Bacon
1

(1-pound) package HORMEL® BLACK LABEL® Premium Brown Sugar Bacon

1

cup maple syrup

2

cups firmly packed brown sugar

2

teaspoons crushed red pepper flakes
Instructions
Heat oven to 325°F. Grease wire racks; place on baking sheets. Dip each bacon slice in maple syrup. Sprinkle generously with brown sugar. Arrange in single layer on wire racks. Bake 35-40 minutes or until browned and candied. Sprinkle red pepper flakes over bacon. Let stand on racks to cool.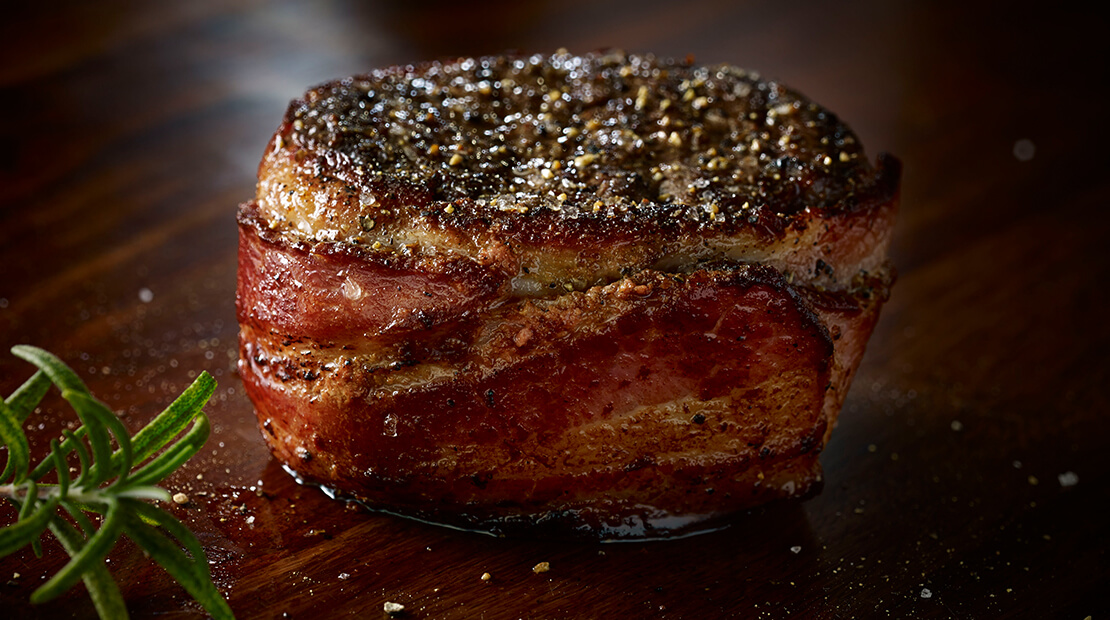 Grilled Bacon-Wrapped Filet Mignon
4

(6- to 8-ounce) filets mignons, cut 1½ to 2 inches thick

8

slices HORMEL® BLACK LABEL® Bacon- Original

as desired

Salt

as desired

Coarsely ground black pepper

2

tablespoons oil
Instructions
Prepare grill for medium-high heat. Put filets on a plate and let stand at room temperature 30 minutes before grilling. Wrap two strips of bacon around each filet, keeping the bacon even with the top and bottom of each filet. Secure the bacon with wooden picks. Sprinkle both sides of filets with salt and pepper. Lightly rub oil on both sides of filets. Place filets on grill. Grill 3 minutes. Turn filets. Grill 2 to 3 minutes longer or to desired doneness. To determine doneness, insert a meat thermometer into the thickest part of the filet. The meat thermometer will read 120ºF for rare, 130ºF for medium rare, 140°F for medium, 150°F for medium well and 165°F for well done. Remove filets from grill and let rest 5 minutes before serving.