No doubt about it, this was a next-level burger. The Instagram-worthy beauty boasted a char-crossed Wagyu beef patty dressed up with truffle aioli, homemade pickled onions and the requisite slice of American cheese drooping down its sides. An ear of butter-drenched corn speckled with sea salt sat on the plate next to it, along with verdant cucumber salad. To help it all go down easily, there was a chilly can of local craft beer.
The setting for this feast wasn't a backyard, it was the backwoods. Though I was miles away from my home, with its modern kitchen boasting a multitude of appliances, I had whipped up a lavish spread in less than half an hour. The next morning, I would wake up with a lumberjack's breakfast of pancakes, bacon, eggs, hash browns and muffins.
Just because you're going camping doesn't mean you have to settle for substandard fare. Quite the opposite; these primal getaways are the perfect time to indulge. With some careful planning and the right equipment, you can be the Julia Child of the wild or the Bobby Flay of the frontier.
Save a Step with Prep
Do everything possible in advance to minimize the time you spend cooking and maximize your enjoyment of the great outdoors. Combine the dry ingredients for pancakes. Customize snack mixes with nuts, dried fruits and chocolates. Marinate your meats. Prepare dressings and dips. Chop up heartier vegetables like onions and green peppers. Make a couple of yummy sides or salads. And prepare batches of cocktails so you can raise a toast to your trip and your traveling companions.
Pack Properly
Organization is the key to successful, less-stressful camping experiences. Before you hit the road, make a checklist of the meals you'll be making, and then go through the ingredients and equipment you'll require to execute them all. A couple of clear plastic bins or milk crates are helpful for transporting all your kitchen gear and tableware. A sturdy, spacious cooler is a must-have item, preferably one with a drain so you can get rid of the water as the ice melts. All foods stored in it should be packed inside individual bags to ensure they don't get waterlogged.
Big Flavor Boosters
Certain seasonings, spices and condiments can take a dish from good to great. Since they don't take up a lot of space, it's worth bringing them along. A dash of truffle salt goes a long way on scrambled eggs. Real maple syrup is worth the splurge for your pancakes (or your morning coffee). Sriracha sauce amps up burritos and burgers. Japanese furikake (an umami-rich blend of seaweed, sesame seeds, salt, sugar and dried fish flakes) transforms plain rice or an unassuming potato salad into a crave-worthy side. And Korean gochujang adds depth and a hit of heat to barbeque sauces and marinades.
Always Have a Plan B
Not everything will go as intended. A rainstorm might put the kibosh on cooking over the campfire. High winds could turn roasting marshmallows into an untenable exercise in ember dodging. Or you might spend so much time on a hike that you're too tired to make dinner when you return to your tent. Have a couple of quick-to-assemble meals ready, such as sandwich makings, canned soups like Dinty Moore® stew and Hormel® side dishes. Quick snacks like Wholly Guacamole® minis, SKIPPY® P.B. bites and Hormel® pepperoni sticks are great to grab in a hurry. And when it comes to dessert, packaged sweet treats like Justin's® peanut butter cups keep younger campers satisfied if they can't get their s'mores fix. (Pro tip to take it to the next level: Put a peanut butter cup on your s'more instead of a piece of chocolate!)
Fire is Your Friend
Most campsites feature a fire pit, oftentimes equipped with a grill. Take advantage of it. With very little equipment or experience, backwoods cooks can harness the flames for a myriad of recipes. Wrap vegetables in aluminum foil and roast them on the embers. Brew a pot of cowboy coffee. Use a cast-iron pan to fry eggs and bacon (or just put the bacon on skewers right over the flames). Soak unshucked ears of corn in water for 30 minutes or longer, then lay them on the grill to steam them. If you have a Dutch oven or cast-iron skillet with a lid, you can bake by setting it on the embers and piling more coal on top of it to create an oven-like atmosphere. No matter what recipe you tackle, this versatile heat source imparts a subtle, satisfying smokiness.
Minimize the Mess
One of your goals should be to generate as little trash as possible. This will make your cleanup easier and lessen your environmental impact. Buy durable metal or plastic tableware rather than opting for disposables. Bring along cloth kitchen towels and napkins instead of churning through paper products. Use untreated paper and cardboard as fire starters. Finally, set aside a trash bag for recyclables so you can properly dispose of them once you're back to civilization.
Have Fun!
Don't sweat the small stuff. If your burger gets a little more charred than you like, or your kid accidentally dumps the bag of marshmallows on the ground, just let it go. You're going camping to escape your daily routines. Embrace nature and spend some time with those you love. And be sure to eat some food you'll be talking about long after you've gone home.
Go-To Gadgets
Cowboy Coffee Pot

In the absence of a gas stove, these dapper enamelware kettles can be placed directly over the fire to brew a batch of extra-strength java.

Chef's Knives

A good one is like a workhorse, perfect for cutting vegetables, finely chopping herbs and slicing meats.

Cutting Board

A sturdy wood one is ideal – though plastic works as well – for providing a dependable and sanitary surface for prep work.

Collapsible Tubs

Buy a pair, fill one with soapy water and the other with clean water, and you have a simple sink that will make cleanup a breeze.

Dutch Oven

A plain cast-iron model works best, since it can be buried in the coals for baking or hung over the flames to make stews, soups and chili.

Roasting Forks

Sure, you could simply skewer your marshmallows on a stick, but these two-pronged metal rods are much stronger and more sanitary.
For Your Next Trip

Recipes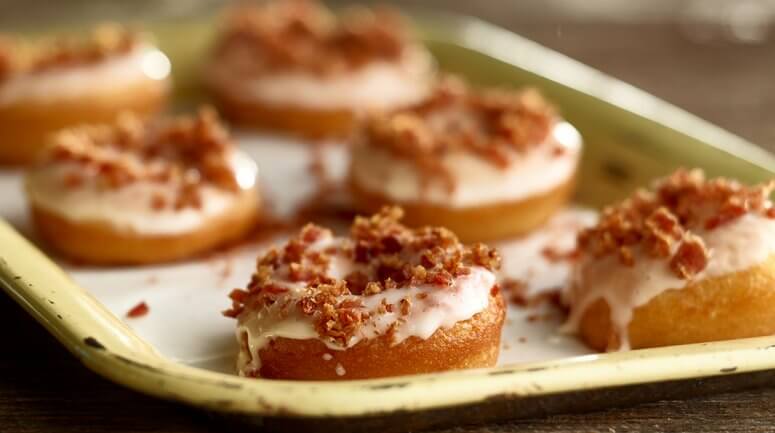 Maple-Glazed Donuts
Hands-On Time

15 minutes

Total Time

30 minutes

Serves

8
2

(7.5-ounce) cans refrigerated biscuit dough

for frying

Canola oil

6

tablespoons sour cream

2

tablespoons maple syrup

2

cups powdered sugar

1/8

teaspoon kosher salt

1

cup chopped cooked HORMEL® BLACK LABEL® bacon
Instructions
Separate biscuits. Using a 7/8-inch biscuit cutter, cut small hole in center of each biscuit. Pour oil to depth of 1 inch in large skillet with high sides or Dutch oven. Heat oil to 325°F. Fry biscuits in batches, 1 to 2 minutes on each side or until golden and cooked through. Remove with slotted spoon to a paper-towel-lined plate or rack. In medium bowl, whisk together sour cream and maple syrup. Gradually add powdered sugar, whisking until smooth; add salt. Dip donuts in glaze and place glaze side up. Sprinkle with bacon.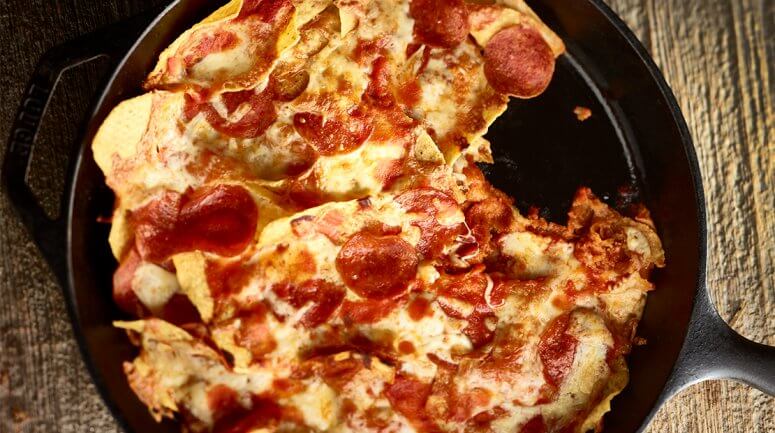 Pizza Nachos
Hands-On Time

5 minutes

Total Time

15 minutes

Serves

8
1/2

(20-ounce) bag CHI-CHI'S® tortilla chips

3/4

cup marinara sauce

1

cup shredded Mozzarella cheese

1

cup HORMEL® pepperoni slices
Instructions
Place chips in 12-inch cast-iron skillet. Top with marina sauce, Mozzarella cheese and pepperoni. Bake for 10 minutes or until hot and bubbly.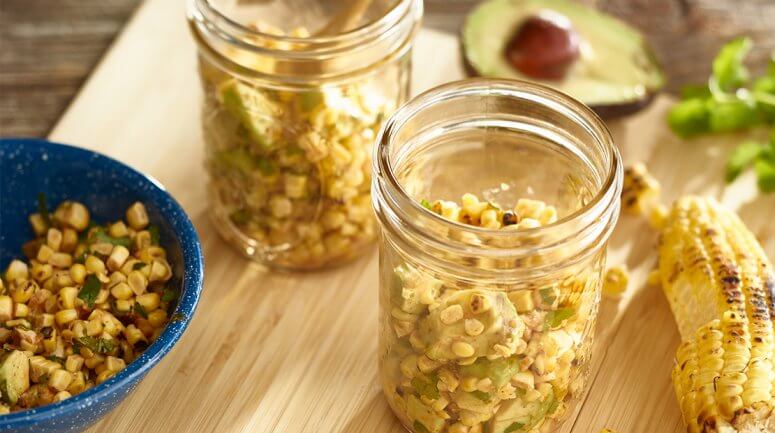 Grilled Corn Salad
Hands-On Time

10 minutes

Total Time

30 minutes

Serves

8
6

ears of corn

2

tablespoons melted butter

1

avocado, chopped

1/2

cup chopped fresh cilantro leaves

1

tablespoon LA VICTORIA® fire-roasted diced jalapeños

1

teaspoon kosher salt

1/2

teaspoon freshly ground pepper
Instructions
Prepare grill for medium-high heat. Grill corn 8 to 10 minutes or until slightly charred on all sides. Let stand 10 minutes. Using a sharp knife, scrape kernels from cob and transfer to large bowl. Stir in melted butter and remaining ingredients.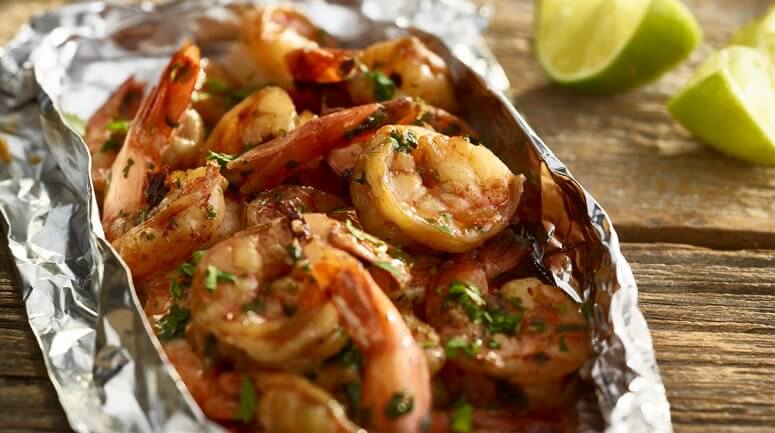 Chipotle Lime Shrimp Scampi Foil Packs
Hands-On Time

10 minutes

Total Time

30 minutes

Serves

4
2

pounds large shrimp, deveined and peeled

2

tablespoons minced EMBASA® chipotle peppers in adobo sauce

4

garlic cloves, minced

1

teaspoon kosher salt

2

teaspoons grated lime rind

1/2

cup chopped fresh cilantro leaves

1/2

cup butter

as desired

Cooked buttered egg noodles
Instructions
Heat oven to 400°F. In large bowl, stir together shrimp, chipotle peppers and next 4 ingredients. Divide shrimp mixture evenly among 4 (12×12-inch) foil sheets. Top each with 2 tablespoons butter. Fold sides up and seal. Bake for 20 minutes. Carefully open foil packs and pour shrimp mixture over hot buttered egg noodles.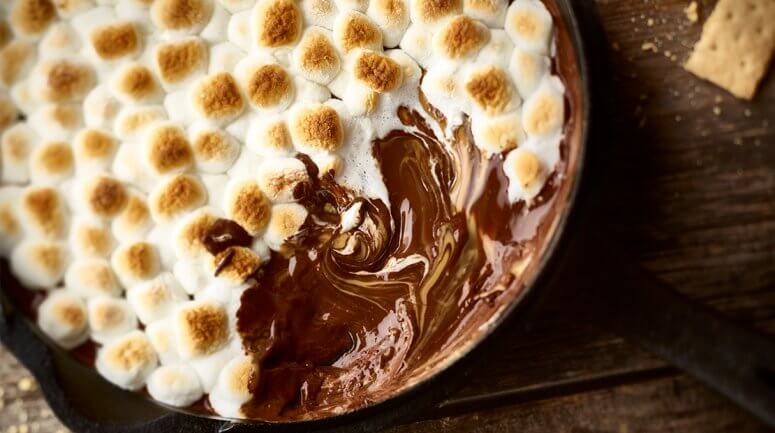 Skillet S'mores
Hands-On Time

5 minutes

Total Time

15 minutes

Serves

8
3

(4-ounce) dark chocolate bars, broken into pieces

3

tablespoons SKIPPY® peanut butter

1 1/4

cups mini marshmallows

for dipping

Graham crackers
Instructions
Heat oven to 350°F. Place broken chocolate bars in 10-inch cast-iron skillet. Dollop with peanut butter. Bake 3 minutes, remove from oven and stir. Bake 2 additional minutes and stir until smooth. Increase oven temperature to broil. Top with marshmallows and broil 1 minute or until marshmallows are lightly browned. Serve with graham crackers.