From the African roots of Southern soul food to the eating habits of trendsetting millennials, Hormel Foods is exploring the dishes and stories behind food heritage through an online video series called Cooking and Culture.
Chef Ken Alston, Hormel Foods corporate chef, and Katie Lenway, corporate recruiter at Hormel Foods, joined us for this episode of Cooking & Culture.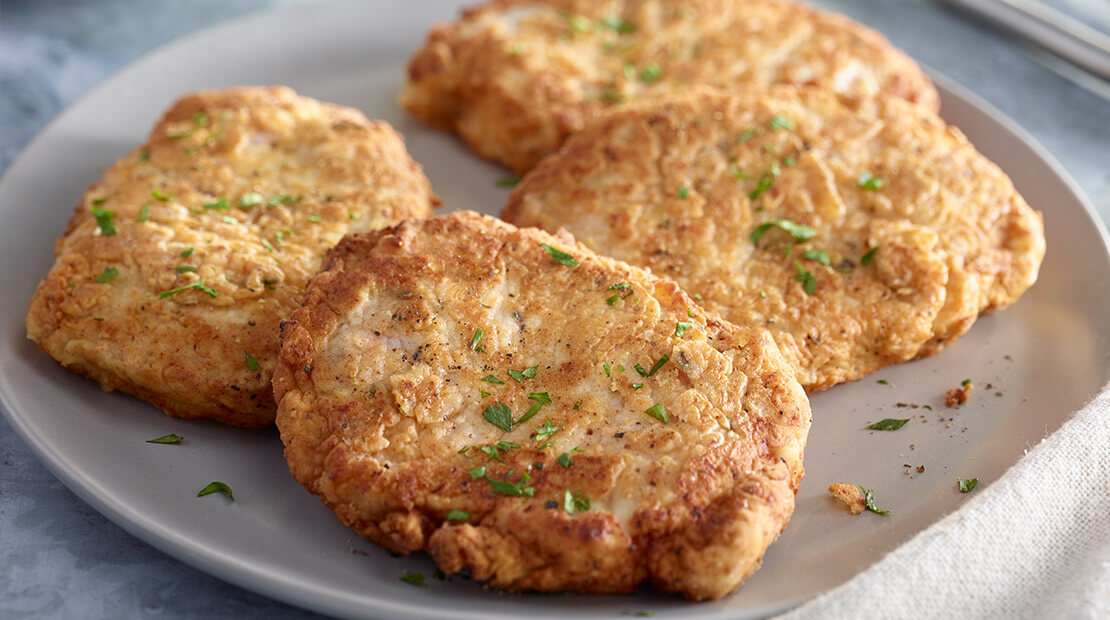 Pan Fried Double Dipped Pork Chops
Total Time

1.5 hours

Serves

12
2 1/2

cups flour

1 1/2

teaspoons black pepper

1 1/4

teaspoons kosher salt

1

teaspoon granulated garlic

1

teaspoon paprika

1

teaspoon rubbed sage

1/4

teaspoon cayenne pepper

2

cups buttermilk

1

egg, beaten

12

(6 to 8-ounce) HORMEL® pork chops

as needed

canola oil
Instructions
In large shallow bowl, combine flour, black pepper, salt, garlic, paprika, sage and cayenne pepper. In another shallow bowl, combine buttermilk and beaten egg. Dredge pork chops in flour mixture, then buttermilk mixture and back in flour mixture. Let stand a few minutes.
In large skillet over medium-high heat, add a generous amount of oil. Cook pork chops in oil 3 to 4 minutes per side or until meat thermometer inserted in center reads 150°F. Remove from skillet and place on paper towel lined plate. Serves 12.
Food is life. It makes so many memories for us.

Chef Ken Alston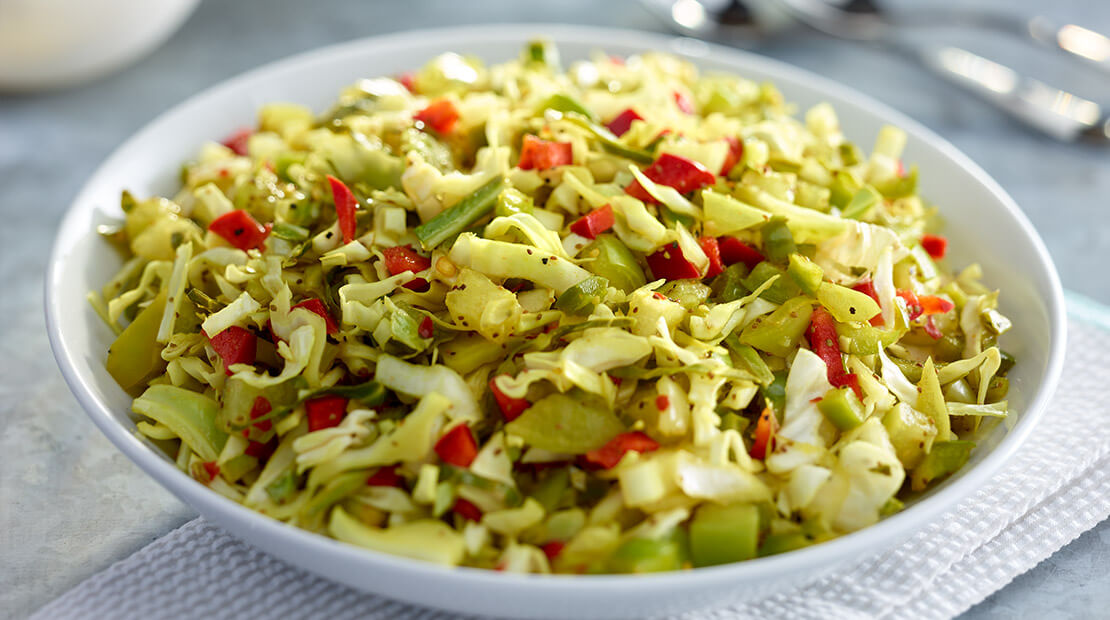 Carolina Chow Chow
Hands-On Time

30 minutes

Total Time

4.5 hours
1/4

head green cabbage, shredded and chopped

2

green tomatoes, chopped

1

green bell pepper, chopped

1

red bell pepper, chopped

1

medium yellow onion, chopped

1

medium jalapeño pepper, seeded and chopped

2 1/2

cups cider vinegar

1

cup sugar

1

tablespoon dry mustard

2

teaspoons celery seed

2

teaspoons salt

1

teaspoon black pepper

1

teaspoon crushed red pepper

1

teaspoon turmeric
Instructions
In large bowl, combine cabbage, tomatoes, bell peppers, onion and jalapeño pepper. In large saucepan, combine remaining ingredients. Bring to a boil. Pour over vegetables and mix well. Cover and refrigerate 4 hours or overnight. Serves 12.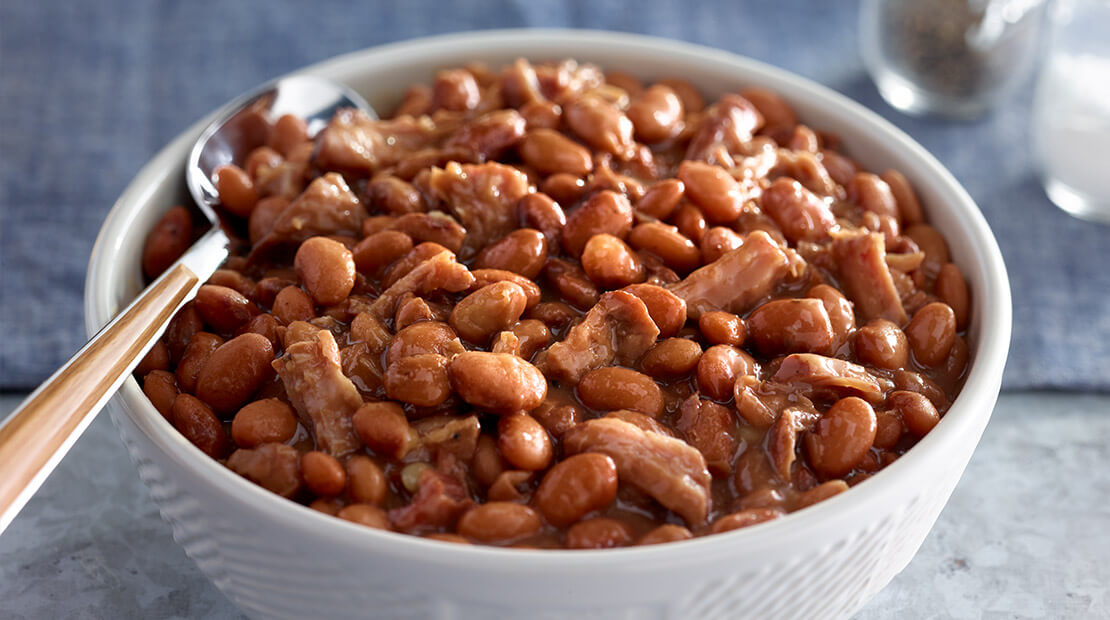 Pinto Beans (Southern Style)
2

pounds dry pinto beans, sorted and rinsed

1

gallon chicken stock

1

(1-pound) ham hock

1

large yellow onion, diced

2

tablespoons salt

1

tablespoon black pepper
Instructions
In stock pot, combine pinto beans, chicken stock, ham hock and onion. Bring to a boil; reduce heat to simmer and cook 1¾ to 2 hours or until beans are tender, stirring occasionally. Season with salt and pepper. Garnish with Carolina Chow Chow and meat from the hock. Serves 12.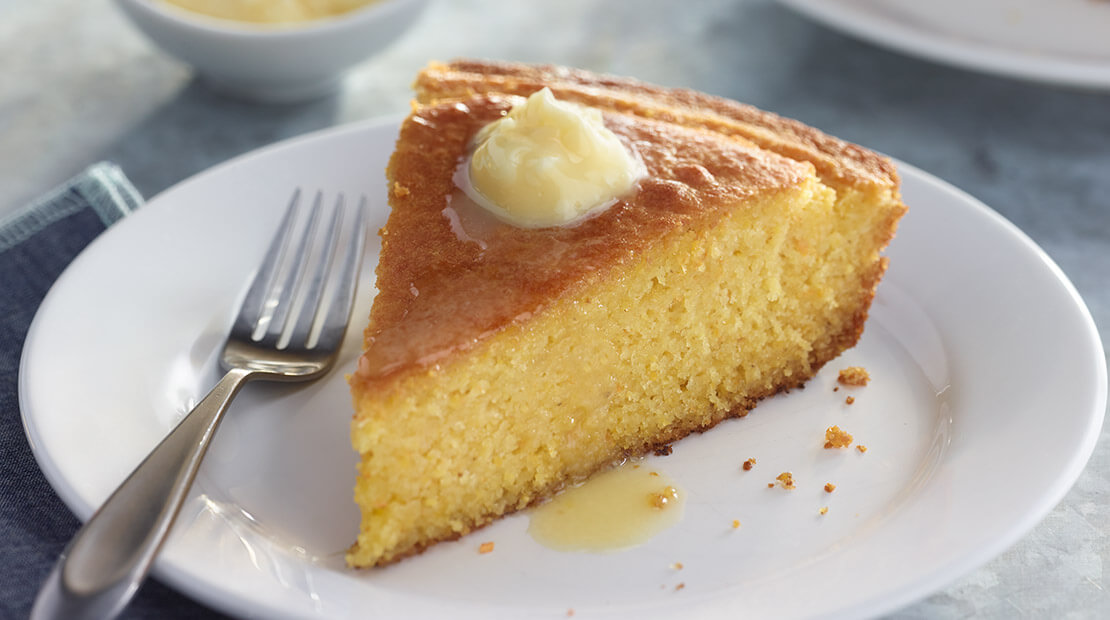 Skillet Corn Bread
2 1/2

cups flour

1 1/2

cups yellow corn meal

1/4

cup sugar

4

teaspoons baking powder

2

teaspoons baking soda

1/2

teaspoon salt

2

cups buttermilk

1

cup canola oil

5

eggs

1/3

cup honey

1

cup butter, melted and divided
Instructions
Heat oven to 375°F. In large bowl, combine flour, corn meal, sugar, baking powder, baking soda and salt. In separate bowl, combine buttermilk, oil, eggs and honey. Make a well in the dry ingredients and pour buttermilk mixture into well. Stir until just blended. Add half the melted butter and combine. Pour mixture into greased 14-inch cast iron skillet. Bake 25 to 30 minutes. Brush with remaining melted butter. Allow to cool 30 minutes. Invert onto large serving plate. Cut into wedges to serve. Serves 12.
Chef's Note: Brown sugar-honey butter is an excellent side with the cornbread.