Farming is a family affair for the Thomes of Minnesota. What began with 12 sows a generation ago quickly became the family's livelihood and its vocation, not to mention a way for the Thomes to build unbreakable bonds with each other. These days, Gary and Jane, and their sons, Matt and Pat, raise hogs, corn and soybeans. In the words of Matt, "It's the best mix of all worlds."
Hormel Foods is honored to stand side by side with the Thomes and to share one of their family recipes with you.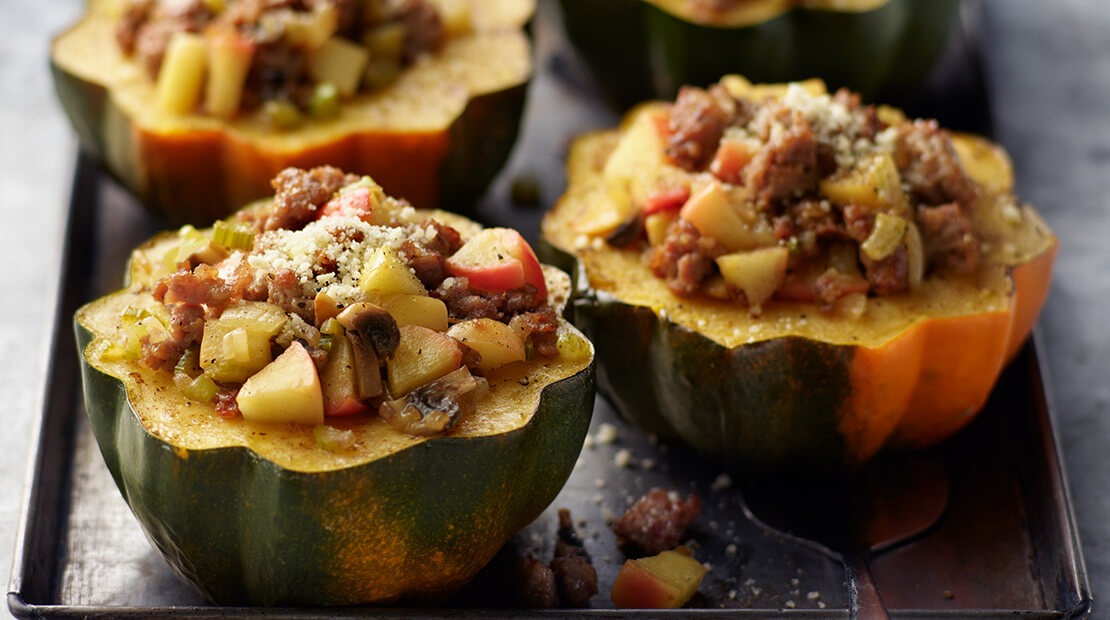 Sausage and Apple Stuffed Acorn Squash
2

acorn squash, halved and seeded

1

pound HORMEL® ALWAYS TENDER® ground pork sausage

2

onions, finely chopped

2

ribs celery, finely chopped

1

cup mushrooms, chopped

2

apples, cored and chopped

1

teaspoon salt

1/4

teaspoon pepper

1/4

cup Romano Cheese
Instructions
Heat oven to 400°F. On large rimmed baking pan, arrange squash halves. Bake, cut-side-up, 1 hour or until soft. In large skillet over medium-high heat, cook pork sausage until browned. Remove pork from pan, leaving 2 tablespoon drippings. Add onion, celery and mushrooms. Cook 4 to 5 minutes or until softened. Stir in apple and cook 2 minutes longer. Remove from heat. Add pork to vegetable mixture, stirring to combine. Season with salt and pepper. Fill squash halves with sausage mixture. Sprinkle cheese on top of sausage mixture. Bake 5 to 6 minutes or until cheese is melted.
Stories
We're Inspired by Family Farms
Family farms are unsung heroes who work each day to feed the world, and Hormel Foods is inspired by their stories
Meet the Thomes